The Book Of Life Sequel In The Works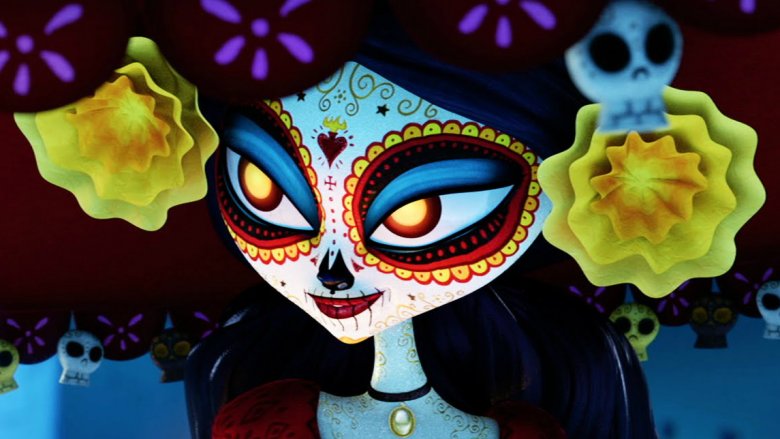 20th Century Fox
The Book of Life, one of the biggest independent animated features released in recent years, is getting a second installment.
Variety reports that director Jorge R. Gutierrez is working with Reel FX Animation Studios of The Book Life 2, which is envisioned as a stereoscopic 3D film.
The original movie, which was produced by Guillermo del Toro, follows a bullfighter who, on the Day of the Dead, embarks on an afterlife adventure to fulfill the expectations of his family and friends. Diego Luna, Channing Tatum, and Zoe Saldana voiced characters in the film, which brought in $99 million on a $50 million budget and was nominated for a Golden Globe.
"The sequel grew from... people asking what was gonna happen with the characters, what's gonna happen to the gods?," Gutierrez said. "The sequel embraces all these things and, in a weird way, is a continuation of the story with everybody you love from the first movie."
While the original didn't receive quite as much attention as those from Pixar or DreamWorks, it was widely embraced by a dedicated fanbase. "The movie exploded at comic book conventions," Gutierrez said. "People dressed up as the characters, they get tattoos of the characters."
That's why the folks at Reel FX are especially excited about a follow-up. "[The Book of Life 2 will be] the continuation of an extraordinary story that technically and creatively captures the vision Jorge had of this fabulous world," said Chuck Peil, Reel FX head of business development and strategic partnerships. "The original film broke ground in so many ways and we hope that the sequel will have the same impact for the fanbase."
There's no word about the cast or a release date just yet, but we'll keep you posted. Meanwhile, check out a few cartoon characters inspired by real people.