The Breakfast Club Scene That Molly Ringwald Wishes Had Been Cut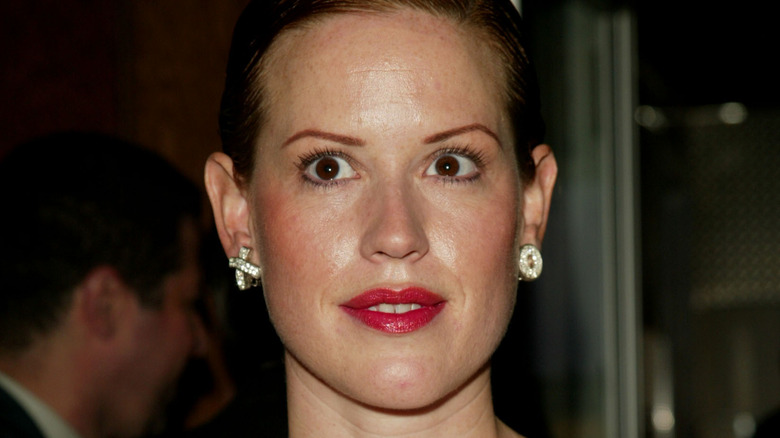 Evan Agostini/Getty Images
Molly Ringwald shot to fame as a teen star in John Hughes' 1980s comedy films "Sixteen Candles," "The Breakfast Club," and "Pretty in Pink." She was a muse for the famed director, and following his death in 2009, she wrote in an op-ed for New York Times, "John saw something in me that I didn't even see in myself."
Ringwald noted that the late filmmaker had "complete confidence" in her abilities — so much so that in a 2010 interview with The Atlantic, she revealed that Hughes actually listened to her concerns regarding the script for "The Breakfast Club." After Ringwald accepted the part of teen "princess" Claire Standish, the script was rewritten –- multiple times — at the request of the studio heads who thought the film needed to be raunchier like other hit movies of the era. By the time Ringwald saw the final draft, it was unrecognizable to her.
A week before filming for "The Breakfast Club" was set to start, Ringwald, then 16, told Hughes the script was "really different" from the version she had initially read about five teens thrown together for all-day detention. To appease her, Hughes brought in scripts from all of the versions that had been written. The duo went through them and began "piecing together a script" that was more like the version Ringwald had initially agreed on.
But even with all of the cut and paste, there is one scene in "The Breakfast Club" that Ringwald wishes had been cut.
Molly Ringwald said a scene involving her character's crotch should have been cut from The Breakfast Club
While she did manage to get an unnecessary nude scene featuring an attractive female gym teacher cut from the film, Molly Ringwald had less success with another scene featuring Claire Standish and teen troublemaker John Bender (Judd Nelson). In the scene, Bender (dubbed the "Criminal" in the film) dives under a table to dodge a teacher and puts his face under Claire's skirt in the process. 
In a 2018 essay for The New Yorker, Ringwald revealed that a body double was used for the crotch shot that was seen from Bender's point of view — Ringwald was underage at the time — but that the scene embarrassed her and bothers her today even more than it did in 1985. Ringwald wrote that the #MeToo movement helped her realize how that movie scene plays a part in systemic "female subjugation." "That scene stayed," she wrote. "What's more, as I can see now, Bender sexually harasses Claire throughout the film. When he's not sexualizing her, he takes out his rage on her with contempt ... He never apologizes for any of it, but, nevertheless, he gets the girl in the end."
Ringwald added that when "The Breakfast Club" was released, she wasn't completely aware of how "inappropriate" Hughes' writing was. But as a woman in her 50s, it's even harder for her to understand how "Hughes was able to write with so much sensitivity, and also have such a glaring blind spot."