The Iconic Role That Made Harrison Ford Physically Ill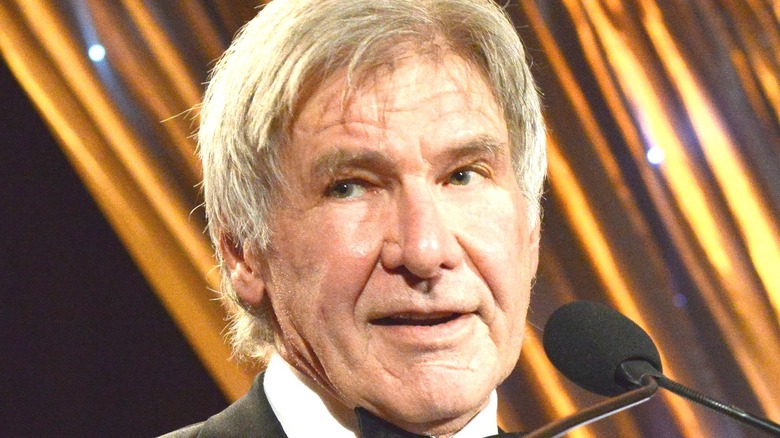 Albert L. Ortega/Getty
Despite celebrating his 79th birthday this past year, Harrison Ford has kept himself busy reviving one of the most iconic characters in all of film history: Indiana Jones. As absurd as it might seem, "Indiana Jones 5" is still happening, and Harrison Ford himself is set to return as the swashbuckling archeologist that captured the imagination of an entire generation of moviegoers.
When "Indiana Jones and the Raiders of the Lost Ark" was released in 1981, the movie was an instant blockbuster, and has gone on to be one of the greatest adventure movies ever released –- due in no small part to the performance of Ford and the dozens of memorably scenes the movie has to offer. The boulder chase, the snake pit, and even the scene in which Indy first unveils the Ark of the Covenant, all have been parodied and reproduced an endless amount of times, simply because of how recognizable they are. Another one of these unforgettable scenes is the battle between Indy and a scimitar-wielding attacker in the streets of Cairo. 
While "Raiders of the Lost Ark" is a monumental film, the movie-making experience really took a toll on Ford health-wise. Along with tearing his ACL, Ford revealed in an old Reddit Ask Me Anything that the character-defining moment between Indy and the swordsman only happened because of how sick the actor got on set while filming.
Gun beats sword every time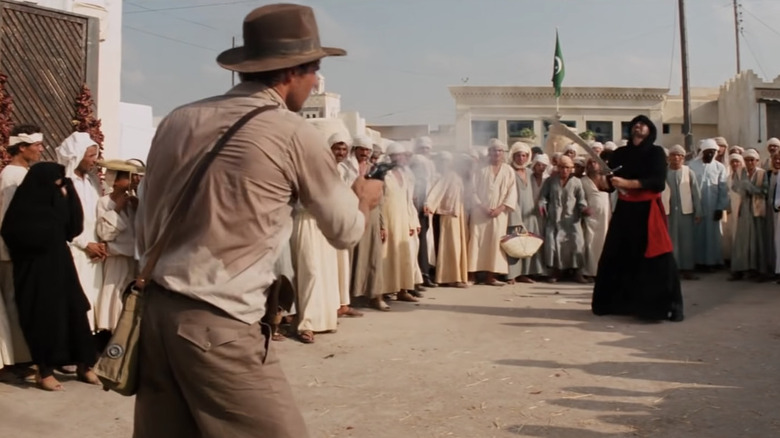 Paramount Pictures
After being asked by a fan about any "injuries" or "weird occurrences" that might've happened on set in a Reddit AMA eight years ago, Ford stated that the scene between Indiana Jones and the swordsman was originally supposed to be an epic duel displaying the full prowess of Indy in combat. "It was meant to be the ultimate showdown between sword and whip," Ford explained. "The poor [swordsman] was a wonderful British stuntman who had practised his sword skills for months to do this job."
Unfortunately, Ford was suffering from dysentery while shooting the scene, and by his own admission could barely stand to be on set for more than 10 minutes at a time. Finally, he suggested to director Steven Spielberg that they alter the scene to save time (and his own stomach). "I proposed to Steve that we just shoot the son of a b***h," Ford exclaimed. "Steve said 'I was thinking that as well.' ... So [the swordsman] flourished his sword, I pulled out my gun and shot him, and then we went back to England."
The rest is history. Jones coolly firing his gun and walking away became an iconic moment in the movie and for the character, and it probably wouldn't have occurred if Ford had just been feeling a bit better. While it might not've been the best filming experience for Ford while working on "Indiana Jones and the Raiders of the Last Ark" is all the better for it.