The Major Prop Bob Odenkirk Wants To Keep From Better Call Saul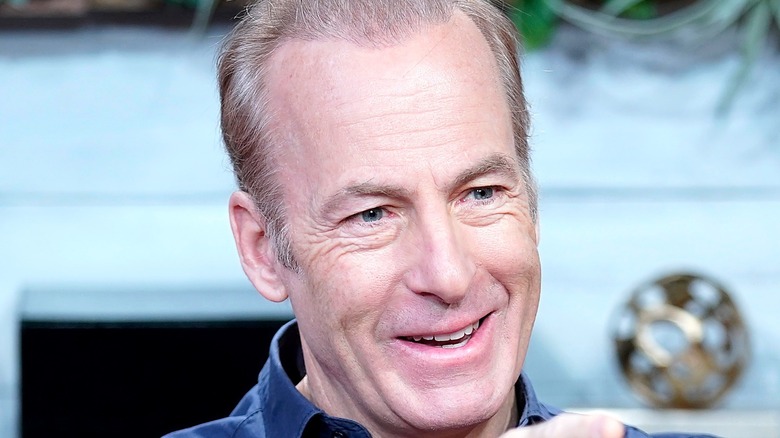 John Lamparski/Getty
"Better Call Saul" has proven to be quite the hit for AMC. Over the course of its run, the critically acclaimed "Breaking Bad" spin-off has managed to stand on its own two feet, and its quality more than speaks for itself. To date, the series has been nominated for a total of 39 Emmy awards, 15 Writers Guide of America awards, and four Golden Globe awards across its first five seasons (via IMDb).
Co-created by Vince Gilligan and Peter Gould, "Better Call Saul" chronicles the story of petty con man turned lawyer, Jimmy McGill (Bob Odenkirk), as he journeys into a life of crime and constant danger. Taking place several years prior to "Breaking Bad," it's the transformation Jimmy undergoes in "Better Call Saul" that leads to him meeting Walter White (Brian Cranston), who changes Jimmy's world for the worst.
Ahead of the show's conclusion, star Bob Odenkirk has revealed the one specific souvenir from "Better Call Saul" that he'd like to take home with him.
Bob Odenkirk wants to keep Jimmy's car
In an interview with Esquire, Bob Odenkirk admitted that the one souvenir he wants to keep after "Better Call Saul" comes to an end is Jimmy McGill's 1998 Suzuki Esteem.
Odenkirk said that he's given a lot of thought to which of Jimmy's signature fashion items he'd like to take home, but revealed that he doesn't quite share Jimmy's lawyer-inspired style. "He's got a lot of crazy cufflinks but I don't use cufflinks. I don't wear ties if I don't have to," Odenkirk explained.
Instead, the actor revealed that he has a soft spot for his "Better Call Saul" character's memorable car. "I love the Esteem, the Suzuki Esteem car that I drove," Odenkirk said. "I really, truly enjoyed driving that little hunk of metal. I did tell my son I was going to get him one of those for his first car, and he thought that was pretty cool. So, I'd like that."
The sixth and final season of "Better Call Saul" is set to premiere on AMC in early 2022 and will consist of 13 episodes, which will be released in two parts.