Why Ciri Might Be A Little Different In The Witcher Season 2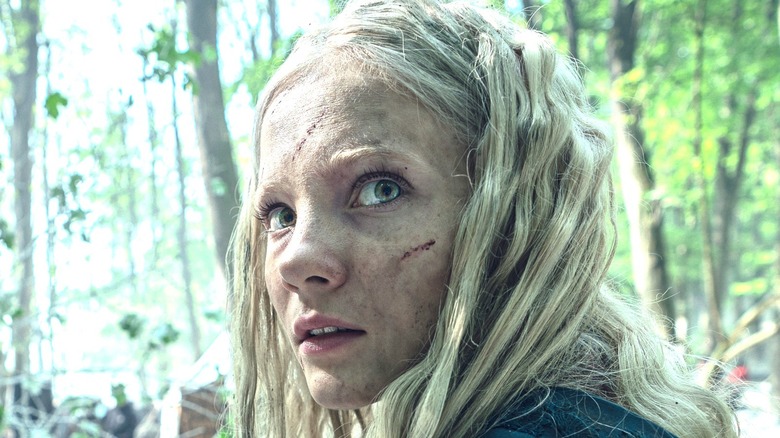 Katalin Vermes
Two of the main characters in Netflix's "The Witcher" are just about as strong as they come. Henry Cavill's Geralt of Rivia is a skilled, stoic combat expert who's a borderline superhero that has been specifically enhanced to battle borderline unbeatable monsters and creatures. Her on-again-off-again romantic interest, Yennefer of Vengerberg (Anya Chalotra), starts out as a hunchbacked outcast, but becomes a powerful, glamorous sorceress who's prepared to take on just about anything. 
The third main character, on the other hand, has a very rough time in the first season of the show. By all means, Princess Cirilla of Cintra (Freya Allan) should be an extremely powerful ruler of one of the cooler kingdoms in the show's universe. Unfortunately, the "lion cub of Cintra" almost immediately has to escape the invading Nilfgaardian forces, and spends much of the show on the run, trying to survive and to locate Geralt, the Witcher she's linked to due to the Law of Surprise.  
Fortunately, Ciri might not have to go through a similar wringer in the upcoming sophomore season of the show — which, in turn, means that you'll see an entirely different side of the character. Here's why Ciri might not be quite how you remember her in "The Witcher" Season 2.
Ciri is about to fight back
In an interview with Den of Geek, "The Witcher" showrunner Lauren Schmidt Hissrich shared some inside intel about Ciri's Season 2 situation, and indeed, it has a lot to do with correcting course from the huge amount of running and hiding she had to do in Season 1. 
"I've spoken really openly about this [before], but I do think that we did a little bit of a disservice to Ciri in season one," the showrunner stated. "Not intentionally. But suddenly when you're watching the episodes as a whole you're like, she's literally running away a lot. So how is she going to stand still and start fighting back in Season 2?"
Season 1 ended with Ciri and Geralt finally meeting each other, so presumably, the Witcher will be instrumental in teaching Ciri a thing or two about fighting back. Since it's already been confirmed that Geralt's own mentor, the old Witcher Vesemir (Kim Bodnia) will appear in the new episodes, Ciri should have plenty of teachers in this new, exciting chapter of her life.