Why Princess Ahmanet From The Mummy Looks So Familiar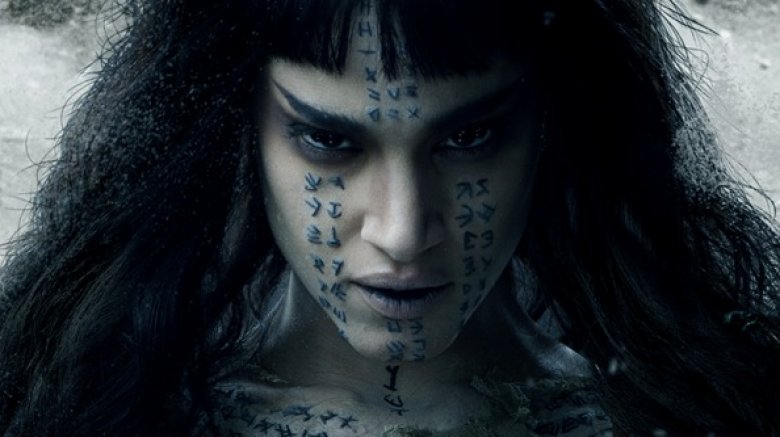 Actress Sofia Boutella might seem like a newcomer to the Hollywood spotlight, with her eerie turn as Princess Ahmanet in the 2017 reboot of The Mummy launching her into the mainstream. But the Algerian-French actress has actually been working her way into the limelight for years, and has amassed a number of credits that may make her face familiar to Mummy-watchers across the world. Here's where you might've seen Boutella before.
Those Nike ads
Boutella started her career in the arts as a dancer and was known for her choreography skills, particularly in the hip-hop genre. She achieved a commercial breakthrough in the mid-aughts when she starred in a series of "Make Yourself"-themed advertisements for Nike. That exposure would wind up landing her backup dancing gigs with artists like Madonna, who kept her touring for the better part of a decade.
She'd later tell Access Hollywood, "I did ballet and then I did hip-hop because I wanted to break all the rules, and then I turned tomboy for some reason ... because I thought it was fun. And then I started dancing with [Madonna], and she gave me a pair of heels for the first time and asked me if I've ever danced in heels. I said no, and she said, 'There's a beginning for everything.'" Boutella might no longer have to dance in them, but that introduction to high heels might've been the perfect primer for her many red carpet walks still to come.
Hollywood Tonight by Michael Jackson
Boutella was also offered the chance to star in the Michael Jackson This Is It concert series — an opportunity she'd have to delay to continue her long-running road work with Madonna. She told Dancing Times, "I spoke to [Jackson] on the phone. He called me, he said, 'You're an amazing dancer. God bless you. I really want you on my show. And I said, 'I will do my best.' Then I was on the phone to his stage director, Kenny Ortega, and he told me: 'When you're done with Madonna, come and join us,' and I said, 'OK, I will.' And then he passed."
Although she never got to share the stage with the King of Pop, she did have the chance to collaborate with the singer posthumously, when she starred as the lead in the music video for his single "Hollywood Tonight."
StreetDance 2 (2012)
In StreetDance 2, the sequel to StreetDance 3D, Boutella played a dancer named Eva, who specializes in the tango and salsa—something she hadn't had much experience with. But she'd later describe her character's experience as being quite similar to her own.
She told All Street Dance, "Eva is a Latin dancer, and she is totally abandoning herself with those hip-hop dancers ... she is giving herself this chance for this alternative, to learn something else, to learn something that is completely different and give herself to this world that she's not used to, and she's taking risks. ... I think this is something I can recognize of myself. Not with hip-hop or Latin dance, but with life ... I see things, and I want to go there, even if it costs something because you're letting go of something that you know so much." Indeed, Boutella would eventually set aside her ambitions as a dancer to pursue her screen career.
Kingsman: The Secret Service (2014)
In Matthew Vaughn's sleeper hit Kingsman: The Secret Service, Boutella starred as Gazelle, a role that was originally written for a man. As Vaughn later explained in behind-the-scenes footage, "Originally in the comic, we'd have to make it a guy. And I thought, 'You know what? We could make this quite sexy and stylish. If you've got blades like that you don't have to be strong. You just have to be agile and precise, which she was. Someone showed me [Boutella's] Nike dancing video and she could twist and flip and stuff, she had a great look."
Kingsman was Boutella's first major film role, an experience she described as surreal. "When I arrived and saw Samuel L. Jackson and Mark Hamill on set, it was my first day of shooting, I couldn't believe I was there," she admitted. "And yet I had to focus and do all the work." Not only did Boutella have to acclimate to the atmosphere of a high-profile set with A-listers sharing the call list, but she also had to get used to the ins and outs of special effect work, as her character came equipped with bladed feet.
Star Trek Beyond (2016)
In Star Trek Beyond, the third installment to the rebooted Star Trek film series, Boutella starred as Jaylah, a character that was famously inspired by Jennifer Lawrence. Although Boutella would hardly be recognizable beneath her thick facial prosthetics, she'd make a more personality-oriented mark on the character's development.
As she explained to USA Today, it was a happy accident she was allowed to remain seated for much of her screentime, as she took a break during rehearsals and conjured an image that stuck with the filmmakers. "I was sitting there and it was like, 'Maybe I will just stay like this for one scene.' We were all giggling and laughing. And it just escalated to us having fun with the idea." 
Of course, Boutella wasn't seated throughout the film—her faux fighting skills also came into frequent use, and she earned the respect of co-stars like Simon Pegg, who described her as "the real deal."
Atomic Blonde (2017)
Film stardom may not have been her first ambition, but Sofia Boutella's moving at warp speed now. In addition to landing a pivotal role in The Mummy, she also snagged the part of a French spy named Delphine in Atomic Blonde, which puts her on the marquee alongside Charlize Theron, James McAvoy, and John Goodman, to name a few.
In addition to another opportunity to flex her action chops, Boutella also got chance to showcase her more romantic side opposite Theron's titular character, Lorraine Broughton. Boutella described her love scenes with the Oscar winner as "very technical," telling USA Today, "It's not as glamorous as you think ... You want it all to translate in the film, so that it's very hot and steamy."
Boutella's Atomic Blonde work should only increase her exposure to a quickly growing audience—and without requiring her to wreak undead havoc, too. While her Mummy character is a core component of Universal's Dark Universe, Sofia Boutella's star looks nothing but bright.