Big Bang Theory Spinoff Young Sheldon Sets Premiere Date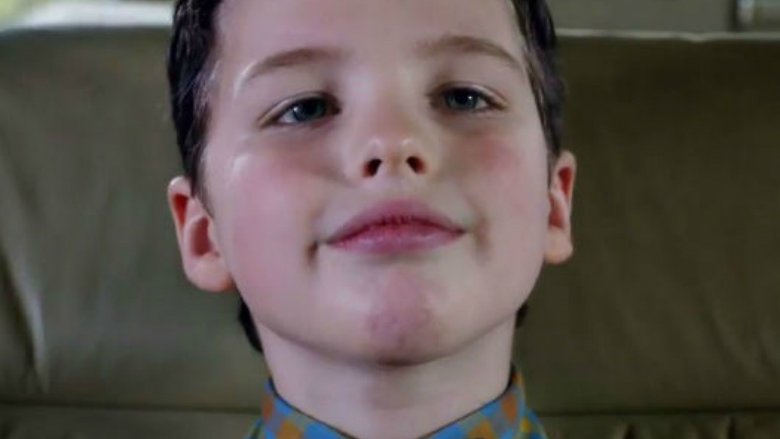 CBS won't waste any time unleashing Young Sheldon upon the world.
The Big Bang Theory spinoff starring Iain Armitage (Big Little Lies, I'm Not Here) as a 9-year-old version of Jim Parsons' character will premiere Monday Sept. 25, right after the season 11 premiere of The Big Bang Theory.
The announcement came as part of an official unveil of the CBS fall schedule (via The Hollywood Reporter), and it suggests that the Monday at 8:30 PM time slot will be where Young Sheldon resides for now.
Created by Chuck Lorre and Steven Molaro of The Big Bang Theory, the show will follow Sheldon Cooper as he lives with his family in East Texas. Zoe Perry plays his mom, and Jim Parsons (who also serves as an executive producer) will narrate.
The CBS schedule also includes premieres for other new series including the comedy Me, Myself & I starring John Larroquette and Bobby Moynihan; the action SEAL Team starring David Boreanaz; and S.W.A.T. starring Andrew Adams.
Check out the full lineup below.
Sunday, Sept. 24
7:30-8:30 PM — 60 MINUTES (Season 50 Premiere)
Monday, Sept. 25
8:00-8:30 PM — THE BIG BANG THEORY (Season 11 Premiere)
8:30-9:00 PM — YOUNG SHELDON (Special Series Preview)
9:00-9:30 PM — KEVIN CAN WAIT (Season 2 Premiere)
9:30-10:00 PM — ME, MYSELF & I (Series Premiere)
10:00-11:00 PM — SCORPION (Season 4 Premiere)
Tuesday, Sept. 26
8:00-9:00 PM — NCIS (Season 15 Premiere)
9:00-10:00 PM — BULL (Season 2 Premiere)
10:00-11:00 PM — NCIS: NEW ORLEANS (Season 4 Premiere)
Wednesday, Sept. 27
8:00-9:00 PM —  SURVIVOR (Season 35 Premiere)
9:00-10:00 PM — SEAL TEAM (Series Premiere)
10:00-11:00 PM — CRIMINAL MINDS (Season 13 Premiere)
Thursday, Sept. 28
7:30 PM, ET — THURSDAY NIGHT FOOTBALL PRE-GAME SHOW
8:25 PM, ET — NFL THURSDAY NIGHT FOOTBALL (Chicago Bears at Green Bay Packers)
Friday, Sept. 29
8:00-9:00 PM — MACGYVER (Season 2 Premiere)
9:00-10:00 PM —  HAWAII FIVE-0 (Season 8 Premiere)
10:00-11:00 PM — BLUE BLOODS (Season 8 Premiere)
Saturday, Sept. 30
10:00-11:00 PM — 48 HOURS (Season 30 Premiere)
Sunday, Oct. 1
8:30-9:30 PM — WISDOM OF THE CROWD (Series Premiere)
9:30-10:30 PM — NCIS: LOS ANGELES (Season 9 Premiere)
Monday, Oct. 2
8:00-8:30 PM — THE BIG BANG THEORY
8:30-9:00 PM — 9JKL (Series Premiere)
9:00-9:30 PM — KEVIN CAN WAIT
9:30-10:00 PM — ME, MYSELF & I
10:00-11:00 PM — SCORPION
Sunday, Oct. 8
10:00-11:00 PM — MADAM SECRETARY (Season 4 Premiere)
Monday, Oct. 30
8:00-8:30 PM — KEVIN CAN WAIT 
8:30-9:00 PM — 9JKL
9:00-9:30 PM —  ME, MYSELF & I 
9:30-10:00 PM —  SUPERIOR DONUTS (Season 2 Premiere)
10:00-11:00 PM — SCORPION
Thursday, Nov. 2
8:00-8:30 PM — THE BIG BANG THEORY 
8:30-9:00 PM —  YOUNG SHELDON 
9:00-9:30 PM — MOM (Season 5 Premiere)
9:30-10:00 PM — LIFE IN PIECES (Season 3 Premiere)
10:00-11:00 PM — S.W.A.T. (Series Premiere)