Every Leonardo DiCaprio Movie You Can Watch On Netflix Right Now
This content was paid for by Netflix and created by Looper.
Leonardo DiCaprio is one of the most consistently excellent actors in all of Hollywood. He's been a force of the filmmaking world ever since the very beginning of his career, when he was a scene-stealing teen star, and he's only gotten more esteemed over time. From giving electric performances as real-life historical figures and iconic literary characters to making our heads spin with suspense pics and action thrillers, DiCaprio has always been at the tippy top of his game in every film.
In his next must-see movie, DiCaprio stars in Adam McKay's unforgettable new satire "Don't Look Up" as Dr. Randall Mindy, an astronomy professor whose graduate student discovers a world-ending asteroid on a collision course with Earth. After being met with disinterest by a distracted White House, he will have to convince the public of the danger ahead before it's too late for everyone. As always, DiCaprio is sensational in the role, so audiences won't want to miss out on "Don't Look Up" when it arrives in theaters on December 10 and then Netflix on December 24. But before then, there's plenty of DiCaprio content available to stream on Netflix right now.
What's Eating Gilbert Grape
"What's Eating Gilbert Grape" was one of DiCaprio's first major film roles, but his work in the critically revered movie was so stunning that it earned him his first Academy Award nomination and assured that audiences would take notice of his talents for decades to come. 
DiCaprio starred in the 1993 coming-of-age drama as Arnie Grape, the mentally impaired younger brother of the title character. The film follows the eponymous Gilbert (Johnny Depp) as he grapples with his many familial responsibilities, including helping to protect Arnie's physical and emotional well-being as he reaches adulthood, even though Gilbert himself is still a struggling young adult. 
DiCaprio's performance in the film is both magnetic and compassionate, and upon revisiting the movie all these years later, it's completely clear why this budding talent was already a star on the rise when "What's Eating Gilbert Grape" was originally released.
Titanic
By the time DiCaprio starred as the lead of James Cameron's celebrated 1997 epic, "Titanic," he was already a household name with magazine covers galore plastering teens' walls all over the world. However, DiCaprio's performance as the endlessly clever Jack Dawson is one that will be cemented in cinematic history forevermore.
The film is based on the tragic real-life sinking of the Titanic, which struck an iceberg during her maiden voyage in 1912, and features many characters who are based upon the actual victims of that disaster. DiCaprio's character is unique to the film, though, and he helps to show the individual impact that this mass casualty event had upon the people on board — particularly for those who were in the lower-class decks. At the same time, DiCaprio's performance is also completely swoony and charming and has left a lasting mark on the hearts of movie fans for decades. He also earned his second of several Golden Globe nominations for the role.
Shutter Island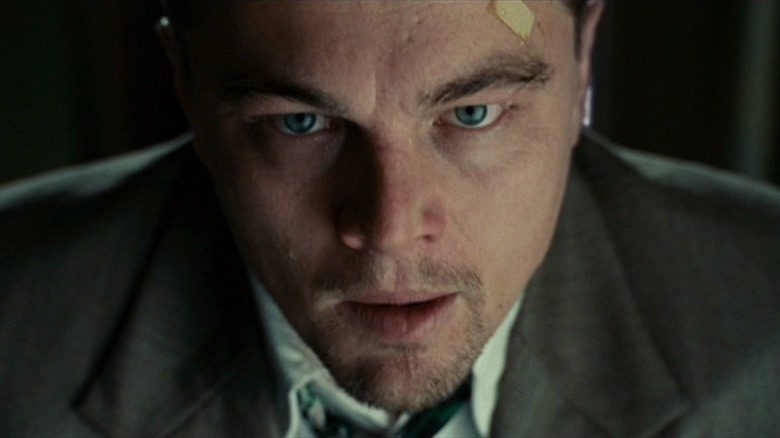 Paramount Pictures
DiCaprio has starred in several of Martin Scorsese's most riveting films over the last two decades, including "Gangs of New York," "The Aviator," "The Departed," and "The Wolf of Wall Street." Perhaps his most thrilling collaboration with the legendary director came in 2010, with the release of the suspense-thriller "Shutter Island." 
Based on Dennis Lehane's novel, the film features DiCaprio as Deputy U.S. Marshall Teddy Daniels, a man investigating an isolated psychiatric facility and searching for a missing patient — a woman who'd been committed after killing her three kids. As Teddy tirelessly tries to unravel the mystery of this patient's disappearance, he discovers that things are not what they seem on Shutter Island, and he must go to some truly dark places to discover why so many unsettling things are happening around this incredibly creepy hospital. 
In his performance, DiCaprio puts on a masterclass of mystery and manages to be both heartbreaking and terrifying in one fell swoop.
Django Unchained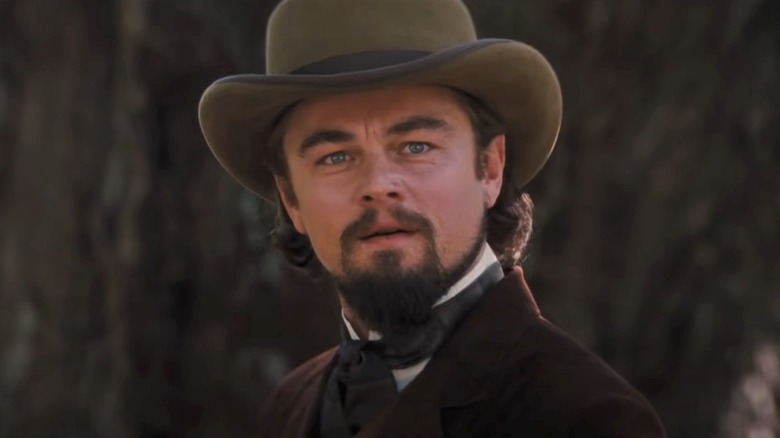 Sony Pictures Releasing
Another director that DiCaprio has repeatedly worked with is Quentin Tarantino, whose 2019 film "Once Upon a Time... in Hollywood" earned the actor his sixth Oscar nomination. DiCaprio previously starred in Tarantino's 2012 Western "Django Unchained" and received yet another Globes nod for that performance. This bloody action flick, which is currently available to stream, features DiCaprio as a heinous slave owner named "Monsieur" Calvin J. Candie, who runs a plantation called Candyland and forces his captives to fight to the death for his entertainment.
Though he's haughty and cruel, Calvin soon finds himself on the defensive once the titular Django Freeman (Jamie Foxx) teams up with the fearless bounty hunter Dr. King Schultz (Christoph Waltz) to rescue his wife, Broomhilda (Kerry Washington), from enslavement at Candie's estate. DiCaprio holds nothing back when leaning into the despicability of the character, reminding us all that he is very, very good at playing bad.
Body of Lies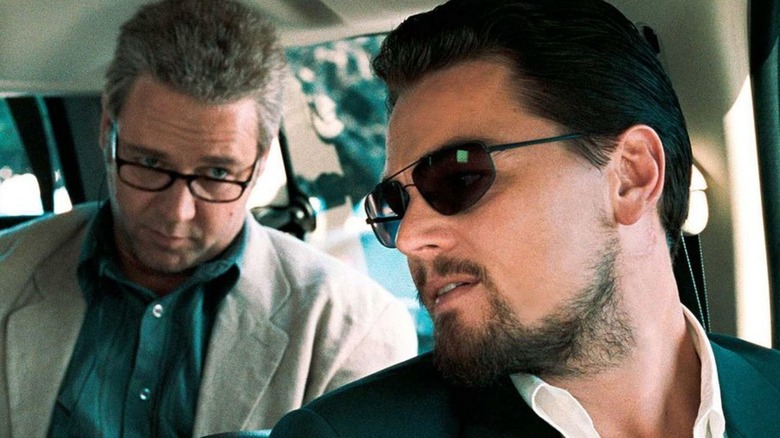 Warner Bros. Pictures
DiCaprio goes full CIA operative in "Body of Lies." He stars in the Ridley Scott-directed film as case officer Roger Ferris, who's tracking a known terrorist through Iraq and Jordan and has to get his hands very dirty to keep tabs on his mark. With a boss who's too far removed from the action to truly understand what he's up against or even get a good look at some of the deceptive and dangerous individuals he's dealing with, Ferris has to make his moves very carefully if he hopes to survive — and more importantly, if he hopes to stop the ongoing spate of lethal attacks that are underway throughout Europe.
DiCaprio is joined by some impressive screen stars in this film — including Russell Crowe, Oscar Isaac, Mark Strong, and "Extraction" standout Golshifteh Farahani. But there's no doubt that DiCaprio's performance is the anchor of this story, which, as the title hints, is increasingly complex and keeps you on your toes.