The Edward Scissorhands Scene That Had Fans In Tears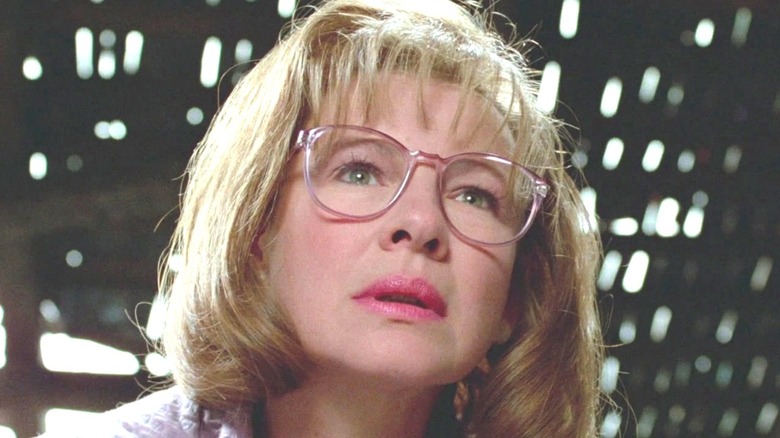 20th Century Studios
For fans of the film, nothing quite compares to the emotional impact of Tim Burton's 1990 classic "Edward Scissorhands." Burton's timeless film, which he once called his most personal (via LATimes), is an unconventional Christmas staple that continues to tug at the heartstrings even decades after its release. The film stars the then somewhat known Johnny Depp as the almost real boy with blades for fingers Edward Scissorhands, and Winona Ryder (who had breakout roles in the '80s thanks to her performances in "Heathers" and "Beetlejuice") as the beautiful teenage cheerleader, Kim. Kim is the daughter of Peg (Dianne Wiest), a lovable and kindhearted Avon representative who takes pity on Edward and invites him to live with her family. 
The film features many heartbreaking moments that will make you teary-eyed, as well as some intense and gasp-inducing scenes. However, there is one stand-out "Edward Scissorhands" moment that continues to have fans in tears. It's not the scene where Kim is dancing in the "snow" with the wonderfully haunting Danny Elfman score playing in the background, although we'll count that one as a close second. 
This Edward and Kim scene evoked tears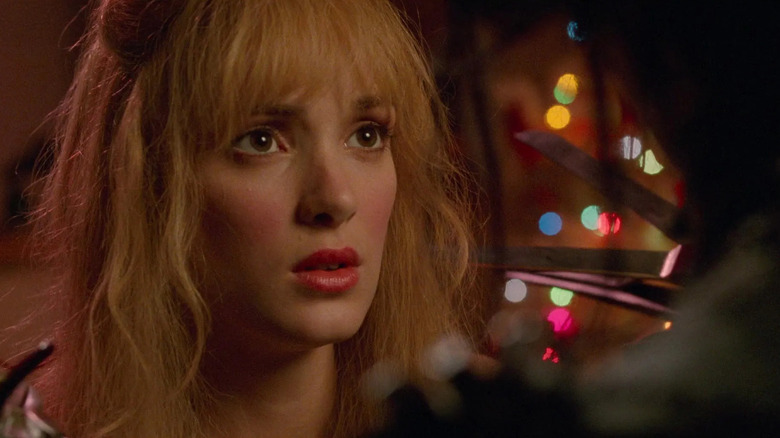 20th Century Studios
Toward the end of the movie, Kim and her boyfriend Jim (Anthony Michael Hall) have a tense altercation during which she reveals that she doesn't love him anymore. Sometime later, Edward sweetly asks Kim if she is alright. Kim then asks Edward to hold her. After trying to wrap his razor-sharp hands around her carefully, he replies, "I can't." But despite his response, Kim proceeds to hug him anyway in a moment that continues to make fans of the film cry. 
Twitter user @ohaimattmcg particularly loved this scene. Responding to a prompt about movies that make you cry, they referenced the scene and wrote, "I cry at movies way more than any person should, but for me it's Edward Scissorhands." Another user, @moakleafwilson, had a similar reaction. They quoted the heartbreaking "Hold me," "I can't" exchange and then added, "#Tears #Heartbreaking I cry EVERY SINGLE TIME ..." Redditor u/DefiantTheLion revealed that the "Hold me" scene also makes them cry every time, as did u/YFilU. 
The scene clearly resonates with fans, and that is likely in large part due to the incredible chemistry between Ryder and Depp as Kim and Edward. Their story is nearly similar to that of "Beauty and the Beast." Edward is a misunderstood outcast who discovers that Kim loves him for who he is, and that she doesn't care how he looks, that he has scissors for hands, or that he isn't human.
Edward and Kim's love story subtly develops over the course of the film and their endearingly unique bond still resonates with audiences to this day. No matter what is going on in the external world, this particular moment that Edward and Kim share is their own and it can't be taken away from them.