Thor: Ragnarok Lego Sets Are Intricate And Adorable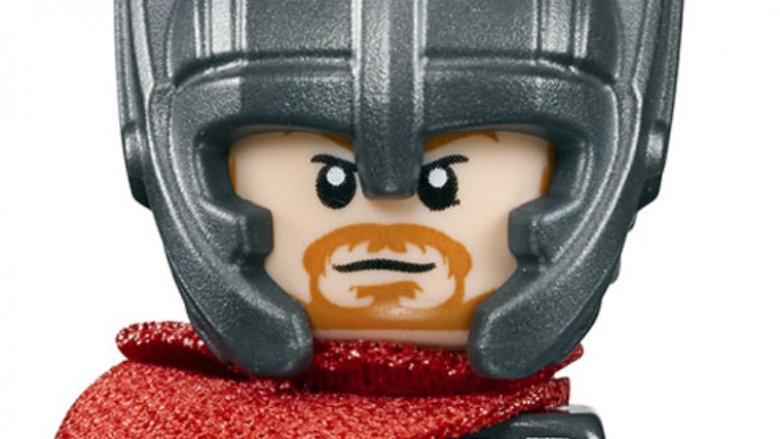 Although Thor: Ragnarok won't hit theaters for five more months, you can begin building your own Asgard much sooner than that.
LEGO unveiled two new sets based on the upcoming movie (via The Hollywood Reporter), and they're filled with tiny, adorable details that offer a glimpse at what we can expect from the blockbuster sequel. 
The first set, titled Ultimate Battle of Asgard, features Thor, Bruce Banner, and Valkyrie as they take on the villainous Hela, two Berserkers and a Fenris Wolf. The heroes fly a Commodore spaceship that has an opening minifigure cockpit, two dual stud shooters, an opening storage compartment, and a minifigure-drop function. Worth pointing out: the Banner minifigure has two faces (one for when he gets angry), and the Fenris Wolf has glow-in-the-dark eyes.
The set, which costs $49.99, will drop in the U.S. on Aug. 1, but if you've got a passport and need summer vacation plans, it will be available in the rest of the world on June 1. 
The second set is Thor vs Hulk: Arena Clash and it adds the Hulk along with the villains Loki, Grandmaster, and a Sakaarian Guard. The arena features a sliding gate, interchangeable wall sections, an opening wall section with secret weapons rack, an opening prison cell, two topple-function pillars with translucent floodlight-style elements, a smash-function wall, and a throne for Grandmaster with a seat for Loki, each with knock-over function.
That set will be $59.99 when it's released in the U.S. in August.
Thor: Ragnarok will crash into theaters on Nov. 3. Until then, check out close-up looks at some of the toys below, then find out why the movie will be better than you think.