The Funniest Holiday Moments From Classic TV Shows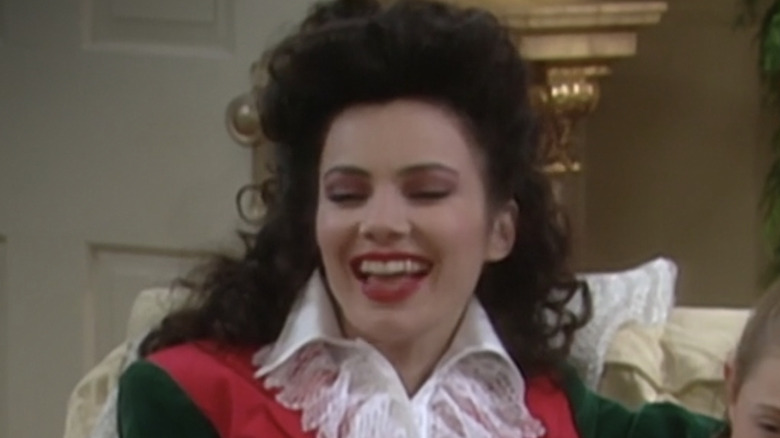 Sony Pictures Television
This content was paid for by Sony and created by Looper.
Every year, around November and December, everyone comes together to celebrate a series of fall and winter holidays. From Thanksgiving through to Christmas, Hanukkah, New Year's Eve, and more, millions of people include the same pop culture in their annual celebrations. That lets them embrace the holiday season with warmth and fervor by watching (and rewatching) the same canon of classic holiday movies, TV specials, and seasonally-themed episodes of sitcoms of the '70s, '80s, '90s, and 2000s, which we collectively consumed as kids and young adults. There's just something about Christmas episodes that provide tremendous replay value, these comedies that deliver laughs and holiday cheer, in which somebody usually learns the true meaning of Christmas, is humbled by an act of love, or, far more often, engages in some spectacular or catastrophic (and totally relatable) holiday shenanigans.
Here then are the funniest moments from the funniest episodes of some of the most enduring, durable, and greatest TV sitcoms of all time.
When Finch went Grinch on "Just Shoot Me"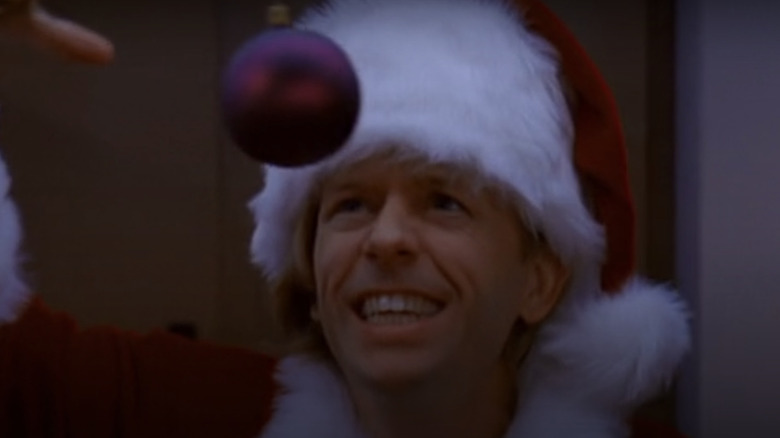 Sony Pictures Television
David Spade made a name for himself on "Weekend Update" on "Saturday Night Live" and in movies like "Tommy Boy" and "Black Sheep" as a master practitioner of sarcasm and snark, and he'd continue the trend as a member of the cast the hit "Must See TV"-era NBC sitcom "Just Shoot Me." Set at a high-end fashion magazine, Spade played Dennis Finch, wisecracking assistant to Jack Gallo and Greek chorus of sorts, commenting on the action and mocking his co-workers. 
"How the Finch Stole Christmas" is probably one of the most fondly remembered episodes of this long-running workplace comedy, because it includes a long-form parody and homage to Dr. Seuss's "How the Grinch Stole Christmas" special. After sneaking a peek at his Christmas presents before the big office holiday party, Finch is deeply disappointed in what he's about to receive, so he endeavors to preemptively ruin his colleagues' Christmas. All the while, Kelsey Grammer provides narration, doing his best impression of Boris Karloff from "The Grinch." He even gets to belt out a new take on "You're a Mean One, Mr. Grinch," with new lyrics written for the occasion. As Finch dances and tiptoes around the office, stealing stockings and gleefully cutting down decorations, Grammer comments that he's "as evil as the devil," "annoying as a mime," and "the most morally depraved creep of all time," which aren't usually phrases heard in a Christmas episode.
When Ray Liotta stole the Christmas episode of "Just Shoot Me"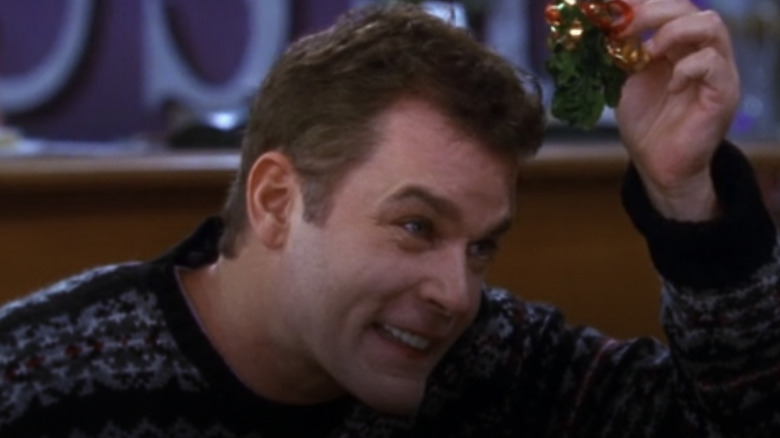 Sony Pictures Television
One might not associate Ray Liotta — the acclaimed actor who almost always plays intense and intimidating characters, often with criminal connections — with good-time holiday television. He sent up himself and his image with a recurring role on the NBC sitcom "Just Shoot Me" in the early 2000s. Ray Liotta portrayed a bizarro version of himself in which he was just as aggressive and frightening as the characters he usually embodies. On the 2001 installment "Christmas? Christmas!", this TV version of Ray is a guy who is frighteningly obsessed with that most major and festive of winter holidays. 
There's just something about the juxtaposition of a tough guy like Ray Liotta romancing major character Maya (Laura San Giacomo) wearing a tacky Christmas sweater, getting a bunch of kids to chant, "We want Santa!" that is absolutely hilarious. He out-Christmases even outspoken Christmas aficionado Maya, who, after taking her out for a date of looking at Christmas decorations and figgy pudding, shows her his apartment, where every inch is ridiculously if frighteningly covered in Christmas tackle. Ray Liotta clearly spent a fortune on sleighs, life-size wooden soldiers, giant dancing Santa dolls, and hiring a couple of guys to dress as elves and wrap presents all day.
When Santa threatened Bill on "NewsRadio"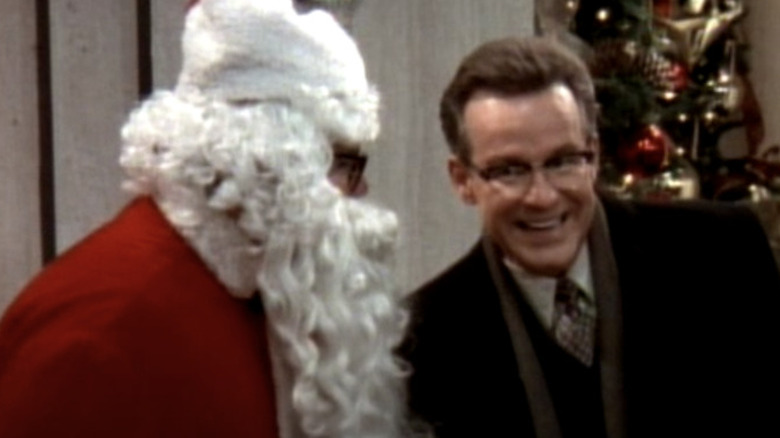 Sony Pictures Television
"Newsradio," a wry, cynical, and silly show set at a New York news radio station, quietly delivered a consistent audience to NBC in the '90s thanks to a packed cast of comedy all-stars, including Phil Hartman ("Saturday Night Live"), Dave Foley ("The Kids in the Hall"), and stand-up Joe Rogan. In the show's first holiday episode, the 1995 installment "Xmas Story," eccentric station owner Jimmy James (Stephen Root) gifts office weirdo Matthew (Andy Dick) tapes of the old radio comedy "Fibber McGee and Molly." He loves the gift...that is, until Mr. James gives everybody else a brand new Mazda Miata. Matthew is hilariously and justifiably upset, as are the other employees, until Jimmy reveals the twist: He actually bought Matthew the rights to the show — a potentially lucrative Christmas gift indeed.
Meanwhile, newsreader Bill McNeal (Phil Hartman) becomes convinced that the charity bell-ringing Santa in the lobby is stalking him, what with the many threats he makes under his breath. They clear things up when the Santa reveals he just wanted to get Bill's attention and listen to his broadcasting demo tape. Relieved, Bill puts the tape into the deck in his car, and the audience gets the funny payoff to which the whole subplot has built: It's a recording of Santa threatening Bill, along with a menacing warning to check his brakes.
When Matthew brought a dummy and saved Christmas on "NewsRadio"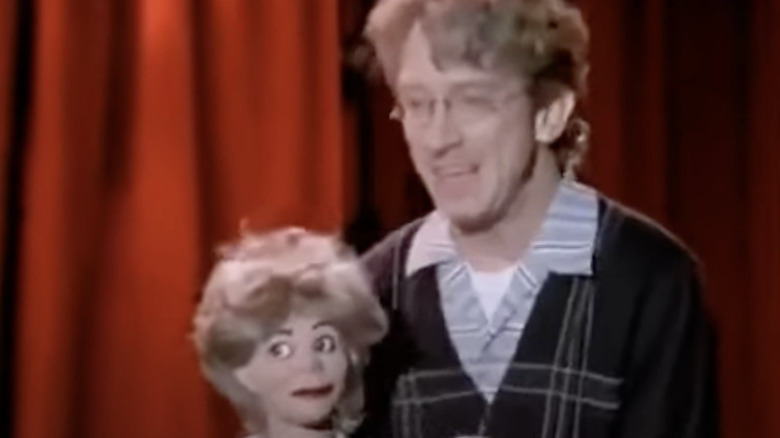 Sony Pictures Television
It's apparently a minor Christmas tradition on "NewsRadio" to make childish office goofball Matthew (Andy Dick) the butt of the joke, because his embarrassment is the also key to all of the laughs (and holiday sentiment) on the fourth season episode "Stupid Holiday Charity Talent Show." Much of the episode's running time is taken up by the ridiculous happenings at the New York Holiday Charity Talent Show, where major figures from prominent local organizations participate in a competitive variety pageant. 
It doesn't seem like Matthew will factor in much, because he'd recently been fired from his job at WNYX after running afoul of an efficiency expert. However, station owner Jimmy James (Stephen Root) promises Matthew he can get his job back if he can help WNYX win the Talent Show; that's because he's got a bet going with fellow larger-than-life media titan Ted Turner. One by one, the radio station personnel busts out hilarious and goofy talents. News director Dave (Dave Foley) is apparently an expert knife thrower, while an aggressively musical Bill (Phil Hartman) accompanies Beth (Vicky Lewis) on the piano while she gleefully belts out the standard "Makin Whoopee." But it's Matthew who steals the show and secures the win with his ventriloquism act. It's so pathetic, amateurish, and cringe-inducingly bad that voters give him high marks out of pity and sympathy. It's a moment of holiday goodwill born out of laughter driven by second-hand embarassment.
When a vase drove everybody wild on "The Nanny"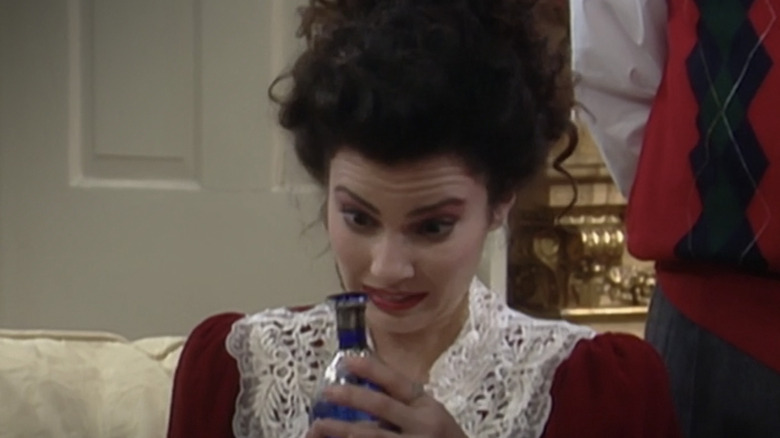 Sony Pictures Television
"The Nanny" was a star vehicle for the comically and uniquely voiced Fran Drescher, who played Fran Fine, a down on her luck and down to earth fashionista from Flushing, Queens, who takes a job as the caretaker of the three children for the wealthy Mr. Sheffield (Charles Shaughnessy). In the first season's "Christmas Episode," Fran and the Sheffield brood have the best Christmas ever, even if it's not the one they envisioned, after a familiarly frustrating rigamarole involving an attempt at sentimental gift-giving. 
Expecting a Christmas bonus, Fran spends a small fortune on gifts, only to receive not the cash she needs from Mr. Sheffield but a seemingly random vase. Disappointed, she pawns it for cash, only to learn that Mr. Sheffield actually picked it out especially for her, because it's "one of a kind with just the right accent." Touched by the gesture and riddled with guilt, Fran then has to pawn an heirloom watch in order to buy back the vase. In the end, the vase winds up in the end... of Mr. Sheffield, who, in a bit of shocking physical comedy — proving that even the best-laid holiday plans can quickly descend into chaos — accidentally sits on it. He ends up in the hospital, which fulfills a wish from his daughter, Grace (Madeline Zima) — that her father spends Christmas with the family instead of running off on a planned business trip.
When Santa died on "Married...With Children"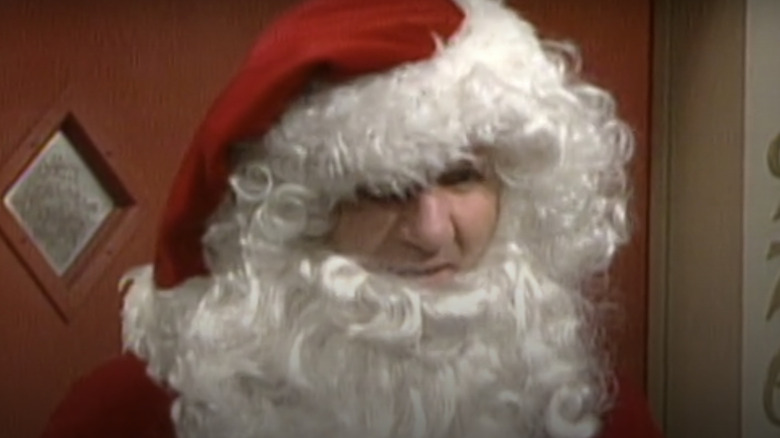 Sony Pictures Television
"Married...With Children" debuted on the small, upstart Fox network in 1987, a dark, crass, and uproariously funny alternative to the treacly family sitcoms that filled the other networks' schedules at the time. The show bucked sitcom norms with elements like Al Bundy (Ed O'Neill), a suburban dad who isn't at all wise; Peg Bundy (Katey Sagal), a mom who doesn't remotely care about her children; and sass-mouthed, quick-witted kids Kelly (Christina Applegate) and Bud (David Faustino). 
"Married...With Children" similarly took the familiar concept of the sitcom Christmas episode down a peg, removing almost all of the usual sweetness and sentimentality. In the Season Two episode "You Better Watch Out," Santa Claus straight up dies. Okay, it's not the real Santa Claus — it's a guy dressed as Santa Claus for a promotion at a nearby mall, who parachuted out of a plane as a publicity stunt. His chute didn't correctly unfurl, however, prompting his darkly funny demise after making impact with the Bundys' lawn. The bizarre, but pitch-black funny image of a corpse in a Santa suit, will stick with viewers for a long time. It also necessarily draws the attention of all the kids in the Bundys' neighborhood, and it's up to Al, who usually doesn't care about anybody but himself, and barely, to make sure the little ones' Christmas isn't ruined forever.
When Al Bundy got new perspective on "Married...With Children"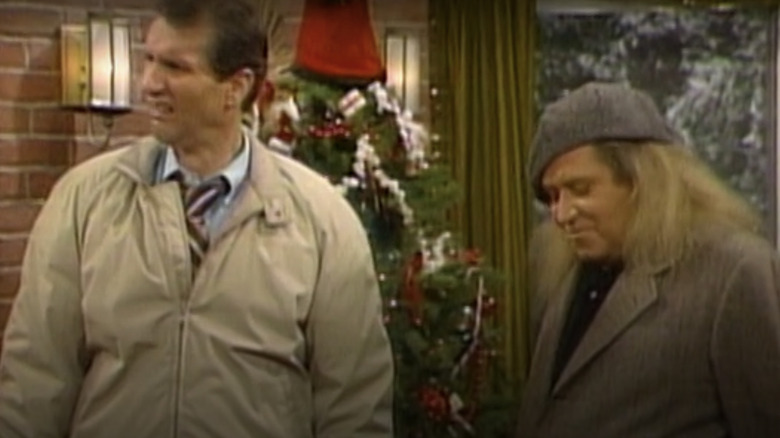 Sony Pictures Television
It's almost a requirement for TV comedies to present a holiday episode that sends up "It's a Wonderful Life," the often re-run 1946 Christmas classic about a man who gets shown by an angel what life would be like had he never been born. When "Married...With Children" did its "It's a Wonderful Life" episode — the two-part "It's a Bundyful Life" in 1989 — the show did it in a categorically brutally funny and nasty way. 
In part one, Al is left with no money for gifts after he gets to the bank too late, and a brief stint babysitting the children of shopping parents goes sour because Al's twisted take on "A Visit from St. Nicholas" makes them sad and upset, he's left alone by his disappointed family to put up the Christmas lights. Shortly after wishing he'd never been born, the lights electrocute Al and he meets his guardian angel (played by '80s screaming comedian Sam Kinison). In a messed-up repackaging of the tired "It's a Wonderful Life" tropes, wife Peg and kids Kelly and Bud are actually much better off if Al had never been a part of their lives. Peg seems to be a happy homemaker while not-bright Kelly is in college and lascivious Bud is a woke feminist ally.
When too many Santas showed up on "Designing Women"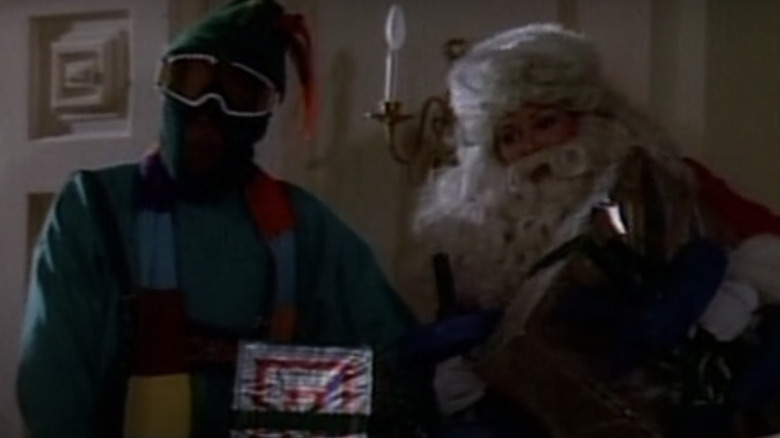 Sony Pictures Television
This 1987 episode of "Designing Women," the workplace sitcom about Sugarbaker's, an Atlanta interior design firm, has a lot to say about what some people will do in pursuit of a perfect holiday. Nearly every character has their heart in the right place and is trying to go above and beyond to do something nice for an innocent little kid who is growing up too fast and losing his faith in the spirit of the season. 
Mary Jo (Annie Potts) is heartbroken because her son Quinton has hit the age where he doesn't believe in Santa Claus anymore, and she's miffed that he sets up a trap to catch the real gift-giver in their tracks. That situation plays out in some amusingly awkward moments when multiple associates of Mary Jo step up to keep the Santa illusion alive... all at the same time. Charlene (Jean Smart) plays Santa for her church, so she stops by in costume to prove to Quinton that Santa is real — along with long-suffering assistant Anthony (Meshach Taylor), dressed as an elf. Suzanne (Delta Burke) also acts kindly and hires a department store Santa to visit an increasingly confused Quinton, but then the magic of Santa gets pushed to the back burner when Anthony breaks an ankle and the store Santa steals all of the presents under Mary Jo's tree.
When everybody topped each other with gifts on "The King of Queens"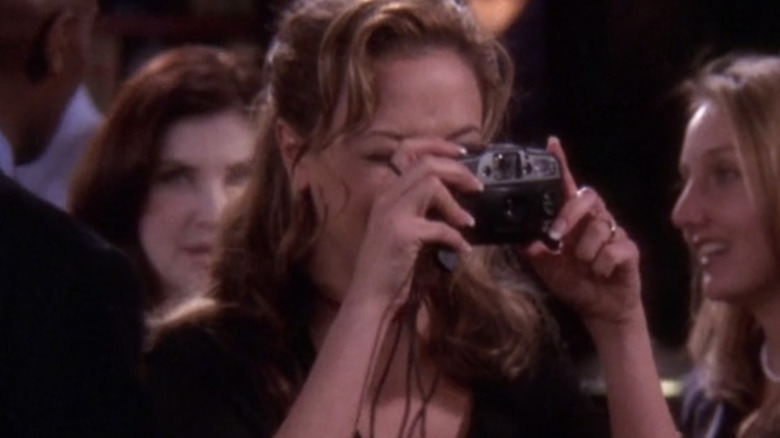 Sony Pictures Television
Many Christmas episodes of old TV shows will tell you that the true meaning of Christmas is some vague, indefinable sense of love and psychic warmth. But for better or for worse, and for some people both real and fictional, Christmas is all about the presents. It's why millions get so frustrated with Christmas shopping, and trying to get just the right gift for their loved ones. This, and related themes, were explored in the 2000 "The King of Queens" episode "Better Camera." 
Viewers can certainly relate to the situation in which the shopping-weary Doug Heffernan (Kevin James) and his best friend Deacon (Victor Williams) embroil themselves. They both decide to get their respective wives cameras for Christmas. Deacon cynically but practically opts for a cheap one, because spouse Kelly habitually loses cameras. Doug, forever trying to act like a big shot, goes for the more expensive model, but he can't even keep it a secret because his wife Carrie (Leah Remini) successfully convinces him to let her open her gift early. And because it's a camera, she takes it to her office holiday party. Proving no good deed or act of hubris goes unpunished, the plot and the Christmas comedy climaxes when Carrie opens her employee gift — a camera way better than even the one Doug bought her.