The Walking Dead: World Beyond Season 2 Mid-Credits Scene Explained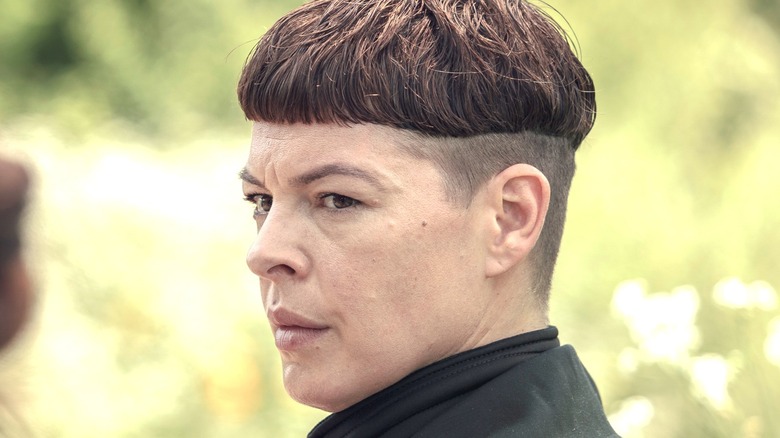 Steve Swisher/AMC
With "The Walking Dead" coming to an end in 2022 and several upcoming spin-off shows and movies already in the works, a new era for the post-apocalyptic AMC franchise is practically upon us. That said, "The Walking Dead: World Beyond," AMC's second "Walking Dead" spin-off series, will not play a role in the franchise's new era, as it also came to an end recently.
The spin-off show follows a group of sheltered Midwestern teenagers who are suddenly forced to grapple with the dangerous outside world when their community is destroyed by the Civic Republic Military. They quickly find themselves in over their heads but go on to face off against the mysterious militaristic group across the show's two seasons.
Despite being underdogs, the series finale of "The Walking Dead: World Beyond" shows its protagonists walking away with mostly happy endings and hope for their futures. That hopeful feeling quickly disappeared, however, when the finale's mid-credits scene began to roll. In the final scene, a French scientist is watching a video of Dr. Edwin Jenner (Noah Emmerich) when someone enters the lab and blames her team for starting the apocalypse.
The intruder claims that the scientist's team made things worse and shoots her before leaving. Fatal confrontations are hardly new to the franchise, but what happens next is unprecedented. The scientist reanimates in record time, jumps up, and chases after her attacker. She screeches and violently pounds on the door in a way that totally disregards the "Walking Dead" universe's previously established rules for walkers.
Here's what "World Beyond" creator Scott Gimple had to say about the chilling scene.
Walking Dead fans probably haven't seen the last of that new zombie variant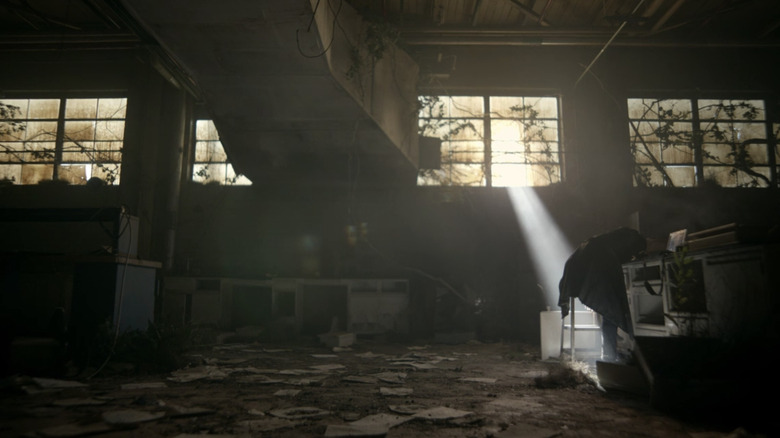 AMC
In an interview with Entertainment Weekly, "The Walking Dead: World Beyond" creator Scott Gimple spoke about the show's explosive series finale, how it connects to other parts of the "Walking Dead" Universe, and the episode's curious mid-credits scene.
Gimple explained that it was important to bring back Dr. Jenner, who first appeared in "The Walking Dead" Season 1, in order to begin rolling out a complex storyline that's been in progress "for a long time." However, Gimple refused to elaborate on what this storyline is or when fans will get to see it play out in its entirety.
Instead, Gimple went on to reference the graffiti shown in the lab scene, which translates to "the dead are born here," and implies that the lab in question is where the outbreak originated. "Don't just flatly believe everything you read scrolled in paint," Gimple said. "That might be true, but I wouldn't say it's true because it's painted."
As for the new variant that appears to make walkers stronger, faster, and more aggressive than ever, Gimple teased that it will come into play later on in another "Walking Dead" title. "[It's] not the end state of that walker necessarily," he said. "But Jenner was super intrigued about things he was hearing, about differences in things, and that's a big portion of the story or the environment that we will potentially tell a story in."
While Gimple was careful not to reveal anything about the new walkers, it's clear that "Walking Dead" fans should definitely stay on the lookout for them moving forward.