The Ending Of Succession Season 3 Episode 8 Explained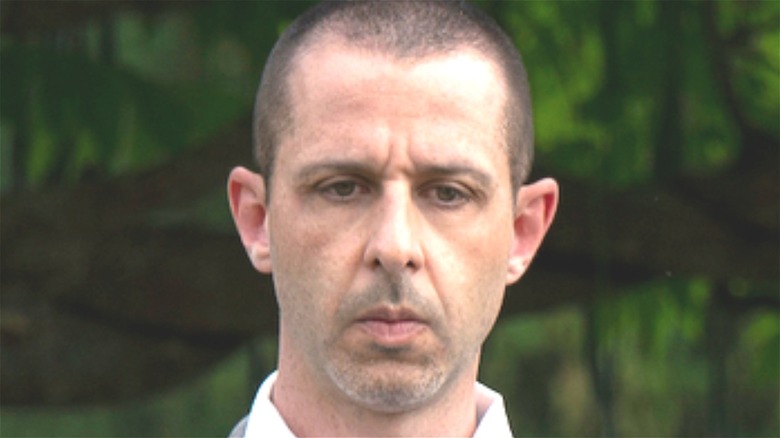 Graeme Hunter/HBO
After the past seven episodes, it looked like things might not change much during the third season of "Succession." Then, in "Chiantishire," the pieces are suddenly shuffled heading into next week's finale. 
Season 3 episode 8 starts off with the Roy family attending the wedding of Kendall (Jeremy Strong), Shiv (Sarah Snook), and Roman's (Kieran Culkin) mother, Caroline (Harriet Walter). At the beginning of the episode, both Kendall and Shiv seem to be defeated. Kendall concedes that his father Logan (Brian Cox) has beaten him in his latest attempt to remove him from the company, while Shiv sulks after watching her fortunes decline all season. That leaves Roman seemingly in the most favored position in his father's eyes. 
It doesn't last. At the wedding, a pivotal conversation between Shiv and her mother causes Shiv to rethink everything. Meanwhile, Lukas Matsson's (Alexander Skarsgård) erratic behavior threatens WayStar's impending purchase of the big tech company GoJo. Roman is dispatched to save the deal and once again looks like the hero. Then, an indiscretion with his phone suddenly ruins his status in his father's eyes, and gives Shiv an opening. 
Here's what the ending of "Succession" Season 3 Episode 8 is all about.
WayStar-Royco's future could look different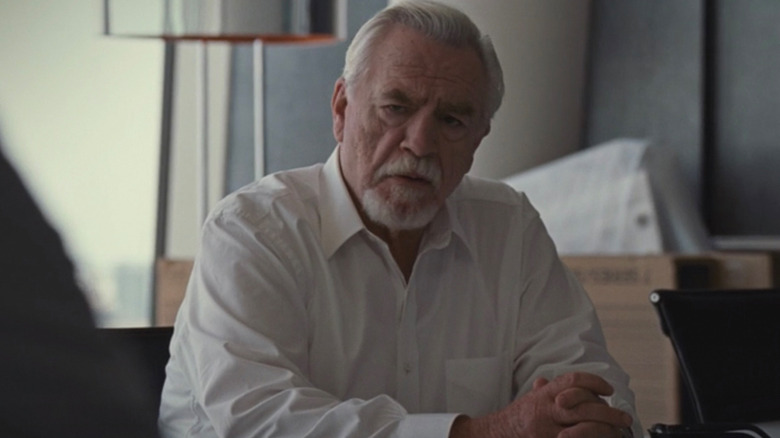 HBO
WayStar-Royco's evolving corporate architecture continues to be a major story this season. In Season 3 episode 6, Shiv made an unauthorized deal with Stewy (Arian Moayed), Sandy (Larry Pine), and Sandi (Hope Davis) to create new seats on the board in exchange for the Roy's keeping control of the company. She made this decision at the recent shareholders' meeting, while Logan was incapacitated with a UTI, and Logan has never seemed to like the deal much. 
Now, Logan looks willing to throw all that out the window. Lately, Roman has been engineering a purchase Of GoJo, a big tech company headed by its mercurial CEO Lukas Matsson. This week, a series of strange Tweets from Lukas has Roman and Logan worried that he's having second thoughts. At their one-on-one meeting at Lukas' lakeside retreat, Lukas asks Roman for a 50-50 power sharing arrangement. To Roman's surprise, when he brings the deal back to his father, Logan considers it. 
This might have seemed unthinkable as recently as a few weeks ago. However, Shiv's deal with Stewy and Sandy/Sandi has changed the rules. While he hates giving up control of the company, he does admit that GoJo makes WayStar-Royco more relevant to the 21st century. Accepting the deal with GoJo could also screw up Shiv's recent deal with Stewy, Sandy, and Sandi. Would Logan consider the unthinkable all so he doesn't have to share power with Sandy Furness? It's possible. 
The only problem is, Roman makes a big mistake might ruin the deal entirely.
Roman learns an important lesson about texting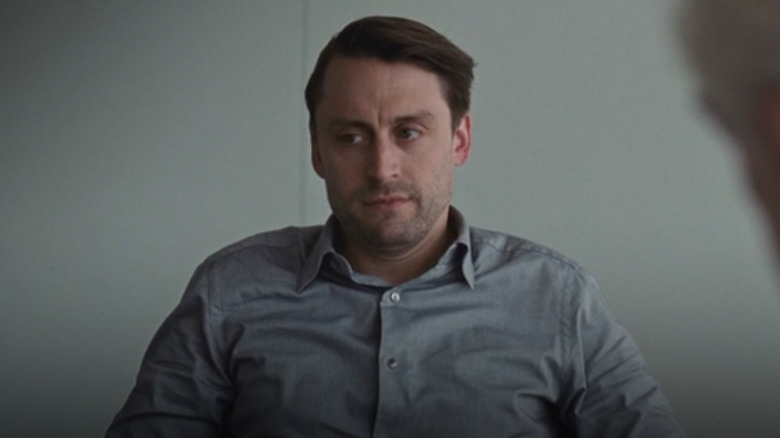 HBO
At first, everything is turning up Roman this week. His father is considering not just buying GoJo, he's even willing to entertain a 50-50 power sharing arrangement with the Swedish outfit.  
Then, it all comes crashing down when Gerri congratulates Roman, and he responds by texting her a picture of his genitalia –  except it accidentally goes to his father. All of a sudden, the dalliances with Gerri that Roman has until now has kept hidden from his father have now been exposed. It was never clear if Logan knew about Roman's indiscretions with Gerri before this but there's no denying it now. In an instant, all the work Roman has done to win favor in his father's eyes this season falls apart. 
Logan is equally concerned that Roman would compromise himself as well as disgusted that he would consider an affair with an older woman. It's also worth noting that age difference isn't the problem here — all this season, Logan's been enjoying an affair with his decades-younger staffer, Kerry (Zoe Winters).  
With one text message, Roman looks to be on the outs with Logan. 
Shiv's fortunes change dramatically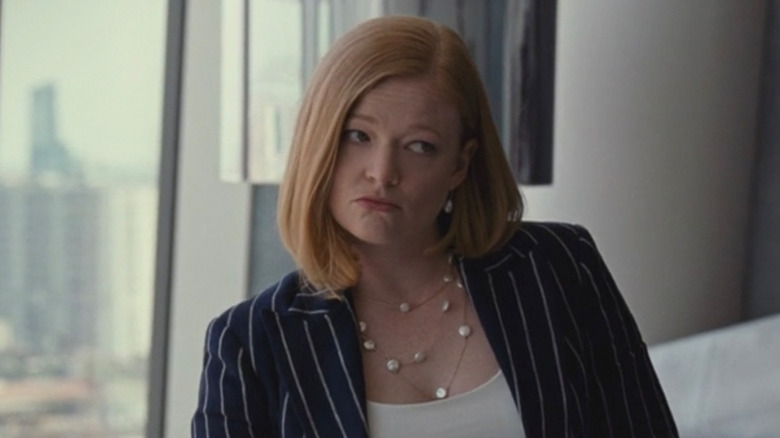 HBO
At the beginning of this week, Shiv is depressed and not interested in attending her mother's wedding, not wanting to give her mother a chance to gloat at her failures. By the end of this week, Shiv might be the presumptive heir. The change happens when Shiv has a chat with her mother at the wedding. Traditionally on "Succession," Caroline has never approved of Shiv's choices in life, whether it's marrying her husband Tom (Matthew Macfayden) or entering a career in politics. The night before Caroline marries Peter Munion (Pip Torrens), Shiv and Caroline meet for one last chance to trade insults and share recriminations. Caroline cruelly tells Shiv that people like them aren't fit to be mothers, and congratulates Shiv on her decision not to have kids with Tom. 
That changes everything. As always, Shiv wants to prove her mother wrong. Her mother's words prompt her to start plotting to take over the company from her brother Roman. She also starts contemplating having a kid with Tom (Hilariously, Shiv's idea of "dirty talk" is to tell Tom to his face that she doesn't love him). 
With her newfound confidence, Roman's indiscretion conveniently gives Shiv the opportunity to throw Roman under the bus. At the end of this week, Shiv is manipulating Gerri into accusing Roman of sexual harassment for an affair that was basically common knowledge until this point. It looks like Gerri has no choice but to help Shiv take Roman down. 
Kendall hits rock bottom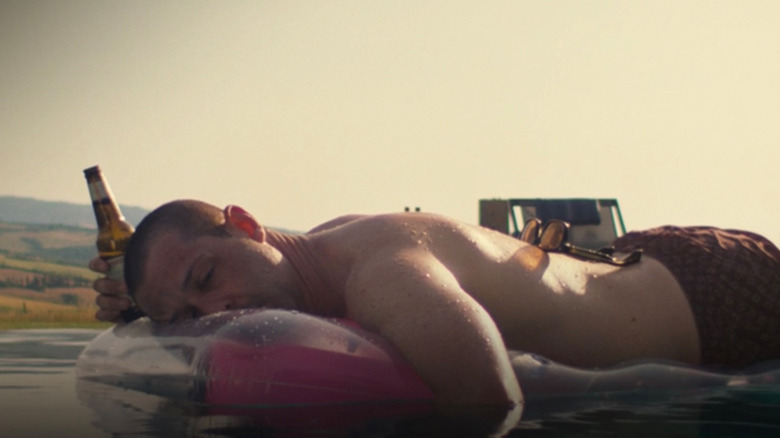 HBO
Poor Kendall. After seven episodes of trying to defeat his father from the outside, this week he finally concedes defeat. After challenging his father to a one-on-one dinner, Logan accepts Kendall's implicit resignation. He might not even give Kendall the $2 billion stock buyout he offered last week. Kendall meekly concedes that his father has out-corrupted him. Logan takes the opportunity to humiliate his son twice over, using Kendall's son Iverson (Quentin Morales) as an unwitting taste tester and then asking him twisted questions about the night he killed the caterer at the end of Season 1, like how long the caterer took to drown. 
Kendall meekly replies that at least he's a better person than Logan is, and Logan leaves in sneering triumph. Then, Kendall drops out of most of the rest of the episode, as Shiv and Roman's storylines takes precedent. In the waning seconds, the episode picks up with Kendall him at a nearby villa. He's ignoring his kids and drunkenly falling asleep face down in the pool, mirroring the caterer's drowning. It's almost like he's trying to drown himself. That seems unlikely to actually happen, but he's definitely drowning in guilt. 
If you or anyone you know has been a victim of sexual assault, help is available. Visit the Rape, Abuse & Incest National Network website or contact RAINN's National Helpline at 1-800-656-HOPE (4673).