What Happened To Lindsey Witte From My 600-Lb Life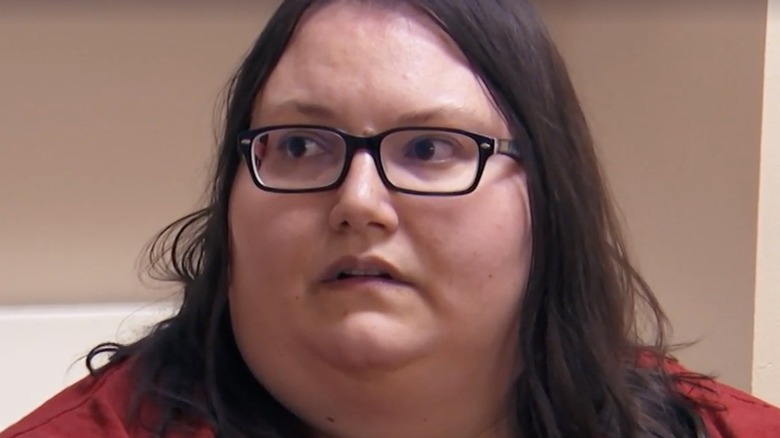 TLC
In the eighth season of "My 600-Lb Life," 39-year-old Lindsey Witte was the focus of the second episode. Detailing a history that included an abusive boyfriend, a problematic father, and a passion for food ("It's always been there for me when no one else was," she narrates to the show's audience), the Iowan was struggling with a body that seemed to be failing her. "With how my body is now, I feel like it's a miracle I still wake up every morning," she says early on in the episode. Even while admitting that things needed to change because she was afraid of dying or losing her husband Paul, she questioned his support and understanding of what she was going through.
Yet, to everyone's relief — and inspiring many — Witte became an early eighth-season success. After visiting the show's resident doctor in Houston, Dr. Now, she became committed to making changes so that she would qualify for a second gastric sleeve weight-loss surgery. These changes included moving to Houston and losing a considerable amount of weight relatively quickly. Though she initially didn't do well on the diet program, she qualified for the surgery by the end of the episode (and almost a year of real-time). Despite complications due to scar tissue, she came through the surgery fine, recovered, and started on the road to success with diet, an exercise program, and psychotherapy. 
The episode aired on January 8, 2020, almost two years ago. So it's natural to wonder what happened to Witte and where she is now. Are she and her husband doing well? Has she been able to reach her goal weight? Here's what we know.
She and Paul divorced, but she continues to progress in her weight loss journey
Lindsey Witte, who currently goes by Lindsey Kay, continues to document her weight-loss journey on social media, including a private group on Facebook called Second Chance Success — The Real Lindsay Witte, and more recently, over on TikTok. In a September 19 post, she said she'd lost over 350 pounds from her high of 640, so she's under 290 now. And in a November 13 video, she said, "I still have a little ways to go, so you've just got to keep on keeping on. You've got to switch things up and just really, really stay positive. It's a journey, it's not a quick fix."
Although in mid-2020, Lindsey shut down rumors that she and Paul were having marital troubles (via The Cinemaholic), the situation has changed. In an October TikTok, Lindsey announced that they were divorced. As those who have watched the episode know, Paul struggled with his own addiction issues, in his case with alcohol. While Lindsey moved to Houston to continue her progress, he stayed behind — and apparently had an affair with an old girlfriend. Lindsey said she was determined not to let herself, her loved ones, and her fans down despite this setback. "Failure is not an option," she said. 
She's been showcasing some humor, additional confidence, and other aspects of her personality online — it turns out she can even sing! It's great to see that she's thriving, interacting with her fans, and getting closer to her goal. And by the way, although there was talk about Lindsey filming a follow-up episode (per Starcasm, from January 2021) that has not materialized yet, there's still hope that could come.