A New Morbius Clip Reveals Jared Leto's Transformation Into A Bloodthirsty Antihero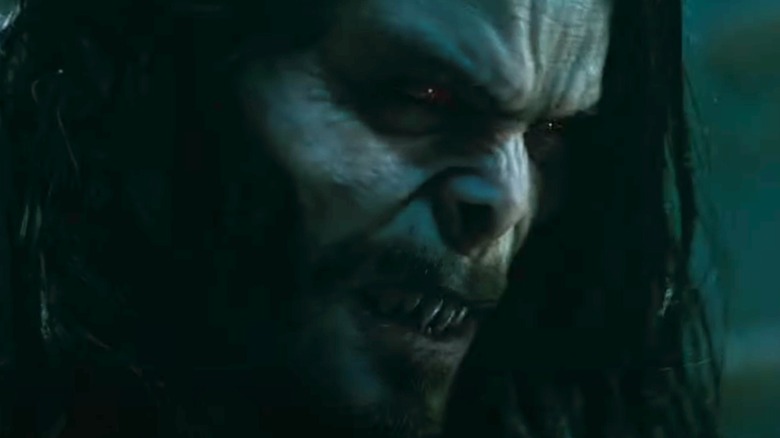 Sony Pictures Entertainment/YouTube
As the world continues to fixate on December 17's "Spider-Man: No Way Home," Sony Pictures continues to flesh out the world around the beloved web-slinger. 2018's "Venom" with Tom Hardy in the title role kicked off this initiative, with its 2021 sequel, "Venom: Let There Be Carnage," keeping the momentum going. Next on the slate is a non-symbiote-based feature focused on Dr. Michael Morbius (Jared Leto), or as he's known on the pages of Marvel Comics, Morbius the Living Vampire.
Directed by Daniel Espinosa, "Morbius" will follow the titular doctor's experimental efforts to cure himself of a rare blood disease. His latest attempt involving cave-dwelling bats appears to work, however, it comes with some unsavory side effects. Now equipped with super-strength, echolocation, and an unquenchable thirst for blood, Morbius has turned himself into a full-fledged vampire — something that also alters his appearance and overall demeanor quite drastically.
Courtesy of the CCXP Worlds 2021 event, Marvel fans got the chance to check out a new clip from "Morbius" that shows off the vampiric medical practitioner in all of his monstrous glory.
Morbius is a force to be reckoned with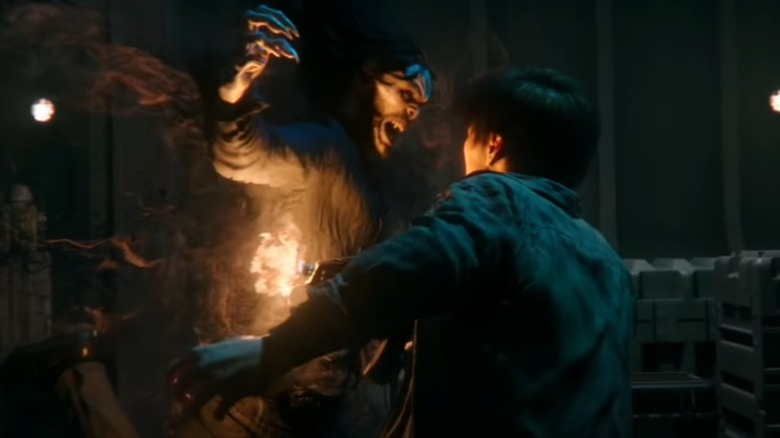 Sony Pictures Entertainment/YouTube
The clip opens with Dr. Morbius in dire straits with his fiancée, Martine Bancroft (Adria Arjona), at his side. He looks frail, sickly, and struggles to maintain his posture with various medical devices attached to his body, so he lays down on a medical chair, and she straps him in. Mere moments later, though, he's missing from his confinement, and when he reappears, he's transformed into a vampire. One of the armed guards on the ship fires his gun at him, prompting Morbius to go on the offensive. He's further enraged when the other men accidentally harm Bancroft right in front of him.
In no time at all, Morbius is leaping from wall to wall, using his metahuman strengths to wipe out his attackers. He chases the crew all about the ship, but they soon realize that running and fighting are useless against such a monster. The not-so-good doctor kills everyone in his path before he comes to and returns to his human form, taking a moment to look at his reflection and register his changed physique. All in all, this scene is full of interesting visuals and hard-hitting action that perfectly encapsulates the danger Morbius' vampire side presents. 
Will Dr. Morbius use his newfound powers for good? Or will he succumb to the temptation of evil? We'll find out when "Morbius" hits the big screen on January 28, 2022.