The Bizarre Anime Series Climbing Netflix's Top 10
Netflix
Netflix is often a haven for either brand new content or shows that no longer have a place at their original homes. One such series is an anime that is based on a popular manga by Hirohiko Araki and first began airing in October 2012. In the years since its premiere, the series has garnered a large and dedicated fan base for itself, and it's not hard to see why. 
The show begins in the late 1800s but has continued through to the present day, and follows the exploits of a family whose members are not only capable of wielding fantastic powers but are also are ultimately destined to do battle with terrible foes. Boasting a rather unique art style, the show in question, "JoJo's Bizarre Adventure," often focuses on different members of its central family, the Joestars, each of whom eventually takes on the "JoJo" moniker. The series adapts different sections of Araki's original manga each season.
But why is "JoJo's Bizarre Adventure" suddenly surging in popularity on Netflix and climbing its way into the streamer's Top 10 TV show rankings?
The newest season of JoJo's Bizarre Adventure has arrived on Netflix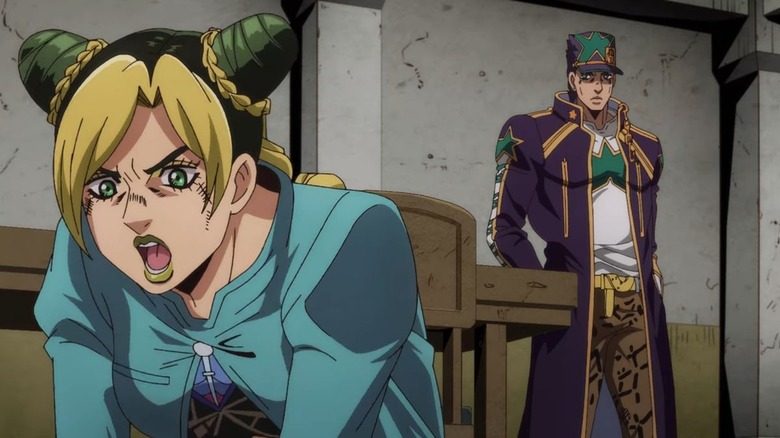 Netflix
Season 5 of "Jojo's Bizarre Adventure" just started airing on Netflix in early December, which is why the series is currently performing so well on the popular streaming platform. The show's latest season is titled "Stone Ocean," and 12 episodes of it are currently available to stream. 
The season focuses on Jolyne Cujoh (Kira Buckland) after she is sentenced to prison for a car accident and murder. She later receives a mysterious object and a warning that is sure to set the stage for the show's next epic showdown. In typical anime fashion, Jolyne gains both allies and enemies alike as her powers, which present bizarre and fantastic new possibilities for the character and show, begin to manifest themselves.
The season has received positive reviews from critics up to this point, with IGN writer Brittany Vincent calling it a "masterful adaptation of the manga," so anime fans and longtime "Jojo's Bizarre Adventure" viewers definitely shouldn't wait too long to check out "Stone Ocean."