The Netflix Holiday Universe You Never Knew Existed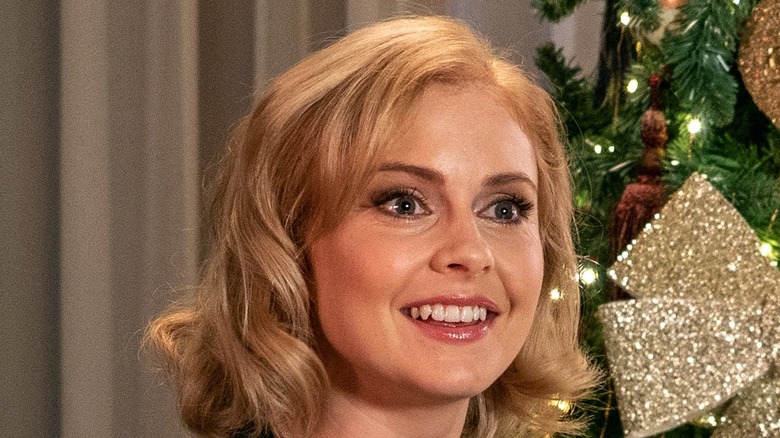 Netflix
Move over, Marvel. It turns out there's another interconnected universe of characters and movies, and while these characters may not have the pop culture cache of a Tony Stark or Carol Danvers, they are no less relevant to a certain segment of viewers at a certain time of year. That time of year is now: the holiday season. And those viewers are the people who can't get enough of Christmas rom-coms and Hallmark-style heartwarming holiday fare. Still, even those viewers may not know the secret that's been hidden in plain sight: many of Netflix's holiday movies are connected in subtly sneaky ways.
Fans may be asking themselves how it's possible that the disparate worlds of movies like "The Knight Before Christmas" (which begins in England in 1334), "Holiday in the Wild" (which takes place largely in Africa), and the New York City and New England-set "Christmas Inheritance" could ever intersect. But they do, along with several other Netflix Christmas titles.
While some viewers may see this revelation as a challenge to spot all the connections, other fans are taking the easy route and consulting a handy graphic that Netflix itself released, as seen below. In fact, Netflix first informed viewers of its holiday cinematic universe in a tweet two years ago, but since then, the connections have only expanded.
Netflix has been quietly developing its holiday cinematic universe for over four years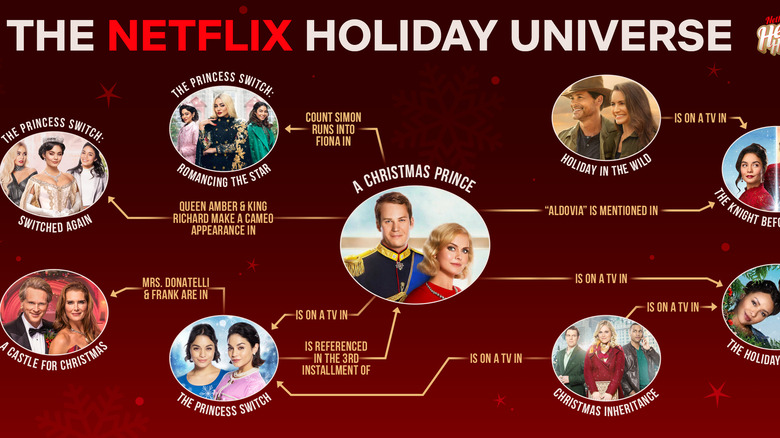 Netflix/Twitter
As fans can see in the latest graphic Netflix shared via Twitter, the hub of the streaming service's connected Yuletide universe is the 2017 fan-favorite "A Christmas Prince." In addition to launching a franchise that has spawned two sequels so far, the holiday rom-com is directly or indirectly connected to eight other Netflix holiday films. For instance, supporting character Count Simon Duxbury (played by "Supernatural" recurring actor Theo Devaney) has a scene with Vanessa Hudgens' Fiona in the new "The Princess Switch 3: Romancing the Star," and the movie's fictional nation of Aldovia is referenced in 2019's "The Knight Before Christmas." More prominently, "A Christmas Prince" leads Rose McIver and Ben Lamb (as Queen Amber and King Richard) pop up in the 2020 sequel "The Princess Switch: Switched Again."
Meanwhile, "A Christmas Prince" is seen playing on a TV in the 2018 film "The Princess Switch," which itself is later referenced in 2019's "A Christmas Prince: The Royal Baby." Not only that, but "A Christmas Prince" is also seen playing on TV in 2018's "The Holiday Calendar," while 2017's "Christmas Inheritance" is seen on TVs in both "The Holiday Calendar" and the original "The Princess Switch." Likewise, 2019's "Holiday in the Wild" pops up on a TV in "The Knight Before Christmas." Two "The Princess Switch" characters— Frank De Luca (Mark Fleischmann) and Mrs. Donatelli (Suanne Braun) — also appear in the 2021 movie "A Castle for Christmas," which stars Brooke Shields and "Princess Bride" lead Cary Elwes. 
Phew — that's a lot of character crossovers to keep track of, especially if you've already had a couple of eggnogs. Thankfully, Netflix's handy chart means fans don't have to think too hard while kicking back and enjoying a rom-com holiday.