The Iconic Role That Made Emma Watson Physically Ill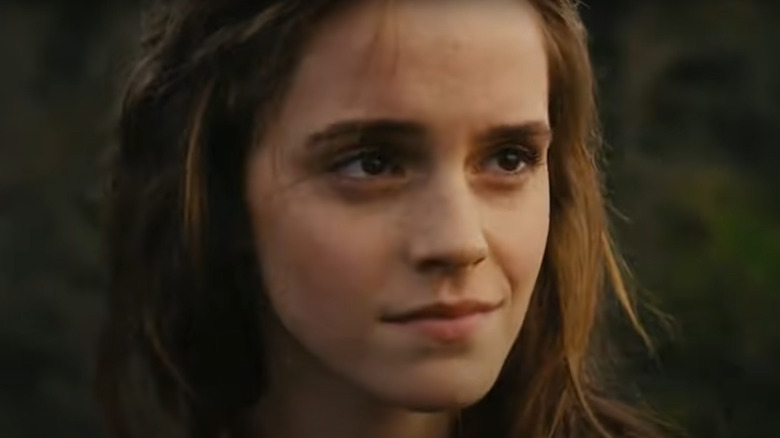 Paramount Pictures
Contrary to what some may believe, the life of a movie star isn't always glamor and five-star luxury. For many, the route to stardom is a hard slog. There can be long hours, late nights, travel, and separation from loved ones — not to mention having to sometimes face less-than-ideal on-set conditions. Some truly dedicated actors will willfully put themselves through intense bodily and psychological stress to get into their roles. Robert De Niro famously gained 60 pounds for "Raging Bull." Christian Bale, meanwhile, lost 62 pounds for his role in "The Machinist" (via GQ). Even outside these extreme feats of method acting, there's a long list of actors who almost died on set, indicating a much broader set of possible risks inherent in working as a screen performer.
Emma Watson was only nine years old when she was cast in "Harry Potter and the Sorcerer's Stone," so she's grown up in the movie business for almost her entire life. Since completing the eight-movie "Potter" cycle in 2011, Watson has gone on to star in numerous memorable Hollywood hits including "The Perks of Being a Wallflower," "Little Women," and "Beauty and the Beast." But there's one role that Watson will likely never forget, because of the grueling physical ordeal she went through to complete the shoot.
Emma Watson fell 'so ill' on the set of Noah she didn't think she could go on
Paramount Pictures
Darren Aronofsky's films, including "Requiem for a Dream" (2000), "Black Swan" (2010), and "mother!" (2017), may be well known for the shocking and often harrowing ordeals they put their audiences through, but in the case of Aronofsky's biblical epic "Noah," it was Watson who went through her fair share of suffering while performing the role of Ila, Noah (Russell Crowe)'s adopted daughter.
"Noah" tells the story of the titular Old Testament hero who, just as in the film's biblical source material, is called on by God to build an ark and save breeding pairs of every animal on earth from an impending apocalyptic flood God intends to unleash. Aronofsky's shooting set had some very strict rules when it came to ecological awareness, which it seems included, among other stipulations, a prohibition on single-use plastics.
"Because the film has a pro-environment message, Darren didn't want anyone drinking from plastic water bottles on set," Watson said in an interview (via The Guardian). "Everything we used had to be recycled or recyclable. Having no water bottles on set at five in the morning, when you're exhausted and delirious, wasn't ideal. I was so tired one morning I picked up a mug from my trailer and drank some stagnant water that had been there for the duration — so three months. I was so ill." When Watson told Aronofsky the next day that she didn't think she could keep shooting, the director responded that she should use the illness in her performance: "He was like: 'Use it for the scene.'"
Thankfully, Emma pushed through and survived her bout with a stale water-induced illness, leaving viewers with the film as it exists today.
Watson otherwise had a good time on the set of Noah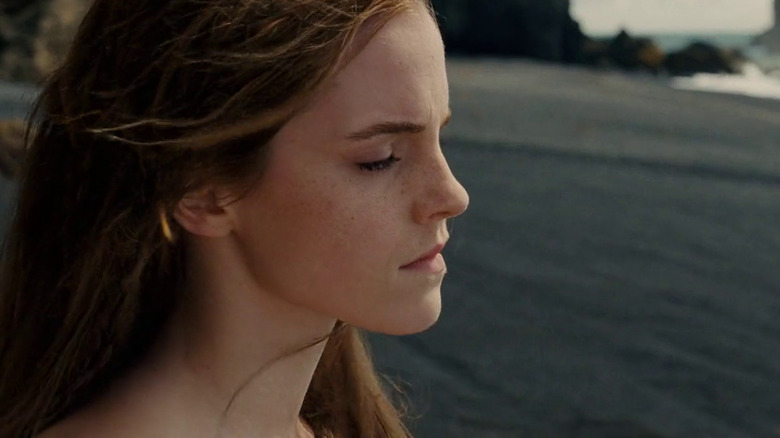 Paramount Pictures
Though Emma Watson fell ill during the time she spent shooting "Noah," she otherwise spoke positively about her time working with director Darren Aronofsky. For example, in a video interview with Screenslam shared to their YouTube channel, she praised Aronofsky for "know[ing] every single centimeter of that movie; of every costume, every dimension of that ark, of every line. He is involved in every single aspect. It all has his mark on it. He's thought deeply about all of it," she said, before going on to describe him as an "auteur."
What Watson characterizes as a positive working relationship ended up resulting in a performance that Time, for example, praised in their review of the film. "Watson reveals a mature intensity far beyond Harry Potter's Hermione; her tears could be mankind's own keening elegy," wrote Time reviewer Richard Corliss. In a review for IndieWire, meanwhile, author Charlie Schmidlin wrote about Jennifer Connelly as Noah's wife Naameh, that, "With Watson, the two women in fact assume the emotional core of the film—a challenge that both actresses easily match."
So, while falling ill from drinking a mug of stale water during an arduous filming process may be an experience Watson surely never wants to repeat, the results speak for themselves. Watson seemed to have had both a good time working with Aronofsky, and delivered a performance worthy of praise by multiple outlets. Whether or not her illness was worth it, her sacrifice was, at the very least, not in vain.