Benedict Cumberbatch Went To Extreme Lengths To Avoid Spoiling Spider-Man: No Way Home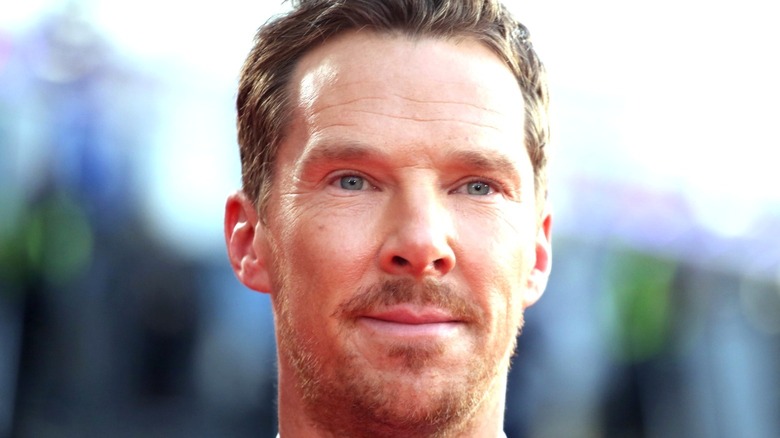 Lia Toby/Getty
With only about two weeks before the theatrical release of "Spider-Man: No Way Home," one could almost certainly say "we're in the endgame now" when it comes to spoilery leaks coming from the cast and crew of the hotly anticipated film. In a recent interview with USA Today to promote the Netflix release of "Power of the Dog," Benedict Cumberbatch was asked about his role in the upcoming MCU film.
Unlike one of his Marvel co-stars, Cumberbatch is well attuned to the practice of side-stepping questions and avoiding giving away spoilers. When asked about the upcoming "Spider-Man" film, Cumberbatch said, "You know it's a dead end, but I can tell you this: It's a riotous film," before assuring the interviewer that he simply doesn't want to give anything away. Perhaps he sensed Marvel Studios President Kevin Feige lurking in a room nearby?
However, Cumberbatch did reveal a somewhat surprising way that he avoided spoilers while working on the film.
He claims he didn't read the whole script
"I haven't actually read the whole script," Cumberbatch told USA Today. "I did that on purpose because I just want the ride."
Whether Cumberbatch was simply trying to avoid the question or genuinely chose not to read every word of the script, it seems pretty clear that the actor is determined not to become the source of a new leak so close to the release date of "Spider-Man: No Way Home." The movie, which is set to be released in the United States on December 17, broke pandemic-era presale records and temporarily crashed a number of movie ticket websites when tickets first appeared online earlier this week (via Deadline). 
Cumberbatch's next solo adventure as the Master of the Mystic Arts is currently undergoing six weeks of "significant" reshoots, according to The Hollywood Reporter. "Doctor Strange in the Multiverse of Madness" is set for release on May 6, 2022.