Keanu Reeves' Highest-Grossing Movie Isn't What You'd Think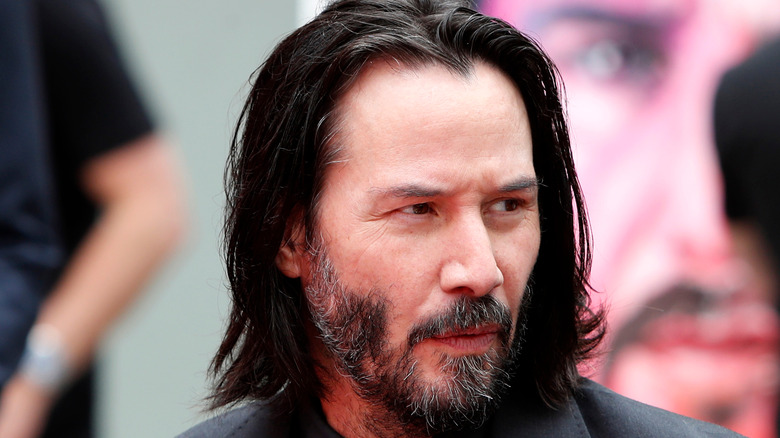 Kathy Hutchins/Shutterstock
If there's anyone in Hollywood who deserves to be called breathtaking, Keanu Reeves is certainly at the top of that list. As The New Yorker pointed out, he is a beautiful and generous person despite experiencing early childhood trauma and losing many loved ones during his adult life. He's also humorously self-deprecating and very generous with his fortune when it comes to donating to charity (via Mirror). And let's never forget: he knows kung fu.
You'd be forgiven if you didn't know about his secret philanthropic endeavors, or how self-aware he is of his harshest critics' opinions. He tends to keep that side of his life private. You most likely know him as one of your first action star crushes in "Speed" or Neo (a.k.a. "cyber Jesus") from "The Matrix" franchise, and it would be really bogus if you somehow forgot that he was down for some excellent adventures in the "Bill and Ted" series. But his highest-grossing box office role may be very surprising to many of his fans.
Reeves caboomed the box office in Toy Story 4
Believe it or not, the movie that made the most money at the box office for Reeves (according to The Numbers) was "Toy Story 4." You don't even see his face, but you do get to hear the real-life motorcycle aficionado voicing motorcycle stuntman Duke Caboom. His character plays an integral part in rescuing Forky, the gang's newest friend. Reeves stars alongside big names like Tim Allen, Tom Hanks, Christina Hendricks, and Kristen Schaal in the film. In total, the movie earned nearly $1.1 billion, with a 60/40 split between the international and domestic box office, respectively.
As far as his biggest live-action role goes, that one is also a bit of a surprise. If you guessed "The Matrix," you'd be wrong — but you'd be close. It was actually "The Matrix Reloaded" that raked in the biggest box office numbers. It made almost double the original, possibly due to the critical success of the first film. Rounding out his top five are "The Matrix," "The Matrix: Revolutions," and "John Wick: Chapter 3 — Parabellum."