Keira Knightley Confirms What We Suspected About Her Love Actually Character's Ending All Along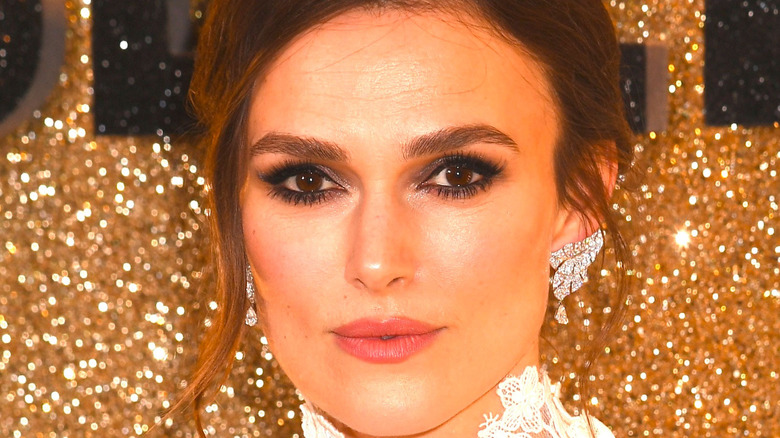 Dave J Hogan/Getty
Along with Kevin McCallister nearly killing burglars in "Home Alone" and Kermit the Frog getting yelled at by Michael Caine in "A Muppet Christmas Carol," one particular film that's firmly planted itself among the top-tier Christmas movies is Richard Curtis' "Love Actually." The terribly 2003 British rom-com that follows a variety of characters looking for love during the Christmas season, providing viewers with tales of new love, heartbreak, and everything in between through its various storylines. 
One iconic moment that has been often imitated — but never duplicated — is Andrew Lincoln's giant flashcard confession to Keira Knightley. Intentionally keeping his distance from his best friend's (Chiwetel Ejiofor) wife following their wedding, it's revealed that Mark (Lincoln) is secretly in love with Juliet (Knightley), hence the awkward conversation and the slightly creepy video footage of the wedding. Accepting the way things are, he admits his feelings secretly to the woman he can never be with, only for her to give him a final kiss.
As romantic as it is, there are several variables that the more bitter audience member may have picked up on in hindsight. Why did Ejiofor's clueless husband never come to see what was going on? How did the two carry on being around with one another, knowing the truth and what happened? How did Juliet go back into the house and explain it all away? Well, now Knightley has finally given an update.
Knightley's character remains faithful to her husband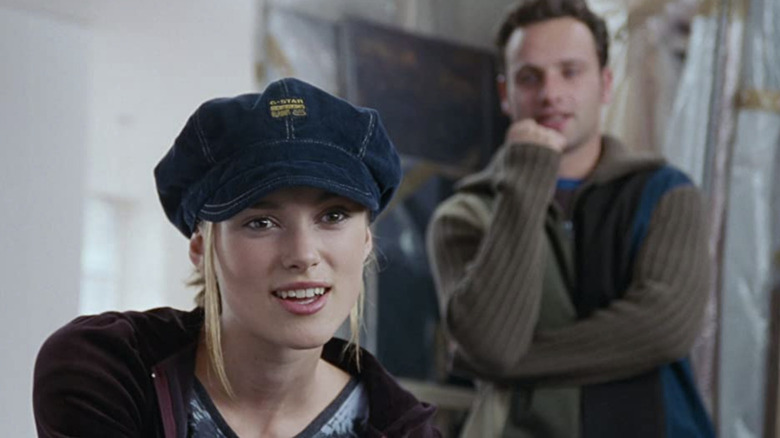 Universal Pictures
Speaking to E! News recently regarding her new Christmas dark comedy "Silent Night," which looks to be a far cry from the 2003 rom-com (via YouTube), Keira Knightley finally settled the score on what really happened with her "Love Actually" character. While she admitted she hadn't watched the film since its release nearly 20 years ago, she did confirm that her character remains one-half of a happy couple. She remarked, "No, I have not watched the film again. Yes, I know that I stay with my husband!"
While this may be a shocking revelation to some, we already got an insight into the future of this little love triangle by way of a catch-up on the "Love Actually" characters in a 2017 Red Nose Day short (via Digital Spy). The video sees Juliet (Knightley) once again get a knock on the door from Mark (Andrew Lincoln) while her husband, Peter (Chiwetel Ejiofor), is left sitting in front of the television. The once brokenhearted wedding videographer informs her that he has moved on and found himself a wife — real-life model Kate Moss, leaving both couples to live happily ever after, actually.