Gregg Allman, Southern Rock Musician Of Allman Brothers Fame, Dead At 69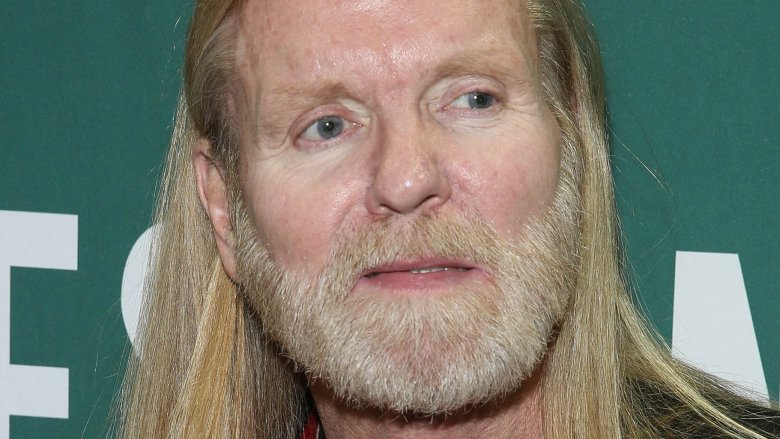 Getty Images
Gregg Allman, masterful singer and guitarist for the American Southern rock group the Allman Brothers Band, has died. A statement made on Allman's official website confirmed his death, stating that he passed away in his Savannah, Georgia home. He was 69. 
The announcement of Allman's passing explained that he had suffered from numerous health problems for many years, including a diagnosis of and complications from hepatitis C and a liver transplant conducted in 2010. Allman also experienced an irregular heartbeat that, along with the additional struggles he faced, caused him to cancel a number of his scheduled concerts (via Deadline).
Born Gregory LeNoir Allman in December 1947, Allman took a liking to music at a very young age. In 1969, he and his late brother Duane Allman, a supremely talented slide guitarist, founded the Allman Brothers Band. The Allmans teamed up with Dickey Betts (lead guitar, vocals, songwriting), Berry Oakley (bass guitar), Butch Trucks (drums), and Jai Johanny "Jaimoe" Johanson (drums) to become an innovative half-blues, half-rock collective that sought inspiration from classical musicians like Johannes Brahms and jazz legends like John Coltrane and Miles Davis. The band soon became pioneers in the Southern rock genre, paving the way for future generations of musicians. 
Music fans likely know the Allman Brothers for their hit singles such as "Melissa," "Midnight Rider," and "Whipping Post." The band is also remembered for the timelessness and poignancy of the tracks in their expansive discography, as many members faced addition, health complications, heartbreak, and loss as the years rolled on. 
The Allman Brothers Band saw five decades of fame, and the tragedy that struck them most was the sudden deaths of Duane Allman and Berry Oakley in 1971 and 1972, respectively. Both men died in motorcycle accidents at just 24 years old. 
In 1975, a then-27-year-old Allman was in the throes of alcoholism and heroin addiction. He settled down with '60s pop icon Cher that year, but just nine days after their nuptials, when Cher realized the extent of Allman's drug abuse, she walked out. However, Allman and Cher reconciled and had a son together, Elijah Blue Allman. The two even had a go at recording their own music, calling themselves "Allman and Woman." They divorced in 1979.
The Allman Brothers first split in 1976, and Allman went on to become a prolific solo musician. He billed himself as the Gregg Allman Band, and found massive success in 1987 with his catchy tune "I'm No Angel," and later in 2001 with his album Low Country Blues. Allman released nine solo albums altogether, including All My Friends ad 2015's Live: Back to Macon, Georgia. Allman's newest studio album, entitled Southern Blood, is set for release later this year. 
Following years of turmoil and intense back-and-forth breakups and reconciliations, the Allman Brothers Band emerged stronger than ever in the mid-'90s, launching a new wave of organic rock that blended old-school blues, soulful jazz, and classic country jams into music's mainstream scene. 
Most recently, Allman canceled a number of concert dates in 2016. He did, however, start touring again last fall. Allman's final known shows were played on September 25 at Red Rocks Amphitheater outside Denver and on October 29 at Lakewood Amphitheater in Atlanta during the Laid Back Festivals. This March, Allman canceled all his tour stops for 2017. Reportedly, the last song Allman played on stage was the blues track "One Way Out."
Allman is remembered by his manager and close friend Michael Lehman, who issued a statement (via People): "I have lost a dear friend and the world has lost a brilliant pioneer in music. He was a kind and gentle soul with the best laugh I ever heard. His love for his family and bandmates was passionate as was the love he had for his extraordinary fans. Gregg was an incredible partner and an even better friend. We will all miss him."
Allman's ex-wife Cher took to Twitter to honor his memory, sharing a post referencing the nicknames she and Allman called one another. "I've tried... words are impossible, Gui Gui. Forever, Chooch," she wrote. 
Allman is survived by his wife, Shannon Allman, and his children, Devon Allman, Elijah Blue Allman, Layla Brooklyn Allman, and Delilah Island Kurtom. Survivors also include three grandchildren.