Val Kilmer Is Ready To Return For Top Gun 2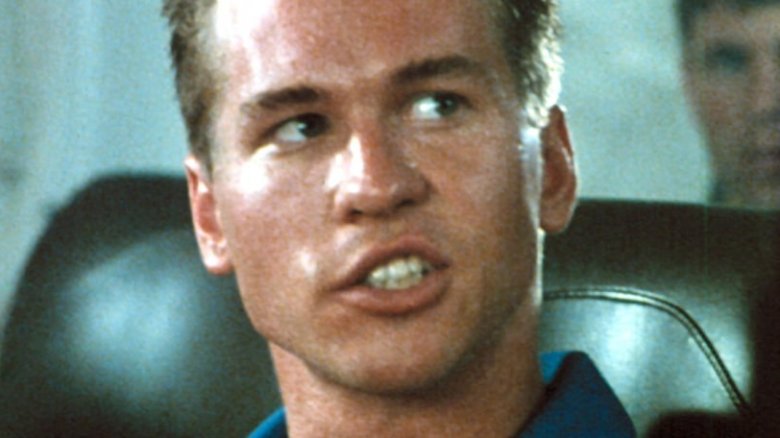 Paramount Pictures
The Iceman cometh. 
Earlier this week, Tom Cruise confirmed that Top Gun 2, the sequel to the 1986 military action drama, was happening. Naturally, fans of the original flick went wild at the news. And with Cruise locked in to reprise his role as Lieutenant Pete "Maverick" Mitchell, many soon wondered about the rest of the cast. More specifically, Val Kilmer himself. Would Kilmer hop on board for the follow-up, stepping back into the shoes of Lieutenant Tom "Iceman" Kazanski? According to the actor, totally. 
Kilmer took to Twitter shortly after the Top Gun 2 news broke to express his enthusiasm about the sequel. Posing in his very own Iceman shirt, Kilmer tweeted, "Friends said it's official. Top Gun 2 is happening. I'm ready Tom. Still got my Top Gun plaque! Still got the moves! Still got it!"
Not much is known about the Top Gun 2 cast and crew, apart from recent reports that state Joseph Kosinski will likely be tapped to helm the sequel. No official offer has been extended to Kosinski, but industry insiders have stated that one is "imminent." Kosinski previously collaborated with Cruise on the 2013 sci-fi film Oblivion, and apparently met with Cruise during the actor's Mission: Impossible 6 shoots to discuss the second Top Gun film. If both Kosinski and Kilmer join the project, Cruise will have plenty of old friends on set. 
The first Top Gun flick was released in 1986, and follows Cruise's Maverick as he studies piloting techniques at the Top Gun Naval Flying School, an elite U.S. Navy fighter weapons institution. There, Maverick forms a meaningful relationship with Charlotte "Charlie" Blackwood (Kelly McGillis), a civilian flight instructor, and grows closer to his Radar Intercept Officer Nick "Goose" Bradshaw (Anthony Edwards).
With Cruise and now Kilmer clearly jazzed about the upcoming sequel, it looks like Top Gun 2 could be a success. We wish we could say the sae for these movie sequels that were so bad they destroyed their franchises.