The Stephen King Homage You Missed In Midnight Mass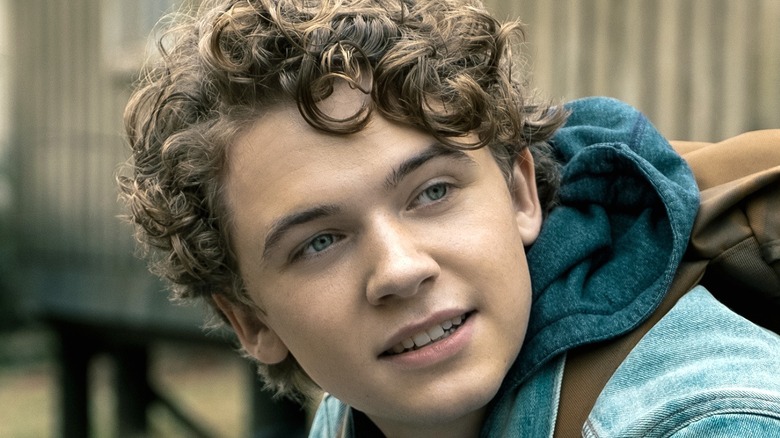 Eike Schroter/Netflix
Mike Flanagan is once again tipping his hat to legendary writer Stephen King with his latest Netflix limited series, "Midnight Mass." Released in late September, Flanagan's latest television outing is set in a small island community and, through its story, touches on many of the fears and themes King has explored in his work throughout his decades-long writing career. Those nods have not gone unnoticed by the master of the macabre, who tweeted before the release of "Midnight Mass" that "Mike Flanagan has created a dense, beautifully photographed terror tale that climbs to a high pitch of horror by the 7th and last episode."
More than a month after the release of "Midnight Mass," Flanagan, who serves as the director, co-writer, and creator on the project, revealed on Twitter this the Netflix show has an interesting connection to the 1999 television epic King wrote called "Storm of the Century" (via IMDb). It all started with a question from Twitter user @mryanwashere: "So, @flanaganfilm, may I ask ... Was the location of the sheriff's office in @midnightmass and homage to the #StormoftheCentury miniseries?" The director tweet replied, "Yep, it absolutely was."
Although Flanagan confirmed the connection between "Midnight Mass" and "Storm of the Century," how exactly does it manifest on the Netflix show?
Flanagan and King love a grocery store - sheriff's office combo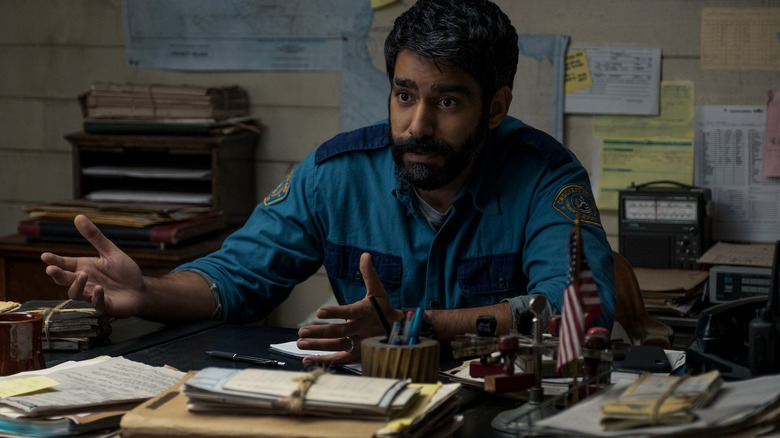 Eike Schroter/Netflix
In "Midnight Mass," Sheriff Hassan's (Rahul Kohli) office is set at the back of a grocery store he runs on Crockett Island. While that might seem like an insignificant detail, anyone familiar with "Storm of the Century" recognizes the importance. In the '90s miniseries, Constable Mike Anderson (Tim Daly) operates his sheriff's office out of a somewhat larger local store that he also happens. It's a point that comes into play as the story's villain appears and is subsequently put in a holding cell (via Variety).
"Midnight Mass" doesn't do an exact 1:1 with the homage, leaving much of the important action and story elements to other parts of the island. However, much like "Storm," the law enforcement figure encounters various residents and their stories outside his office. Several scenes focus on Hassan and local drunk Joe Collie (Robert Longstreet) in the confined space of a holding cell. Collie's familiarity with the town gives him a different perspective than the refined visitor of "Storm." He's a known commodity, thrown away and ignored for his past as well as his alcoholism.
The sheriff sees him in a way many residents refuse to; he even sits down with the man to share a cup of coffee. It speaks to Hassan's perspective as a new transplant to Crockett that he understands what it's like to be made to feel like an outsider — something the residents of the island, especially Bev Keane (Samantha Sloyan), do regularly.
The father-son dynamic is explored in both limited series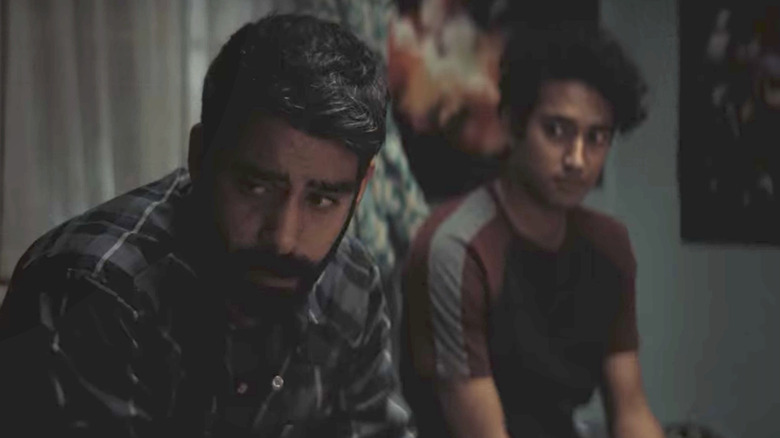 Netflix
Those perspectives are at the heart of a theme both Stephen King and Mike Flanagan indulge in: the profound relationship between a father and son. Sheriff Hassan (Rahul Kohli) is a single parent, raising a child alone after the loss of his wife. His son, Ali (Rahul Abburi), contemplates religion and Christianity as the series continues, It pulls the seemingly tight-knit connection apart as the teenager tries to fit in while also searching for solace about his mother's death (via Bustle).
Hassan and his "Storm of the Century" counterpart, Anderson (Tim Daly), find themselves in a position of protecting their offspring from jeopardy. The correlation to "Storm" takes off with a choice that forever changes their world when Anderson's son goes off with the evil stranger. Having somewhat of an idea of what will befall him, it is no less shocking when the constable encounters the monstrous adult offspring years later. Hassan sees Ali meet a similar fate; the son, now a vampire, makes a heroic last stand before losing his father.
Stream "Midnight Mass" right now on Netflix.