The Ending Of Succession Season 3 Episode 7 Explained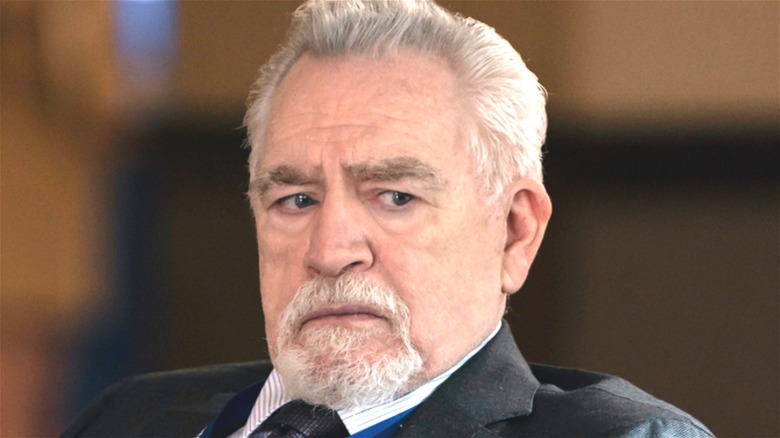 HBO
After the last two episodes have focused on weighty matters that directly affect the course of the world, this week's "Succession" focuses on much smaller and more personal stories. In Season 3 episode 7, "Too Much Birthday," Kendall Roy (Jeremy Strong) celebrates his 40th birthday party, and the Roy family uses the occasion to advance their various personal goals.
On the eve of Kendall's shindig, Logan (Brian Cox), Shiv (Sarah Snook) and Roman (Kieran Culkin) learn that their black sheep brother's cooperation with the Department of Justice has fizzled out. This leaves Kendall reeling on the eve of his 40th party, which was supposed to be his show of strength. At "Kendall Fest," Roman tries to convince Lukas Matsson (Alexander Skarsgård to sell his company, Gojo, to Waystar-Royco, which would give the media conglomerate a leg up with streaming content and social media. Finally, "Succession Season 3 episode 7 follows Tom (Matthew Macfayden) and Cousin Greg (Nicholas Braun), as they react to the news that they won't be going to prison after all.
"Too Much Birthday" is all about winning and losing, and various characters show their true colors in how they react to their changes of fortune. Here's the ending of "Succession" Season 3 episode 7 explained.
The Roy siblings realize that Roman might be the favored heir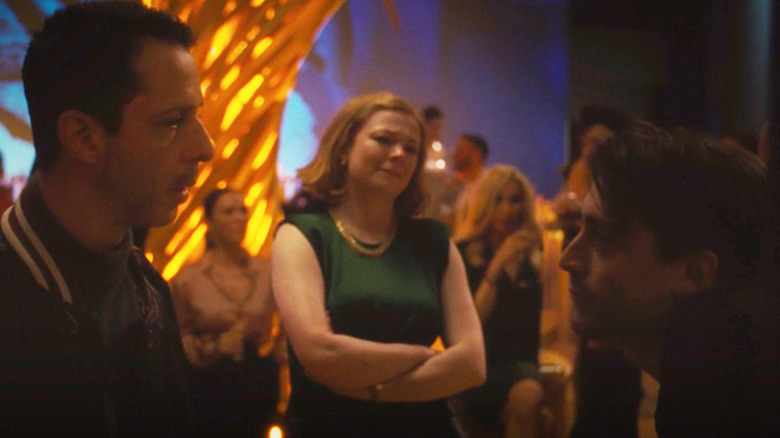 HBO
Roman gets the obvious win this week when he manages to make a successful pitch to Matsson, promising him that he won't have to deal with the less savory aspects of working with Waystar-Royco — like interacting with an aging and senile CEO — and instead will get to spearhead the company's transition into the modern media landscape.
After Roman's convinced his father to choose his preferred political candidate Jerryd Mencken (Justin Kirk) last week, it's yet another win for the youngest of the Roy siblings. This week, Shiv and Roman are starting to realize how much they've been outplayed by Roman.
Roman behaves obnoxiously in this moment, ruining Kendall's birthday and gloating to his sister that he's the favorite son. It's one of his most triumphant moments in the first three seasons of "Succession," but the nastiness prevents us and him from enjoying it.
Tom and Greg take a deep breath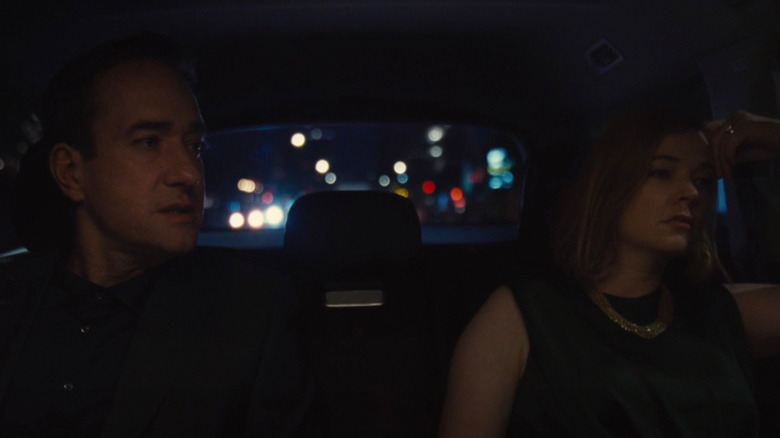 HBO
Tom and Greg have always offered a change of pace from the main characters' inter-generational trauma for more immediate and fresh trauma, and this week is no different. In episode 7, Tom and Greg both should be elated over the news that they won't be going to jail. Instead, Greg used the momentum to get a long overdue win, while Tom is as miserable as ever.
Greg's big moment this week is when he gets a date with one of Kendall's associates, Comfry (Dasha Nekrasova). After Tom and Kendall both discourage him from even trying to ask her out, Greg wins her over by just being himself.
Tom, on the other hand, finds himself unable to enjoy the good news that he won't be going to jail. When Logan tells him that he won't forget Tom's offer to be the family's scapegoat, Tom realizes that he massively underplayed his hand. Not only does he freak out when Greg tells him that he got a date with Comfry, he can't simply enjoy the party and take the win. Will this affect his behavior going forward or will he just bury his feelings like always?
Kendall and Naomi might be the best relationship on Succession?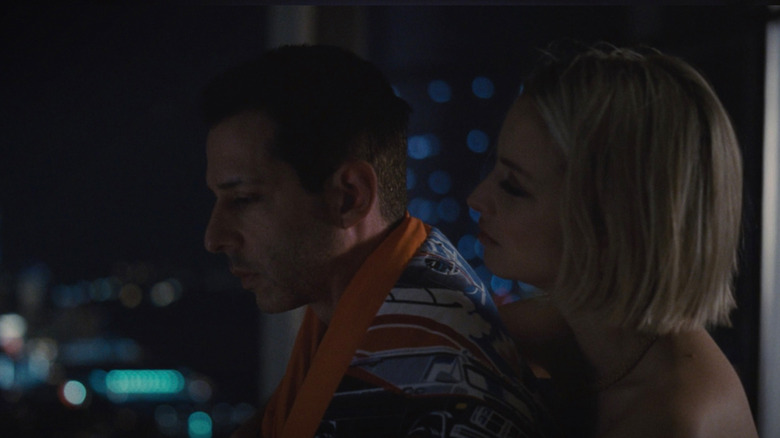 HBO
This could be yet another week when we end with Sad Kendall grappling with the weight of his failures. Instead, we get a glimpse of hope from the one relationship on "Succession" that seems like it could work. 
Kendall and Naomi Pierce (Annabelle Dexter-Jones) met last season when their respective families were negotiating over a proposed merger between their media companies. Kendall and Naomi bonded mostly over their shared struggles with addiction. We haven't seen much of Kendall and Naomi's relationship since, but this week it seems to have strengthened considerably in the intervening months.
The couple starts off with a low point. Naomi gives Kendall a gift of a non-engraved watch, and Kendall is rude to her about it. After Naomi witnesses how badly Roman treats his brother at his own birthday party, she comforts him and gives him the advice he needs to get over throwing a "birthday party for an a——," encouraging him to just let the party fizzle out and spend time with her.
After this week's events, Kendall's position has been as weak as it's been all season. No doubt he still has to pay for attempting to betray Logan, but at least he has Naomi to be there for him.