Shows Every Succession Fan Should Watch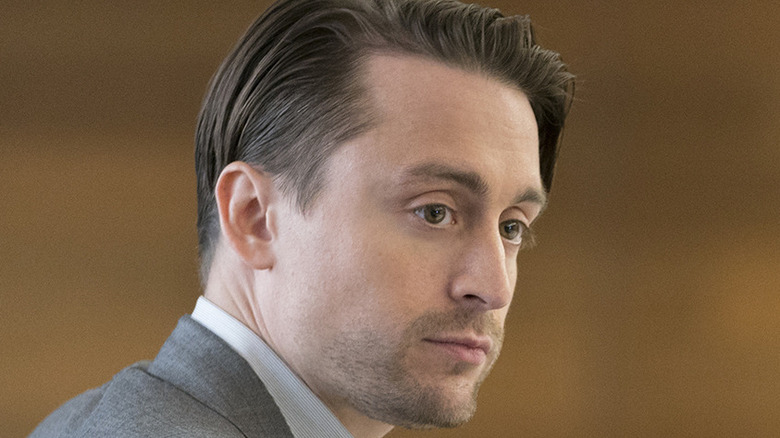 HBO
HBO's "Succession" offers more of the rich, petulant, and dysfunctional Roy family each season, and viewers can't seem to get enough. Every cast member in this series is at the top of their game and turns in impressive performances across an array of demanding characters, from Brian Cox as the explosive patriarch to Jeremy Strong, Kieran Culkin, and Sarah Snook as three of his at-odds offspring. In addition to stellar performances, "Succession" sports incisive political commentary, scathing wit in its dialogue, and enough complicated familial drama to fill multiple TV shows — consistently earning its spot as one of the best series on HBO.
"Succession" might seem like a one-of-a-kind series, but there are several similar shows out there if you find yourself craving more. From comedies to dramas, the following series share elements with "Succession" that make the HBO program great, and will likely do a great job of scratching that itch for fans between episodes or seasons.
Arrested Development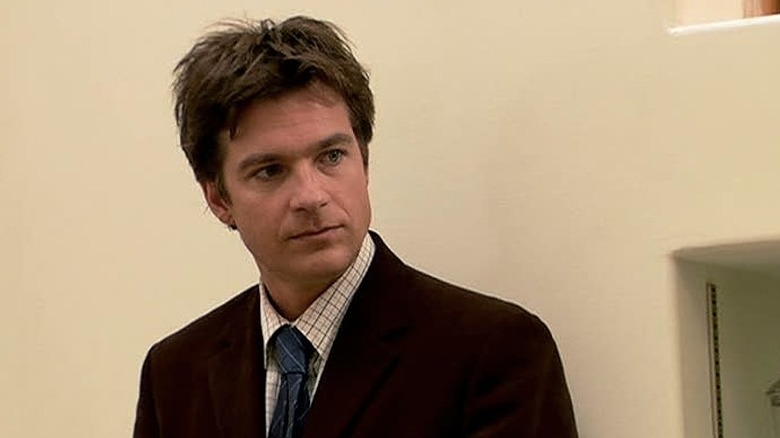 Netflix
"Succession" and "Arrested Development" have a great deal in common. Both shows center around large, rich, dysfunctional families involved in shady business dealings. The Bluth family and the Roy family, both constantly scheming, in-fighting, and stabbing each other in the back for their own benefit, are two sides of the same coin: "Succession" feels like the drama counterpart to the comedy-focused "Arrested Development" (even though "Succession" is frequently laugh-out-loud funny itself).
Though the Netflix revival of "Arrested Development" isn't entirely without mirth, the show is at its strongest by far in its initial three-season run. The writing is tight and packs more jokes into a single episode than most comedies successfully manage. More so than the vast majority of sitcoms, "Arrested Development" rewards repeat viewings. There are dozens of clever call-backs and background jokes that might be missed on your first time through, and even hidden allusions that only make sense in hindsight. An incredible core cast consisting of Jason Bateman, Michael Cera, Jeffrey Tambor, Tony Hale, Will Arnett, Portia de Rossi, Alia Shawkat, David Cross, and Jessica Walter ensures that the best episodes of "Arrested Development" are side-splittingly hilarious.
Veep
"Veep," which follows Julia Louis-Dreyfus as Vice President Selina Meyer, was a seminal political satire on HBO that called it quits after seven successful seasons and 17 Emmy wins. The increasing insanity of real-world U.S. politics had a direct influence on the end of the series (via The Hollywood Reporter). Though "Succession" tends to approach such subjects in a more indirect way, both series are highly political in their chosen targets for social commentary. It's no secret, for example, that the fictional ATN news network from "Succession" serves as a spoof of real right-wing news networks (Fox News in particular).
Beyond related subject matter, "Veep" and "Succession" also boast similar visual styles and comedic language. Both shows make use of a pseudo-mockumentary style of camerawork where most shots are handheld and appear to be framed on the fly, though this is more exaggerated in "Veep." A significant portion of the comedy in "Veep" stems from the litany of creative and vulgar insults the characters hurl at each other. "Succession" wrings humor from the same source, and there are plenty of profanity-laden lines in both "Veep" and "Succession" that would feel right at home if the shows were swapped.
These stylistic connections make a lot of sense when you know that "Veep" creator Armando Iannucci and "Succession" creator Jesse Armstrong have collaborated on many projects in the past. Jesse Armstrong even wrote the Season 1 finale of "Veep."
The Thick of It
"The Thick of It" is one of many collaborations between Armando Iannucci and Jesse Armstrong. Iannucci created the project, and Armstrong served as one of the show's main writers for the first three series. "The Thick of It" was the direct progenitor of "Veep," taking aim at British politics rather than U.S. affairs with similar comedic and visual stylings. The film "In the Loop" serves as a crossover point at which the British parliament characters from "The Thick of It" become involved with American politics. "In the Loop" was written by Iannucci, Armstrong, and Simon Blackwell, who is another frequent collaborator with both of them.
Those who love "Succession" for its sense of humor are likely to fall in love with "The Thick of It" as well. "Succession," "Veep," "In the Loop," and "The Thick of It" all feel energetically aligned, and all of these properties traffic expertly in creative insults and the satirical lampooning of powerful yet inept individuals. "The Thick of It" ran for four series on the BBC and remains hilarious without ever losing sight of the political commentary at its core. The explosive anger of Malcolm Tucker in "The Thick of It" is an especially good pairing for the furious outbursts of Logan Roy in "Succession."
The Take
One of the strongest aspects of "Succession," of which there are many, is Brian Cox in the role of Logan Roy. Cox turns in a powerhouse performance as the Roy family patriarch in every single episode of the show. For fans of the actor looking for another television outing that showcases his abilities, there are a couple of options. "Medici," "War & Peace," "The Game," and "The Slap" are all shows and mini-series that make use of his talents. "The Take" is another worthwhile project and, most importantly, one of Brian Cox's best TV appearances outside of "Succession."
This British mini-series stars Tom Hardy as ex-convict Freddie Jackson. Fresh off of a four-year stint in prison, he's ready to ascend the criminal ladder. Brian Cox co-stars as Ozzy, an all-seeing crime boss and a pivotal player in each of the four episodes. With such a low episode count, the full series is a short watch, clocking in at just under three hours. You can watch it in pieces like a short series or strap in and binge it all at once like a long movie — either way, it's well worth your time.
Peep Show
"Peep Show" is a beloved British sitcom with the unique conceit of showing everything from the POV of its main characters and playing out their internal monologues as voice-over narration. The show is drastically different from "Succession" in terms of subject matter and presentation style, but the two shows share plenty of DNA. Before creating "Succession," Jesse Armstrong co-created "Peep Show" with his artistic partner Sam Bain all the way back in 2003. The series was a massive hit and launched both of their careers to new heights. Without "Peep Show," there would likely be no "Succession."
With nine series to its name, "Peep Show" is the longest-running comedy series in the history of the UK's Channel 4. The hilarious comedy duo of David Mitchell and Robert Webb helms the show brilliantly, and the supporting cast is packed with immensely talented performers like Paterson Joseph, Matt King, Isy Suttie, and the Academy Award-winning Olivia Colman in one of her first major roles.
Mad Men
Though they are set in different time periods and utilize markedly different tones and visual styles, "Succession" and "Mad Men" also have a great deal in common. (In fact, HBO actually passed on the chance to air the latter series!) The interpersonal drama of the Sterling Cooper offices in "Mad Men" recalls the multitude of conflicts amongst the Waystar Royco conglomerate in "Succession." "Mad Men" has its share of funny moments, but it is in the captivating and at times somber drama that these two shows feel most in sync.
"Mad Men" is a period drama series centered around Don Draper — as played impeccably by Jon Hamm — and those within his orbit. The ad agency setting makes for a variety of compelling situations, while the complicated personality of Draper and the other characters of the Sterling Cooper offices provides episode after episode of juicy drama. The authentic recreation of the 1960s era showed a true commitment to historical accuracy and a deep interweaving of fact with the narrative's fiction. As James Poniewozik wrote in The Atlantic, "'Mad Men' is a kind of time machine" in addition to being a compelling drama.
Silicon Valley
Both coming from the creative geniuses at HBO, "Succession" and "Silicon Valley" each satirize the uber-wealthy but go about it in extremely different ways. One could view "Succession" as a satire on "old money" while "Silicon Valley" is a satire on "new wealth." Though the targets of the two shows sometimes align, they also diverge in interesting ways, from self-made millionaires with inflated egos and personality disorders on "Silicon Valley" to those born with a silver spoon in hand reaping the benefits of nepotism on "Succession."
The comedic stylings of "Silicon Valley" land firmly on the opposite, goofier end of the spectrum from the humor in "Succession," but both shows can be extremely funny in their own ways. Mike Judge, the man behind movies like "Office Space" and "Idiocracy" and shows like "King of the Hill" and "Beavis and Butt-Head," created "Silicon Valley" and infused it with an always-fresh sense of comedy. Coming to a close after six seasons, "Silicon Valley" notably evolved throughout its run as well. While many sitcoms repeat the same formula over and over again, "Silicon Valley" was constantly changing from season to season, never content to rest on its laurels and grow complacent.
The Newsroom
The Waystar Royco conglomerate of "Succession" has a hand in many disparate endeavors, but one of its most lucrative and influential is their news network ATN. Logan Roy is so powerful as the company's head that, through this network, he plays a direct role in choosing who becomes the President of the United States. From "Succession," an HBO series where the fictional ATN news network is always simmering in the background, we arrive at "The Newsroom," an HBO series centered entirely around the fictional ACN network.
"The Newsroom" — created by acclaimed screenwriter Aaron Sorkin — is set in and around the Atlantis Cable News offices as the long-term anchor adjusts to a new behind-the-scenes team and the entire network undergoes a drastic shift in reporting policy. Jeff Daniels is excellent in the lead role of Will McAvoy, which earned him his first of two Emmys. The supporting cast is filled out by the likes of Dev Patel, Alison Pill, Sam Waterston, and Emily Mortimer, amongst other talented performers. Aaron Sorkin's writing is as sharp and witty as ever, and the series pulls off a clever blending of real-world current events with fictitious reporting.
Billions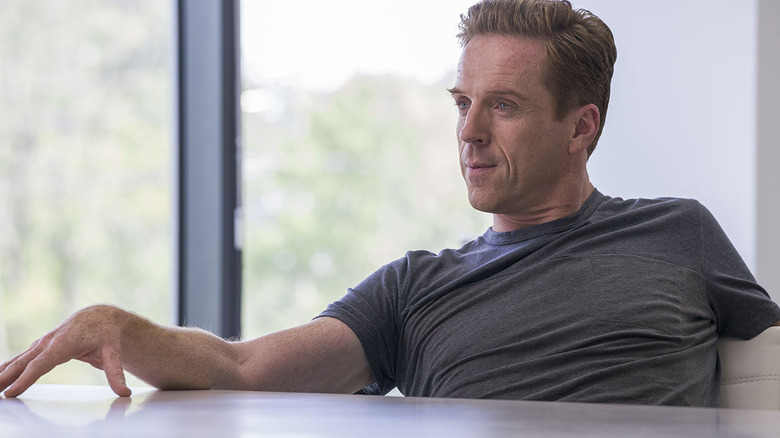 Showtime
"Billions" is another TV drama taking aim at the massively wealthy, this time coming from Showtime. Both this show and "Succession" utilize a New York setting, explore the worlds of politics and finance, and revolve around complex takedown attempts and power grabs that a commanding central character must navigate.
Occupying the Logan Roy position as the rich and powerful king-figure that others are trying to topple is Bobby Axelrod aka Axe, played by Damian Lewis (who previously helmed Showtime's "Homeland"). Rather than his enemies coming from within the boss' own family as they do in "Succession," the force scheming to take down Axe in "Billions" comes from within the U.S. Attorney's office. Paul Giamatti shines as Chuck Rhoades, the attorney trying to sink the hedge fund king. If you're looking for a series trafficking in similar territory and themes as "Succession," then "Billions" might be right up your alley.
Fresh Meat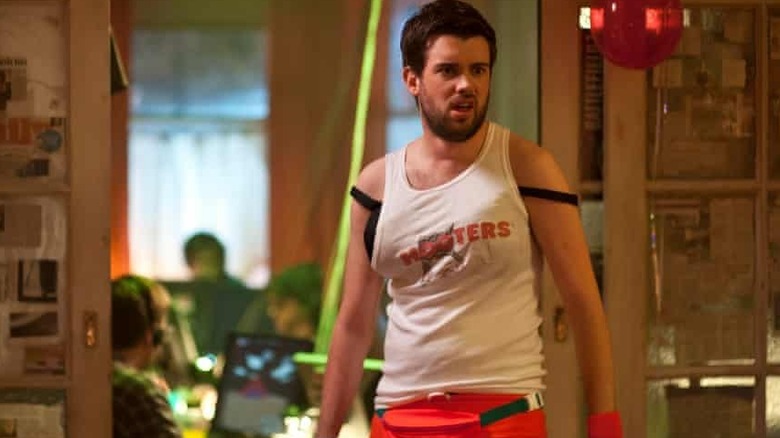 Lime Pictures
If the comedic sensibilities of "Succession" are what you connect to most in the series, then you might be interested in checking out "Fresh Meat." This British comedy with a dash of drama was the last series created by Jesse Armstrong before he went on to create "Succession." "Fresh Meat" rests on the straightforward premise of tracking the interactions between six individuals in college. The subject matter of this series could hardly be more different from "Succession," but both shows have Jesse Armstrong's sense of humor coursing through their veins.
Armstrong co-created "Fresh Meat" with his artistic partner Sam Bain, with whom he also created the Channel 4 hit "Peep Show." "Fresh Meat" ran for four series and helped propel its talented young cast to new career heights. The core cast of Jack Whitehall, Joe Thomas, Charlotte Ritchie, Kimberley Nixon, Greg McHugh, and Zawe Ashton have good chemistry with each other and lend a fun "hangout" vibe to the show.
Show Me a Hero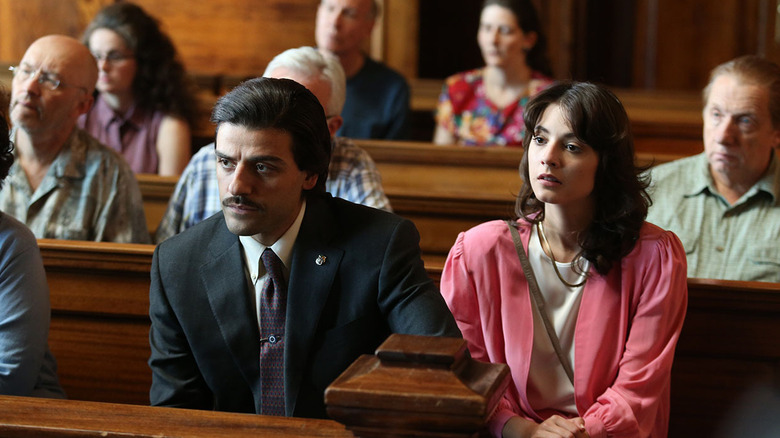 HBO
"Show Me a Hero" comes from writer David Simon and is based on the non-fiction book by Lisa Belkin. Simon has created a number of incredible shows for HBO over the years, including "The Corner," "The Wire," "Treme," "Generation Kill," "The Deuce," and in 2020, "The Plot Against America." While all of these shows are excellent, "Show Me a Hero" feels the most similar to "Succession." Both are set in New York and take a critical look at politics and manipulation.
As a mini-series, "Show Me a Hero" is a quick watch, but each of its six hour-long episodes is entirely gripping. 1980s Yonkers Mayor Nick Wasicsko is the centerpiece of this heavy drama that places an emphasis on realism and the often-overlooked individuals who are most affected by political policies. Oscar Isaac gives one of his very best performances in the lead role, and the entire cast of supporting characters is treated with just as much care and given just as much nuance and depth as the main players. If you're a fan of "Succession" or any of David Simon's shows but "Show Me a Hero" flew under your radar, do yourself a favor and check it out.
Industry
"Industry" actually premiered in 2020, after the first two seasons of "Succession" had already aired. Similar to "Succession," "Industry" is all about power, wealth, and the people trying to take hold of both, focusing primarily on young finance professionals near the start of their careers.
"Succession" and "Industry" share many similarities, but viewers can pick up two major differences between them right off the bat. The first is the setting, which is contemporary in "Succession" but in "Industry" centers around post-financial collapse 2008. The second key distinction has to do with the production. "Succession" is an HBO production through and through, but "Industry" is a co-production between HBO and the BBC. In the U.S., "Industry" airs on HBO, while the show airs on BBC 2 over in the UK.
These qualities of "Industry" put it a little more in line with some of Jesse Armstrong's older work while he was still writing for British television. "Industry" might not fire on all the cylinders that "Succession" does, but it's worth watching for fans of the show looking for something new.
Bloodline
"Bloodline" is a Netflix original series that centers around the prominent Rayburn family and their dark secrets. The wealthy families of both this series and "Succession" are fraught with internal conflict and a clear lack of trust. "Bloodline" largely lacks the humor of "Succession" and typically gets quite a bit darker in subject matter, but the heavy familial drama is a constant in both shows.
The story of "Bloodline" is now complete, and you can binge-watch all three seasons on Netflix. Kyle Chandler, Linda Cardellini, and Sissy Spacek all turn in noteworthy performances as members of the Rayburn family, but it's Ben Mendelsohn as the family's black sheep that leaves the biggest impression. "Bloodline" was created by Daniel Zelman and brothers Glenn and Todd A. Kessler, all three of whom worked together previously to conceive the show "Damages" on FX. "Bloodline" can be a bit slow at times, but fans of "Succession" or "Damages" are likely to find the series a worthwhile investment.
House of Lies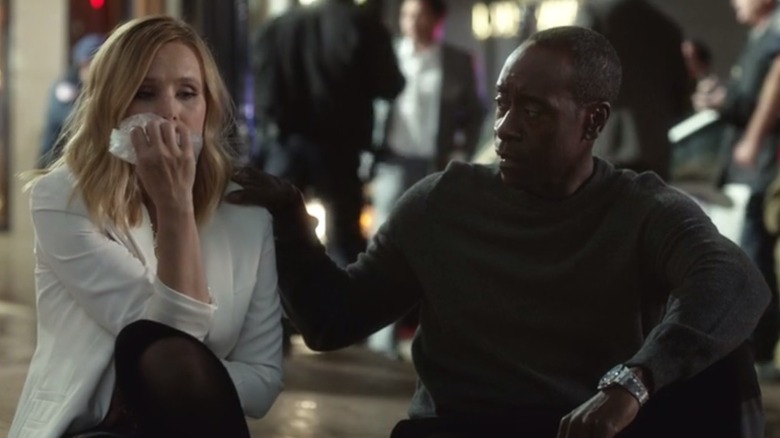 Showtime
Showtime's "House of Lies" bills itself as a satire of corporate America and shares many clear parallels with "Succession." Wealth, power, finance, and politics are all wells of social commentary that both shows dip into. While "House of Lies" is typically a bit lighter than "Succession," the shows share a similar blend of comedy and drama, each skewing a bit closer to the other end of the spectrum, respectively.
Don Cheadle stars as the motor-mouthed consultant Marty Kaan in one of his best television roles. A supporting cast including the likes of Kristen Bell, Ben Schwartz, and the underrated Glynn Turman turn in excellent work as well. With half-hour episodes as opposed to the drama-saturated hour-long installments of "Succession," it makes sense that "House of Lies" would be a bit goofier and less somber. If a more light-hearted take on some of the themes explored in "Succession" sounds like your cup of tea, then check out "House of Lies."