Why Dale Cooper From Twin Peaks Looks So Familiar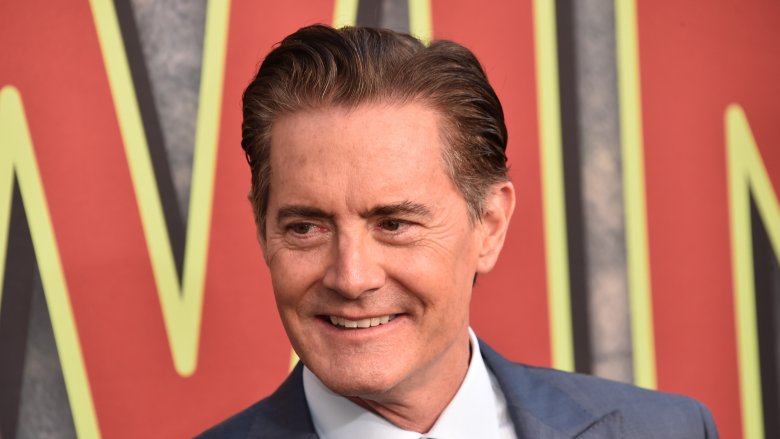 Getty Images
With the third season of Twin Peaks now officially out, it's time to fall in love again with FBI Special Agent Dale Cooper. Played by Kyle MacLachlan, Cooper is one of the all-time best TV characters, but MacLachlan has done a lot more than just Twin Peaks—so if he looks inexplicably familiar don't worry, there isn't an evil doppelgänger running around, starring in random TV shows. Here's where you might have seen him before.
Dune (1984)
Kyle MacLachlan got his big break from David Lynch, who cast MacLachlan in Dune as Paul Atreides, the son of a powerful aristocratic family and hero of the story. Dune is a famously impossible book to adapt to the big screen, and despite Lynch's considerable talent, the movie wasn't a success, panned by critics and a box office dud. But it made a huge difference in MacLachlan's career. 
When they met during casting, MacLachlan and Lynch hit it off instantly, and it led to a long collaboration, including MacLachlan's Twin Peaks role as Dale Cooper. While Dune was a failure, MacLachlan is a good sport about it, posting a tweet describing the plot of the movie in emojis. It's a really good summary, and one of the better things to come from the movie.
Blue Velvet (1985)
In the wake of Dune's failure, Lynch and MacLachlan reunited for Blue Velvet, a psychological mystery in which MacLachlan plays the lead character, Jeffrey, who enters a world of violence and horror after discovering a severed ear in a meadow. Blue Velvet really let MacLachlan shine, and fans of Twin Peaks can see a lot of the show's aesthetic and ideas in the movie. While Roger Ebert famously hated it and accused David Lynch of exploiting his actresses, Blue Velvet is now considered one of the best movies of the '80s—and the one that really put MacLachlan on the map.
The Doors (1991)
Toward the end of his first Twin Peaks run in 1991, MacLachlan starred in Oliver Stone's biopic The Doors, which told the story of the titular band. MacLachlan played Doors co-founder Ray Manzarek opposite Val Kilmer, who starred as frontman Jim Morrison. MacLachlan has admitted that he wasn't a huge fan of the group, but he learned to appreciate their music, specifically Manzarek's piano playing. In fact, MacLachlan had studied piano, and the movie gave him an excuse to get back into it, learning many of Manzarek's parts. 
The movie received a lukewarm critical reception, but MacLachlan professed to love filming The Doors—specifically feeling like a member of a real rock band during the performance scenes, which were shot in front of a crowd of 4,000.
Tales From The Crypt (1991)
The horror anthology series Tales From The Crypt aired from 1989 to 1996, and was notable for the many guest actors and directors who passed through—basically a who's-who of people in the industry during the era. MacLachlan appeared in the season 3 episode "Carrion Death" as an escaped con who has to drag the body of a state trooper he killed through the desert while being stalked by a vulture. He also worked behind the camera, directing season 5 episode "As Ye Sow." With M. Night Shyamalan leading a revival of the series, MacLachlan might soon get a chance to return to another of his '90s TV roles.
Showgirls (1995)
MacLachlan has said he took the role of Zack Carey in Showgirls mainly because he loved director Paul Verhoeven's earlier films, including RoboCop. Unfortunately, instead of a classic sci-fi satire, he ended up starring in a softcore drama that became one of the most widely derided movies of the '90s. While filming Showgirls, MacLachlan didn't really have a grasp on the movie's problems, but looking back, he's admitted that when he saw the first cut, he realized it was a mess.
"It's a very slow, sinking feeling when you're watching the movie, and the first scene comes out, and you're like, 'Oh, that's a really bad scene,'" he recalled. "But you say, 'Well, that's okay, the next one'll be better.' And you somehow try to convince yourself that it's going to get better... and it just gets worse."
Sex and the City (2000-2002)
After focusing on film for the better part of a decade, MacLachlan returned to TV with a role in a show very different from Twin Peaks: HBO's Sex and the City. As Trey MacDougal, MacLachlan got to be a Prince Charming of sorts, playing the cardiologist who wins Charlotte York's (Kristin Davis) heart.
At first, Davis was nervous about acting opposite MacLachlan. As she told Entertainment Weekly, "I had a dark image of him from all the David Lynch stuff. But the character he plays [on Sex] is not dark — it's much more like Kyle than like his persona." As charming as Trey might have been, his overbearing mother and inability to please Charlotte in the bedroom eventually led to their divorce, and MacLachlan leaving the show.
Law and Order: SVU (2004, 2011)
After finishing his Sex and the City run, MacLachlan returned to the world of fictional law enforcement with two guest appearances on Law and Order: Special Victims Unit. In his 2004 episode "Conscience" he starred as Dr. Brett Morton, who takes justice into his own hands by shooting the murderer that killed his son. Dr. Morton is acquitted after the court decides he wasn't in control during the shooting, making him one of the show's few perps to walk free.
Seven years later, MacLachlan returned to the show to star in the episode "Blood Brothers" as a local politician (inspired by Arnold Schwarzenegger) who's caught in a murderous scandal. MacLachlan has saids he was better prepared for this episode than he was for his first, and appreciated the opportunity to tackle a deeper character. Fortunately (or unfortunately, depending on your point of view), MacLachlan didn't attempt a Schwarzenegger accent.
Desperate Houswives (2006-2012)
One of MacLachlan's longer TV stints came courtesy of Desperate Housewives, in which he played Orson, a character who ended up marrying Bree (Marcia Cross)—but was ultimately suspected of murdering his first wife. Orson went on to be embroiled in dark shenanigans with his mother; his loose lips about Carolyn's (Laurie Metcalf) husband's affair led to her basically committing a terrorist act by taking hostages in a supermarket. MacLachlan left the show after season 6, although he returned to make a few guest appearances afterwards.
How I Met Your Mother (2010-2014)
Taking one of his occasional stabs at comedy, MacLachlan appeared in the sitcom How I Met Your Mother as the boat-obsessed George Van Smoot, also known as the Captain. Introduced on the show when the Captain met Arthur Hobbs during a showing of Guys and Dolls, he turned out to be Zoey's ex-husband and father of her stepdaughter. Although he admitted he wasn't familiar with the show prior to joining the cast, MacLachlan praised the writing as "brilliant," and expressed dismay at the Captain's limited number of appearances. "I was sad that it was only a few episodes," he told the A.V. Club. "I felt like in the third one I was finally getting my stride and had figured it out a little bit, his eccentricity."
The Good Wife (2013-2014)
MacLachlan's past playing oddball characters came in handy on The Good Wife, in which he appeared as eccentric Department of Justice lawyer Josh Perotti, who sparred and fell in love with equally unusual lawyer Elsbeth Tasiconi (Carrie Preston). MacLachlan's stint in the show wasn't long, but that was partly by design; as he told IndieWire, he had "so much fun" playing Perotti, but "there are tremendous demands" for contract actors on a series, and he didn't think he was "ready to do that." The looming Twin Peaks revival, in contrast, represented less of a time commitment.
Agents of S.H.I.E.L.D. (2014-2015)
Calvin Zabo gave MacLachlan a chance to play a comic book villain—an eccentric doctor who takes a cocktail of various drugs (including gorilla testosterone and a touch of peppermint) to give him super strength. Married to the Inhuman Jiaying, Zabo fights against S.H.I.E.L.D.—but as MacLachlan told Coming Soon, part of the key to his portrayal was the fact that he didn't regard the character as a villain at his core. "As I progressed through the filming, he got richer and deeper," he recalled. "On television, they parse out the information slowly. As I learned more and more about the character, it got more and more exciting."
Portlandia (2011-2017)
Perhaps MacLachlan's quirkiest role is the mayor of Portland in the cult comedy series Portlandia.MacLachlan first appeared on the show in 2011 and continued juggling the role while filming episodes of the Twin Peaks revival, using his summer vacation months to shoot his Mayor scenes over the course of a few days. Both characters are obviously eccentric, but in very different ways: some of Mayor's kookier antics have included getting Portland to secede to writing his own core strength exercise book. MacLachlan kills it in this role, and it's arguably his best since Agent Cooper.