The Indiana Jones And The Temple Of Doom Costume That Means More Than You Think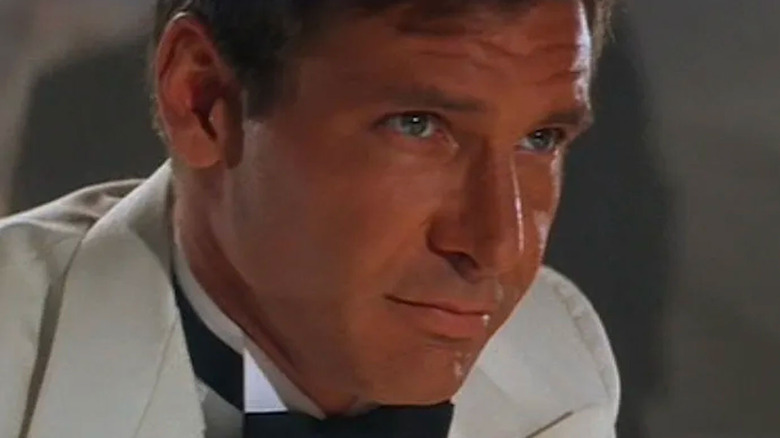 Paramount Pictures
As the tagline for the second film in the storied franchise says, "If adventure has a name ... it must be Indiana Jones." The globe-trotting adventurer is a movie icon that helped define Harrison Ford's career and is as permanently linked with the star as his other gun-toting hero, Han Solo. Indy made his debut in Steven Spielberg's 1981 classic "Raiders of the Lost Ark," which saw him up to his neck in Nazis and ancient booby-traps, and that was followed three years later by "Indiana Jones and the Temple of Doom." 
While not as favored as the rest of the franchise (even by its director), "Temple of Doom" still contains incredible set-pieces, including the opening shootout at Club Obi-Wan in Shanghai. It's a thrilling sequence that puts Indy in a location we're not used to seeing him in. This isn't some dive bar in the Himalayas (no disrespect to his wife, Marion) or an untouched, forgotten tomb, but a classy 1930s club that we can only assume has a strict dress code required for entry.
Thankfully, Indy is suited for the occasion, as he rolls up to the joint in a tuxedo. It's not any old get-up pulled off the rack, though. The white jacket, black bow-tie, and carnation in his lapel look strikingly similar to a look rocked by Sean Connery in the 1964 James Bond movie "Goldfinger." And considering Spielberg's relationship to the Bond franchise, that might not be a coincidence. 
Steven Spielberg always wanted to direct a James Bond movie
A longtime fan of 007, Steven Spielberg revealed in a 2011 AMA (via The Express) that he always had his sights set on directing a James Bond movie and he hoped that securing a meeting with one of the original producers of the franchise, Albert "Cubby" Broccoli, would seal the deal. "When I first started making movies, the only franchise I cared about and wanted to be part of was James Bond," Spielberg said. "When I started out as a TV director, my pie-in-the-sky dream was to make a little movie that would get some notoriety, and then Cubby Broccoli would call me and ask me to direct the next James Bond picture. But I could never get Cubby Broccoli to hire me."
Speaking to BBC Radio 2 in 2016 (via Metro), Spielberg recalled why that never happened. "I called Cubby Broccoli twice, and after 'Jaws' which was such a huge success. I thought, 'Hey people are giving me final cut now.' So I called up Cubby and offered my services but he didn't think I was right for the part," the director explained. "Then even after 'Close Encounters' ... came out and was a big hit –- once again -– I tried to get on a Bond film and now they can't afford me. So Barbara forget it!"
Spielberg has also opened up about how this 007 letdown helped inspire him to helm his own iconoclast franchise.
Indiana Jones exists because of James Bond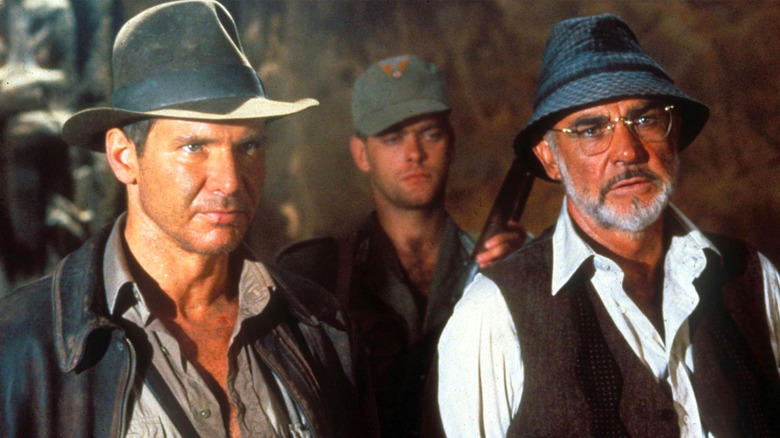 Paramount Pictures
In a statement to the Daily Mail, Spielberg recalled how being turned down for a James Bond directing gig took him from one franchise to another. "I've never asked again," he said. "Instead, I made the Indiana Jones series." Although some of the specifics are quite different, there are lots of broad similarities between James Bond and Indiana Jones. Both battled baddies bent on obtaining unlimited power, took on henchman twice their size, and did it all before saving the day and getting the girl. Spielberg's connection to the Bond movies could also explain why Indy is wearing a tux that appears to be a homage to "Goldfinger" in "Temple of Doom," especially because it wouldn't be the only hat tip to the James Bond movies in the "Indiana Jones" franchise.
In "Indiana Jones and the Last Crusade," the late Sean Connery co-starred alongside Harrison Ford as Henry Jones Sr. aka Indy's dad. As revealed at Connery's AFI Life Achievement Award ceremony (via YouTube), it wasn't a coincidence that Spielberg chose the original James Bond for the role. "When George Lucas and I created the Indiana Jones series, it's no secret that Bond movies were somewhere on our minds," he admitted. "So when we had to cast Indiana Jones' Dad, I thought who could possibly be more adventurous, and daring, and dangerous, and charming, and wily, and wonderful? Well, James Bond, of course." 
Considering the Connery casting, Spielberg's passion for 007, and the fact that he was never able to helm one of the movies himself, Indy's white tuxedo in "Temple of Doom" appears to be a fitting homage from one hero to another.