Why Travis Wheatley From Yellowstone Looks So Familiar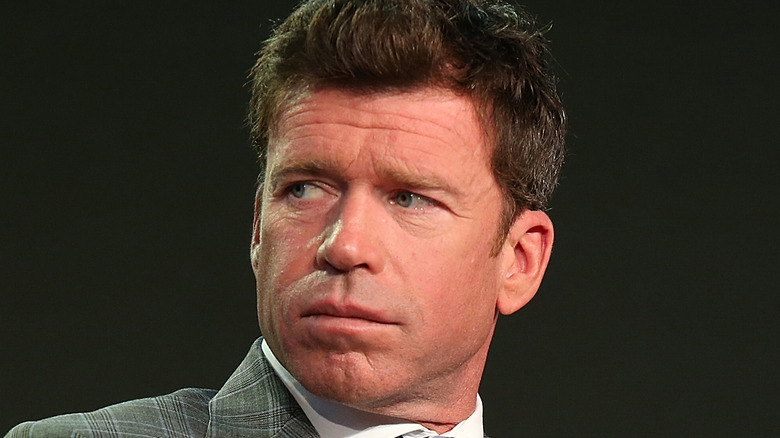 Phillip Faraone/Getty Images
Now in its fourth season, "Yellowstone" continues to grow in popularity. The Season 4 premiere broke new records, with 5.2 million viewers (per Deadline), and the fanbase remains passionate for many reasons — not only because of the writing, as well as the talent of "Yellowstone" stars like Kevin Costner, Kelly Reilly, and Wes Bentley, but also the minor characters in the cast, who garner just as much love and appreciation from the fans. 
One particular supporting character that has become more and more prominent is Travis Wheatley, who first appeared in Season 1 as a horse trader that John Dutton (Kevin Costner) often does business with. Since then, Travis has managed to appear on every season of the show so far (via Showbiz CheatSheet), and with "Yellowstone" now in Season 4, Travis has been officially hired by Dutton for his services, and thus become a much more featured character.
Here's the twist: Travis is played by Taylor Sheridan, who also happens to be one of the co-creators of "Yellowstone" itself. Sheridan also has a history as an actor, though, and so there are many other TV shows you might recognize him from.
Taylor Sheridan flew on the Enterprise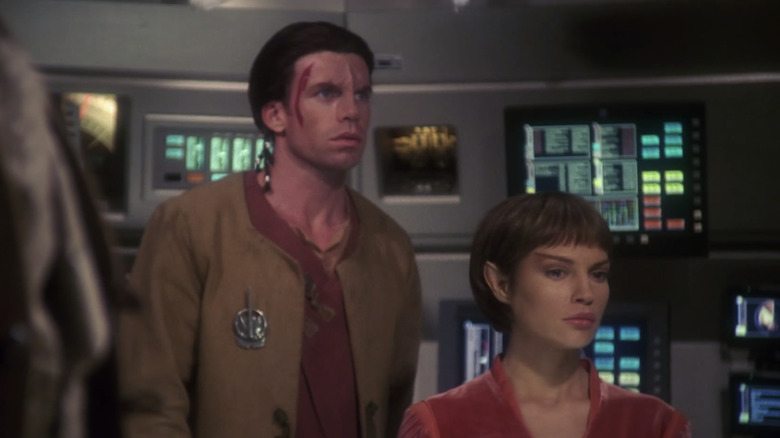 UPN
Though Taylor Sheridan had credits that go back to the mid-1990s, his acting career started getting much more traction in the early aughts. His first big television series was a role on UPN's "Star Trek: Enterprise." Sheridan appeared  well into the show, in Season 3, Episode 12, titled "Chosen Realm." Here, Sheridan was Jareb, a humanoid from the planet Triannon. Jareb is part of a religious zealot group led by Pri'Nam D'Jamat (Conor O'Farrell).  The group boards the Enterprise in attempt to use the ship against their opponents in a religious war. 
While not the biggest "Star Trek" role around, this was a big stepping stone for Sheridan. And even though "Stark Trek: Enterprise" tends to not be ranked the highest by many fans of the franchise, it gave Sheridan face time and a brief action scene with the fan-favorite Vulcan character T'Pol (Jolene Blalock) as they grapple for control of the ship. Sheridan had a few memorable lines, as well.
Taylor Sheridan was in Neptune's Irish mob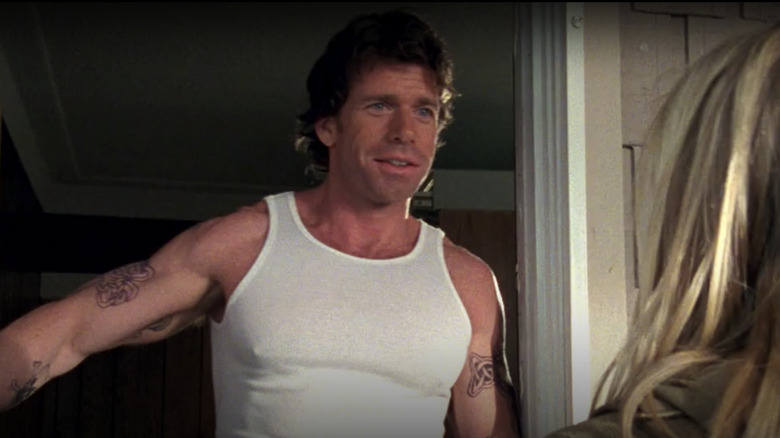 UPN/Hulu
"Veronica Mars" was Taylor Sheridan's next stop. 
The show was instrumental in launching Kristen Bell's career, where she played the titular character in the seaside affluent community of Neptune, California. While in high school and college, Veronica solves murders and other various crimes, with the help of her P.I. father Keith Mars (Ennico Colantoni). Sheridan played one of the various criminals they encountered. 
This occurs in Season 2, when Veronica finds herself in danger after she enlists the help of an unhinged gang member of the local Irish mob, Danny Boyle, played by Sheridan. Sheridan is equal parts humorous and terrifying as he directs Veronica straight into the den of the mob, The River Styx. Veronica realizes her mistake when she is surrounded by gang members and Boyle shows her the pool table where he was stabbed. Veronica almost doesn't leave the bar alive when the gang members realize she is a liability. 
Sheridan's appearance on the show was short-lived — only lasting five episodes — but helped demonstrate this acting talent, and it proved to be his next role that garnered him the most success in his acting career.
Taylor Sheridan battled with the Sons of Anarchy
If you recognize Taylor Sheridan from TV, there's a pretty good chance it's because of his role on "Sons of Anarchy," the FX series about a biker gang in California. 
Sheridan lasted 21 episodes as Deputy David Hale, the law and order character determined to keep Charming safe. This was an important role in the first two seasons, as Hale would often get into altercations with biker Jax Teller (Charlie Hunnam), the prince of the violent gang.
Hale's main concern was for the people of Charming, a motive that collided harshly with the Sons of Anarchy's agenda on any given day. Though this provided conflict between Hale and Jax, they eventually came to an understanding, and the two characters built a bridge in Season 2 as they mutually attempted to rid Charming of white supremacists. That alliance proves tragic, when Hale goes the way of most characters on the show — getting killed off. 
This was Sheridan's longest tenure on a television series to date (aside from "Yellowstone," of course). After this credit, he stepped away from acting for a time to pursue other avenues (via Rolling Stone.)
Taylor Sheridan was a cowboy in his own movie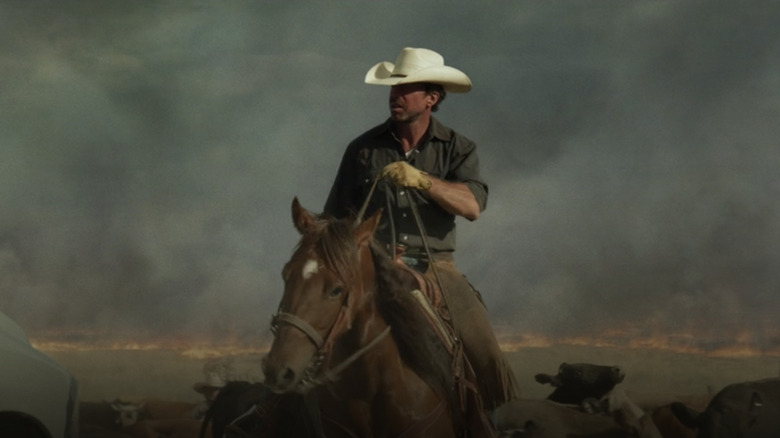 Lionsgate/Hulu
After his character arc on "Sons of Anarchy," Sheridan pursued his passions in the realms of writing and directing. He has notable writing credits which include "Sicario" and "Wind River," leading directly to his creation of "Yellowstone," and his stories of Americana have proven gripping — and at times brutal. 
He seemed to step away from acting for the most part, but did have a cameo in the film "Hell Or High Water," which he wrote. This occurs on the way to investigate a bank robbery: Marcus Hamilton (Jeff Bridges) and Alberto Parker (Gil Birmingham) encounter a cowboy trying to herd his cattle away from a grass fire. Sheridan plays the cowboy, who is anxious to save his livelihood. 
This moment is significant, as it is the thesis of the film: The cowboy comments on how this way of life is dying, similar to how Toby (Chris Pine) and Tanner (Ben Foster) are unable to exist in the modern world without dire consequences. These same themes reverberate through "Yellowstone."