The Swedish Crime Comedy Series You Never Knew Starred Keanu Reeves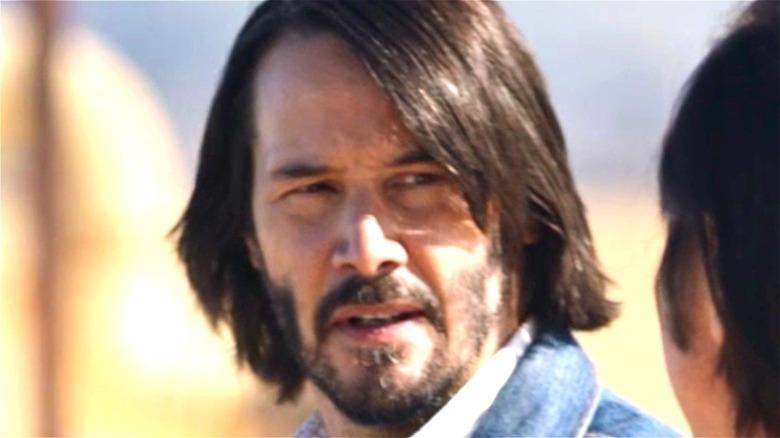 Viking Brothers Entertainment/Amazon Prime Video
While Keanu Reeves has starred in comedies like "Bill & Ted's Excellent Adventure" and dramas like "The Lake House," the Canadian actor is often celebrated for his performances in action movies. Leading roles in "Point Break" and "Speed" established Reeves as an action film star in the 1990s, and that was only the beginning.
Reeves is best known for taking the red pill in "The Matrix" franchise, where he portrayed cybercriminal and trench coat aficionado Neo. He also starred as supernatural detective John Constantine in the "Hellblazer" adaptation "Constantine." And more recently, he headlined the "John Wick" franchise, which sees him playing the titular retired assassin hellbent on revenge after being attacked by oblivious Russian gangsters who kill his beagle and steal his vintage Mustang.
Reeves boasts a prolific filmography spanning several decades and is not as well-known for his work on TV. However, he was praised as an "anchoring force" in the crime comedy series "Swedish Dicks" (via IndieWire).
Keanu Reeves portrays Tex Johnson in Swedish Dicks
With countless crime procedural dramas saturating the market, the oddball comedy "Swedish Dicks" takes a different approach. The American-Swedish show follows stuntman-turned-private-investigator Ingmar Andersson (Peter Stormare, who also co-starred alongside Reeves in "Constantine") and Axel Kruse (Johan Glans), a washed-up DJ looking for something new. They join forces to solve crime through their self-run firm, Swedish Dicks ("dick" is a slang term for "detective," though the show obviously makes sure to use plenty of double entendres).
Keanu Reeves recurs in the crime series as Tex "Crazy Man" Johnson, Ingmar's friend and former stunt partner who is presumed to have been murdered after having an affair with a mobster's girlfriend. In addition to their ongoing cases, Ingmar and Axel find themselves investigating whether or not Tex is actually dead.
"I love how progressive the whole show is. The scripts are amazing and it was great to have the opportunity to work with Peter Stormare again," Reeves said of his rare TV role (via ScreenDaily). In addition to "Swedish Dicks" and "Constantine," Reeves and Stormare also appeared together in "John Wick: Chapter 2."
There are currently two seasons of "Swedish Dicks" available for streaming on Amazon Prime Video.