Hawkeye Head Writer Drew Influence From This Surprising Prestige Series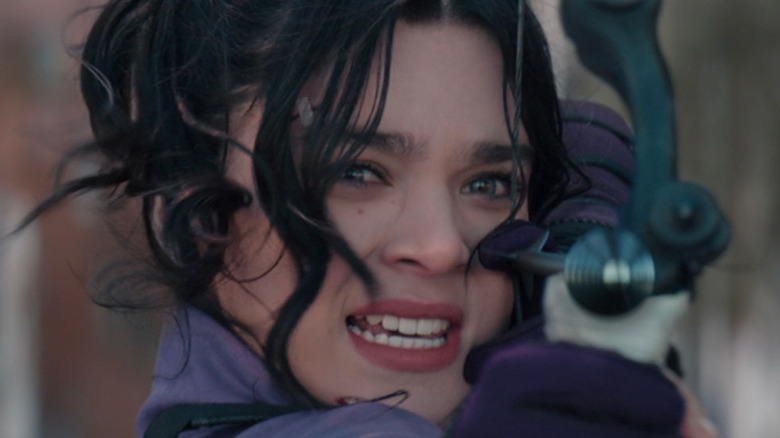 Marvel Studios/Disney+
Marvel's next big Disney+ show, "Hawkeye," has finally debuted on the streaming service with not one but two brand new episodes for the six-part series. Marking the arrival of Hailee Steinfeld's all-new character Kate Bishop to the beloved franchise and giving Jeremy Renner's bow-obsessed hero the run around in the process, the show is already being met with a reasonably positive reaction so far. While boasting a current score of 86% on Rotten Tomatoes, Slash Film described it as feeling "refreshing because of its street-level action and lower stakes."
That refreshing feeling isn't one just filled with festive cheer and good spirits given the time the show takes place, though. It's also thanks to the talents of head writer Jonathan Igla, who has a good bit of experience stored in his arrow case, that he was keen to apply to make one of the MCU's most overlooked heroes an interesting one.
It took some Mad Men to help with Hawkeye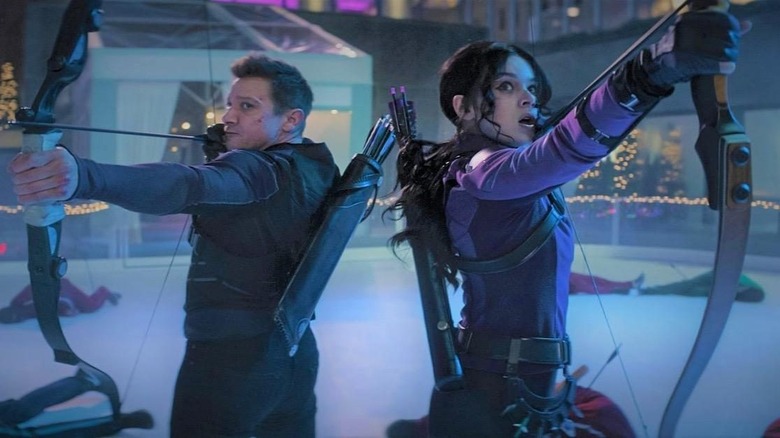 Marvel Studios/Disney+
Speaking to The Hollywood Reporter, Jonathan Igla explained his experience on another hit TV show helped him find a whole new way of handling stories, as well as the characters that inhabited them. He picked up one particular trick working as a writer's assistant to "Mad Men's," Matthew Weiner. In taking notes on Don Draper's world from every contributing writer, he got a greater viewpoint finding his own.
"I did that for seasons four and five. In addition to getting to work with the amazing writing staff, there was an extra advantage for me, because I was able to hear in my head, not just the character's voices as performed by the actors, but I could hear them in my head as performed by Matt," said Igla. "It gave me more insight into what he was thinking. I tried to do that in the [Hawkeye] room. I tried to pitch in character. I tried to pitch dialogue in the voices of the characters so the rest of the writers could hear what I was hearing in my head."
Those voices appear to have helped build what feels like a classic mismatched pairing of a buddy movie. Hailee Steinfeld's up-and-coming Kate Bishop is clashing with Renner's worn down Barton in the best way, with the latter reacting precisely how we'd expect. Hopefully, his new protegé will lighten him up a bit as the series progresses. It's Christmas, after all.