Saint Seiya Filler Episodes You Should Always Skip
Toei Animation
If understanding what anime was like in the 1980s is your goal, then few shows are as worth your time as "Saint Seiya: Knights of the Zodiac." Originally a manga written and illustrated in 1986 by Masami Kurumada, the franchise quickly grew into a multimedia sensation. By 2017, the original manga had sold over 35 million copies (via Anime News Network) and has been adapted into everything from anime to live-action films, musicals, and even video games. In many ways, it is a precursor to the more modern fantasy and adventure anime that we enjoy today.
The series focuses on the adventures of Seiya, a Japanese orphan who becomes a Saint — a zodiac-themed warrior dedicated to protecting the incarnation of the goddess Athena from the other Olympian gods. The first "Saint Seiya" anime adaptation, which was produced by Toei Animation in 1986, spans a whopping 145 episodes with five major story arcs. Unfortunately, however, not all of those episodes are entirely canon to the manga. So, if you're only interested in experiencing the original story of "Saint Seiya," then there will be some filler episodes you should always skip.
Close to a third of Saint Seiya is true filler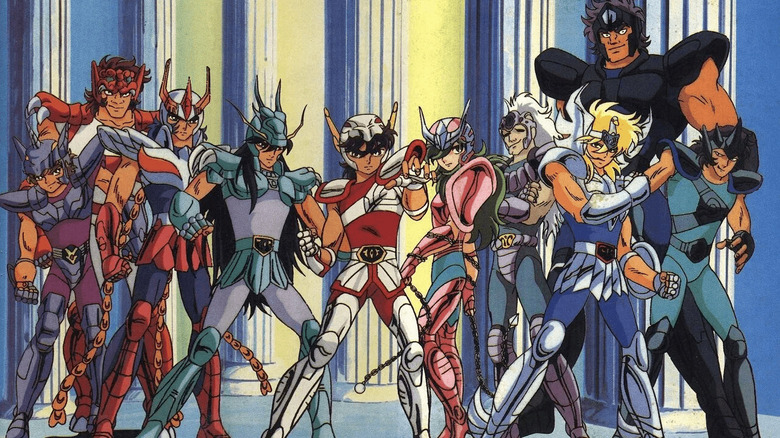 Toei Animation
While it's far from the most filler-heavy show on the planet, "Saint Seiya" is nothing to smirk at. According to Anime Filler List, the series has an estimated 40 filler episodes out of 145, making at least 30% or so of the series non-canon to the original manga. These are episodes 16-22, 26, 33-35, 54-55, 64, and 74-99. An extra seven episodes (15, 25, 28, 32, 51, and 100-101) of the series are considered "mixed filler," and could be skipped or enjoyed at one's leisure.
In addition to those 40 episodes, the 1986 "Saint Seiya" anime also has five movies. According to the watching guide on the official "Saint Seiya" subreddit, all of these movies are considered non-canon to the original story. They are not required to understand the main conflict. They should also not be confused with the live-action and CGI spinoff films, which are not connected to the anime.
Even with all of this unnecessary content, however, many "Saint Seiya" fans actually recommend some filler. For instance, episodes 74-99 include the anime-original "Asgard" arc. While this section of the series never happens in the manga, it is still well-regarded by most fans, as are many of the movies. As such, it may be worth considering straying into non-canon territory if you find yourself enjoying the series.