The Arrow Couple Fans Agree Has No Chemistry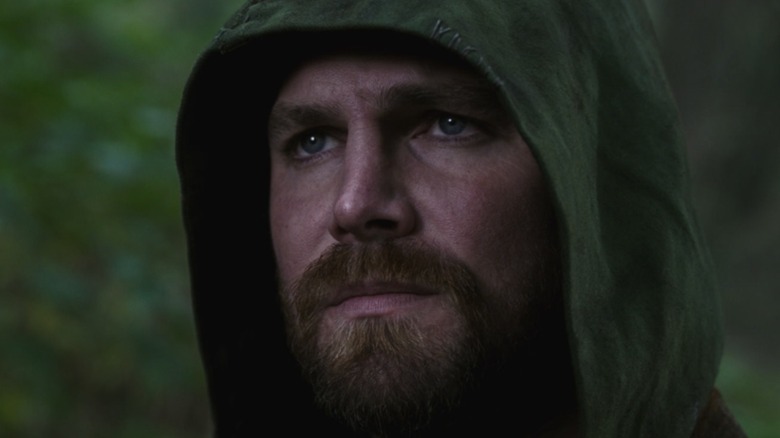 The CW
"Arrow" follows the exploits of Oliver Queen (Stephen Amell), who was originally just a spoiled playboy son of a rich and powerful family, but a tragic plane accident left him stranded on an island. After he finally manages to escape, he uses his newfound skills to fight crime, and collects a ton of friends a long the way. These friends and interactions foster a bunch of complex relationships against the backdrop of a superhero story — one that went on to launch one of the DC universe's most successful franchises, still lovingly known as "The Arrowverse." Though the "Arrow" series finale aired on January 28, 2020, its myriad spin-offs continue to carry its torch — shows like "Supergirl," "Legends of Tomorrow," and "The Flash." 
Over the eight seasons of "Arrow," fans got a chance to see plenty of romance — Diggle (David Ramsey) and Lyla (Audrey Marie Anderson) had a professional and personal relationship. Thea (Willia Holland) and Roy (Colton Hayes) had another one, born of passion and compassion in equal measure. And Tommy (Colin Donnell) and Laurel (Katie Cassidy) had one cloaked in secrecy, while felicity (Emily Bett Rickards) and Ray (Brandon Routh) had one grounded in mutual interests. Some lasted, while others faded. 
Oliver himself had around nine relationships throughout the series (via Reddit), and some were definitely steamier than others. According to the fans, this one in particular really fell flat on the screen due to an insurmountable lack of chemistry between the amorous pair.
Arrow fans think Oliver and Felicity had no sizzle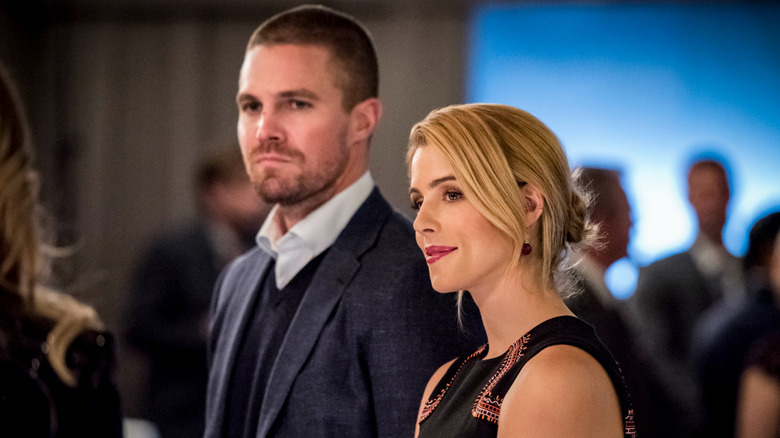 The CW
In a bawdy Reddit discussion of Oliver's various paramours on "Arrow," fans pretty quickly settled on the one who showed the least chemistry with the leading man. Reddit user nurdboy42 wrote, "I'll be the first to say it: Oliver and Felicity." In response, an entire brigade of television fans let loose on the couple. Felicity Smoak (Emily Bett Rickards) acted in a technical capacity, and used her computer skills in order to research and assist Oliver in his bid to rid the city of evil.
Reddit user 01111000marksthespot added, "Their relationship is hilariously toxic, but keeps being pushed as some perfect fantasy. If it had intentionally been written that way, it would be amazing. But no." 
Another replied, "I never thought those two were going to be a thing until the small possibility was randomly shoehorned as a plot point in season 2. In season 3 it was novel and felt fun, but quickly became boring and soon worrying. Now, it's just totally insufferable and I'd rather see Oliver go out with Diggle than Felicity."
Other Reddit users suggested that any other relationship on "Arrow" made far more sense, with some pointing out that in the comics that Green Arrow eventually ends up with Laurel Lance (Katie Cassidy), who takes up the mantle of Black Canary. They considered this to be the ultimate relationship that the show should have aimed for, in terms of comic book accuracy.