The Surprising Way Christopher Lloyd Wants Rick & Morty To Crossover With Back To The Future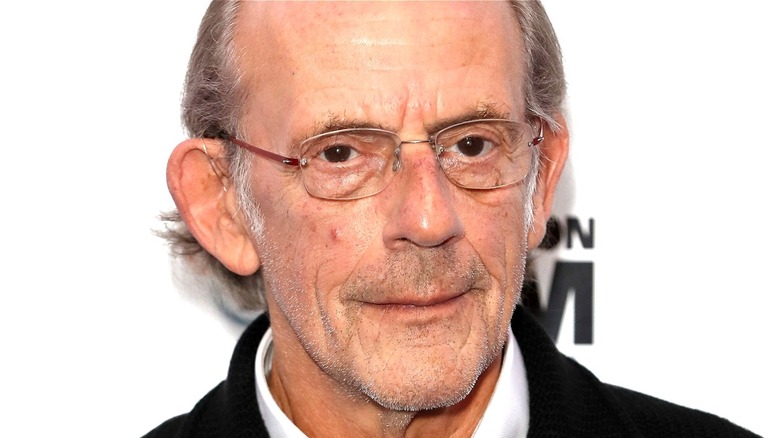 John Phillips/Getty
Christopher Lloyd has brought a lot of iconic roles to life during his decades-long career. However, audiences probably best as the wide-eyed, wild-haired Dr. Emmett Brown in Robert Zemeckis' iconic sci-fi-action-comedy "Back to the Future" trilogy. The movies have permeated pop culture in the years following their release. Fans of Adult Swim's "Rick and Morty" know the animated show often references the "Back to the Future" series. In a Did You Know Movies interview from 2017, series co-creator Justin Roiland revealed he intentionally created Rick and Morty to tweak Universal Pictures by infringing upon their copyright with an animated short called "Back to the Future: The New Official Universal Studios Cartoon Featuring the New Doc Brown and Marty McFly."
Though the "Rick and Morty" protagonists have now evolved beyond their original versions, Roiland and the show's creative team clearly have a huge amount of affection for the film franchise. The two worlds crossed over earlier this year when Lloyd and "Knives Out" actor Jaeden Martell appeared in a series of commercials as Rick and Morty, respectively, to promote the show's fifth season (per YouTube).
Lloyd seems to have a lot of affection for "Rick and Morty," too. In fact, during a recent red carpet interview, he suggested a way Rick and Morty might meet his "Back to the Future" character and Michael J. Fox's Marty McFly.
Christopher Lloyd's crossover idea is out of this world
Interviewed by The Illuminerdi at this year's Saturn Awards, "Back to the Future" alum Christopher Lloyd proposed that it might be easy for his famed '80s franchise to meet up with "Rick and Morty" since both sets of characters often find themselves unmoored in time and location. The actor shared, "I thought that maybe if Rick and Morty are out there in space somewhere and accidentally Doc and Marty are out there they could somehow meet," and went on to suggest the story could be good because "those are four characters that would be fun to watch and good writing."
It's not the first time that Lloyd has publicly mused about the connection between Rick, Morty, Doc, and Marty. While appearing in those "Rick and Morty" teaser trailers, he told Paul B. Cummings, who directed the commercials, that "he felt that Doc Brown and Rick Sanchez were like brothers that took two very different paths in life" (via Gizmodo). After a whole season of "Rick and Morty" focusing on Rick's past — and his adventures in the multiverse — Lloyd's insights feel especially on-point.