The First Teaser For Shonda Rhimes' Inventing Anna Promises A Glamorous, Dramatic Story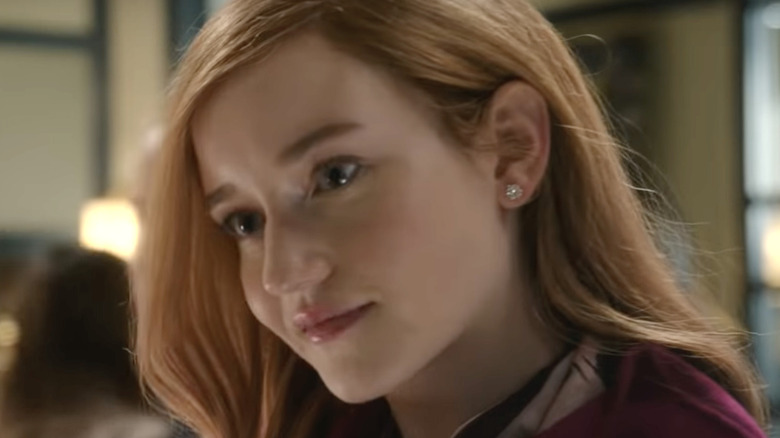 Netflix/YouTube
Two-time Emmy winner Julia Garner has stolen just about every scene she's in for three straight seasons of "Ozark." Soon, she will be on our TV screens as a headline-making scammer in the Shondaland Netflix show "Inventing Anna." The upcoming project is based on the true story of Anna Delvey (born Anna Sorokin), a fraudster posing as a socialite who was convicted for multiple counts of attempted grand larceny and larceny in the second degree in 2019 (via The New York Times). Sorokin's brief time as a scammer was documented in lengthy accounts for both Vanity Fair and New York Magazine, with the latter publication's piece serving as the basis for "Inventing Anna."
On Monday, Netflix released the first teaser trailer for "Inventing Anna, previewing the show's approach to Sorokin's life of glitz, glam, plus the calculated sham of how she got there. "Inventing Anna" marks the second Netflix project coming to the streaming service from Shonda Rhimes since "Bridgerton," although plans for the show were announced in Variety one month before the costume drama (via Deadline). With Garner front and center, she is joined by top-level talent, including "Veep" alum Anna Chlumsky, "Scandal" actor Katie Lowes, and former star of Netflix's "Orange Is The New Black" Laverne Cox.
There's more to Anna Delvey than meets the eye on Inventing Anna
Making sure not to reveal too much in this new preview, the teaser for Netflix's "Inventing Anna" shows Julia Garner's titular character living a wealthy lifestyle that she's seemingly faked her way into. The price of luxury appears to come at a cost, though. We also catch a glimpse of Anna eventually being caught in the act but still deeming her creation a masterpiece. There also seem to be shots pulled right out of both the New York Magazine and Vanity Fair stories, including Anna's extravagant international vacations, plus appearances at fashion shows and other high-profile events.
Playing a fictionalized version of Anna Sorokin is a role that Garner will no doubt be at home with given her experience playing Ruth, a character involved in all manner of criminal activity, in "Ozark." She won't be the only person handling the character either, as HBO is also developing a take on this scandalous story with "Girls" creator Lena Dunham heading the project as lead screenwriter (via Deadline). Currently, no star is attached for the role in that series, giving plenty of time for Garner to make a name for herself when "Inventing Anna" arrives on Netflix in 2022.