Why Raelle Collar From Motherland: Fort Salem Looks So Familiar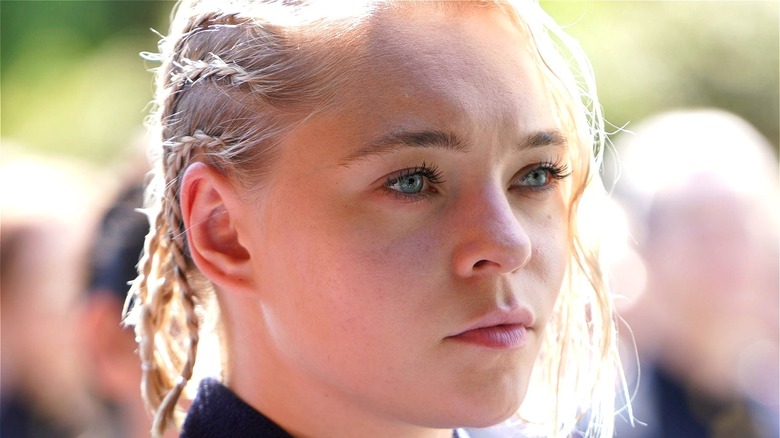 Freeform/David Bukach
Fans of Freeform's supernatural drama series "Motherland: Fort Salem" are eagerly awaiting any news about the upcoming third and final season. The show, which premiered in early 2020, is about an alternate, woman-dominated world in which witches exist and have been conscripted into the United States Army. 300 years earlier, an agreement was created known as the Salem Accord after the Salem witch trials, which requires all witches to be a part of the army, sparing them from being persecuted. But now a group of people that call themselves the Spree are rebelling and inciting violence, leading the next generations of witches to make important decisions that will decide the world's future. 
A big part of why "Motherland: Fort Salem" has been so successful is because of the show's amazing cast. This includes Taylor Hickson, who portrays the character Raelle Collar, a young witch from an unknown family line who shows extreme potential and ability when she arrives to train at Fort Salem. She quickly forms strong connections with her fellow witches, helping lead them through the tough obstacles ahead. For many "Motherland: Fort Salem" viewers, the actress who plays Raelle probably seems a little familiar. Here's where you might've seen the up-and-coming actress before.
Taylor Hickson played Meghan Orlovsky in Deadpool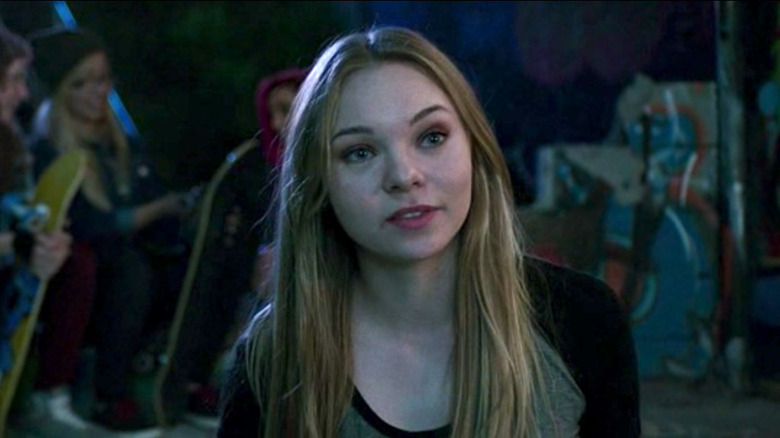 20th Century Fox
One of Hickson's first major roles was actually in a superhero movie — 2016's "Deadpool." She plays a small part as Meghan Orlovsky, but it's a pretty important moment in setting up the character of Wade Wilson, played by Ryan Reynolds, before he becomes Deadpool. Meghan appears in the beginning of the film when she hires Wade, who is working as a mercenary at the time, to deal with a guy named Jeremy Garrett (Style Dane) who is stalking her. As Jeremy works as a pizza delivery guy, Wade sets a trap for Jeremy in order to intimidate and convince him to leave Meghan alone (Marvel Database). 
Hickson shows up when Wade arrives at a makeshift skate park where she is hanging out with her friends to tell her that the job is completed. In response, Meghan hugs Wade before calling him her "hero." He doesn't really accept the compliment, not seeing himself as a true "good guy," but Meghan clearly believes that Wade's a good person. Their interaction is a major part of setting up what type of person Wade is before he goes through the main events of the film. 
She portrayed Brianna Copeland in Aftermath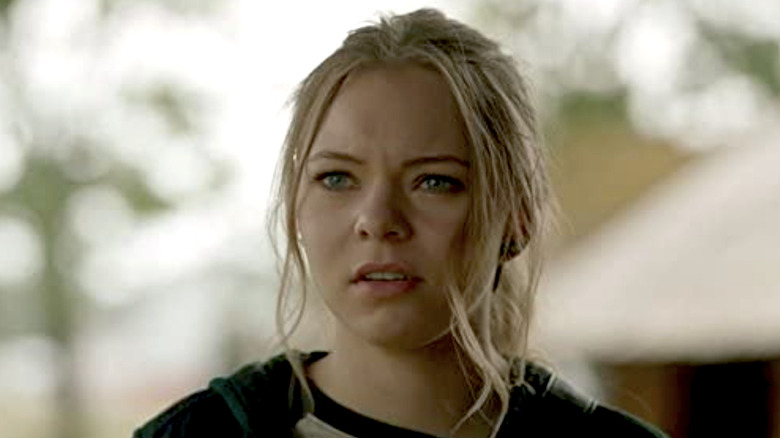 Syfy
In one of her first main roles, Hickson starred in the Syfy series "Aftermath" as Brianna Copeland. The show, which only ran for one season in 2016, focuses on the Copeland family in the state of Washington as they deal with everything from natural disasters to supernatural creatures during an end-of-the-world event. Hickson's character Brianna is a confident twin looking for independence. The actress stars alongside Julia Sarah Stone, who plays Brianna's twin Dana, Levi Meaden, playing their older brother Matt, and Anne Heche and James Tupper, who play their mother and father, respectively.
There is no real rhyme or reason to what's happening in "Aftermath," at least as far as Brianna, her siblings, and her parents know, but they do their best to survive as they travel to the city of Yakima, Washington to find help and hopefully some answers. The series is nonstop craziness, and just in the first episode, the family faces a sudden hurricane, a virus that turns people into zombie-like creatures, and a person possessed by a homicidal demon ghost. While "Aftermath" is unexpected and action-packed, it apparently wasn't enough to save the show from cancellation.
The actress had supporting parts in a few drama films
After Syfy's "Aftermath" was cancelled, Hickson transitioned to pursue movie roles again, nabbing quite a few supporting roles in drama movies. In 2017, Hickson joined the cast of the romantic drama "Everything, Everything" as the character Kara. The film stars Amandla Stenberg as Maddy and Nick Robinson as Olly, and is based on the book of the same name by Nicola Yoon. The story follows the character of Maddy as she lives a secluded life with her mother, as she suffers from severe combined immunodeficiency (SCID). But then a family movies in next door, including a cute boy named Olly, and soon enough Maddy and Olly fall in love, leading her to want to experience more of the world. Hickson's character Kara is Olly's younger sister, and she meets Maddy when they go over to introduce themselves after moving in.
In 2018, Hickson had an even bigger role in the movie "Giant Little Ones," playing the character Natasha Kohl. The movie stars Josh Wiggins as Franky, a teenager who gets bullied after his friend, who he has a sexual encounter with, spreads rumors about Franky in order to cover up for himself and his own sexuality. Franky connects with Natasha, who has been bullied and ostracized in a similar way. As the two grow close, Franky starts to discover and become more comfortable with himself. Through these roles, Hickson proves that she's just as capable handling serious and emotional stories as she is more genre fare.
Hickson played Petra in the short-lived Deadly Class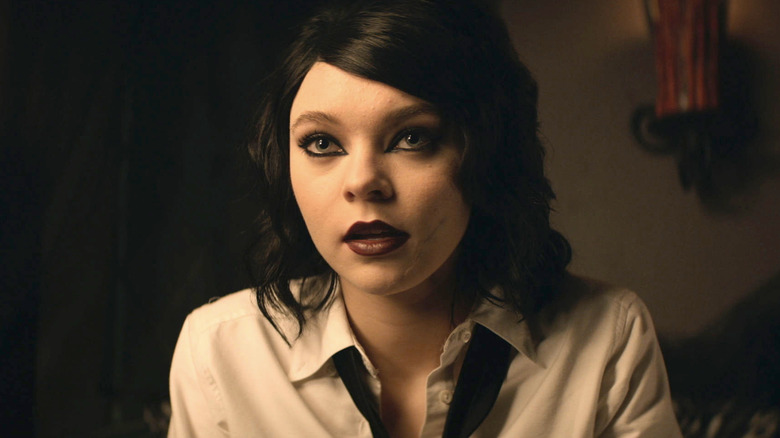 Syfy
Before playing a witch on Freeform, Hickson starred in another Syfy series that unfortunately only lasted one season, and that's "Deadly Class." Produced by the Russo brothers, "Deadly Class" is an action drama set in the 1980s and based on the graphic novel series written by Rick Remender and illustrated by Wes Craig. 
"Deadly Class" takes place in San Francisco, where a group of misfits and outcasts go to a school called King's Dominion where they are trained to be assassins. The main protagonist is a kid named Marcus, played by Benjamin Wadsworth, an orphan who decides that he must kill Ronald Reagan to get revenge for his parents' death. Hickson plays one of Marcus' ruthless classmates, Petra, alongside Lana Condor, María Gabriela de Faría, Luke Tennie, Liam James, and Michel Duval. 
Petra is a goth, antisocial girl whose backstory is just as dark as all of the others. She's raised by two hippie parents who become deeply involved in a death cult. At just 11 years old, Petra has a horrific experience in which she finds her mother's eyes in a jar in the fridge, courtesy of her father, leading Petra to leave and attend King's Dominion (Image Comics Database). With all the students coming from tough backgrounds, they end up quickly bonding, and Petra gets particularly close with James' character, Billy.