Win Or Lose Release Window, Cast, Directors, Plot And More Details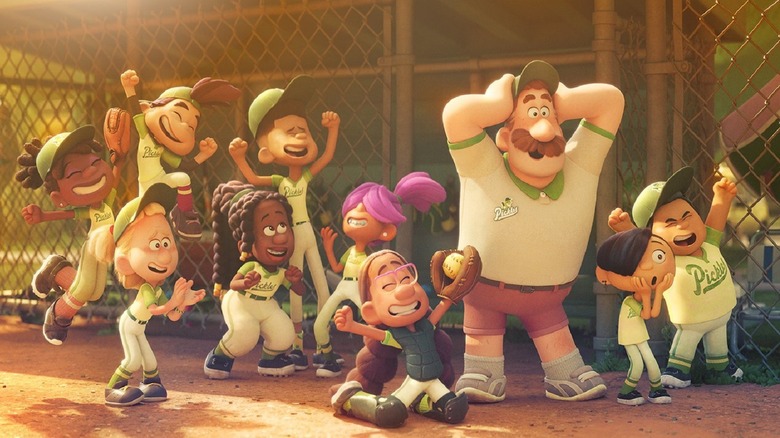 Pixar
When it comes to animation, there are a handful of studios that truly stand out from the pack with their beautifully designed, emotionally engaging movies. You've got the claymation films of Laika, the anime renderings of Studio Ghibli, and the Irish offerings of Cartoon Saloon. Of course, when it comes to famous animation studios, they don't get any more beloved than Pixar. 
Sure, we're a bit past the "everything they touch turns to gold" phase, but Pixar is still incredibly reliable when it comes to creating solid movies that make us laugh and cry — just look at amazing films such as "Luca," "Soul," and "Turning Red." And now, Pixar is moving in a new, exciting direction — one that's bound to thrill diehard fans and intrigue those who've grown a bit tired of some of the company's lesser offerings in recent years. The studio is going to try its hand at an original television series. 
Titled "Win or Lose," it looks like the series will be imbued with the adventurous, inventive spirit that's defined Pixar's best efforts. If you're wanting to know more about this truly unique project, then read on for everything we know about "Win or Lose."
When will Win or Lose be released?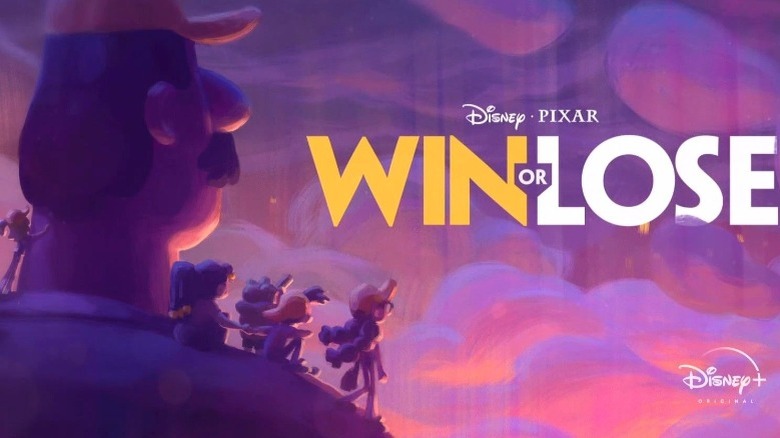 Pixar
When can we expect to see Pixar's first try at TV? Get ready for animated magic because the series hits Disney+ on December 2023. We don't have an exact day just yet, and we're also not sure if the show will release one episode a week (a la Disney+ series like "The Mandalorian") or all at once (similar to Disney+'s "Echo"). However, we do know there will be eight episodes in total, and it looks like Pixar will be doing something unique with each and every installment.
What is the plot of Win or Lose?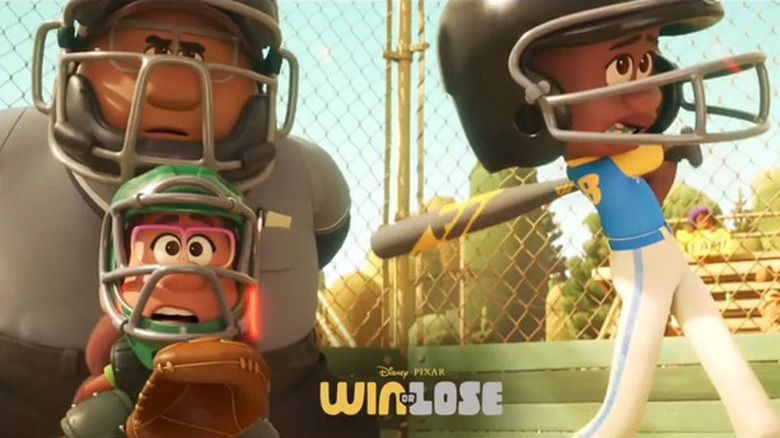 Pixar
"Win or Lose" will tell the story of a co-ed middle school softball team known as the Pickles. The series will take place the week leading up to their big championship game. According to the official plot synopsis, "['Win or Lose'] reveals what it actually feels like to be in the shoes of each character — the insecure kids, their helicopter parents, even a lovesick umpire — with incredibly funny, very emotional, and uniquely animated perspectives."
Remember how we said Pixar was doing something special with each episode? Well, as implied in the plot synopsis, each installment will focus on a different character involved in the game, such as that aforementioned umpire who's dipping his toe back in the dating pool or a young girl with a big crush. One episode screened at the Annecy International Animation Film Festival follows Vanessa, single mom to one of the team players, as she navigates her jam-packed life. According to reports on the ground, it's as funny as it is moving, which bodes well for the series as a whole — that's basically Pixar's sweet spot.
Moreover, the show will feature different animation styles. According to a report from /Film, "The animation style appears to shift with each episode, distinguishing itself further from Pixar's usual fare. [One] story appears to mimic a cardboard diorama, and the actual softball footage we see mimics that of a traditional sports anime."
While we love the traditional Pixar look, we're very intrigued to see the studio try its hand with different visual formats, and it looks like "Win or Lose" is going to really push the boundaries of what the studio can do.
Static Media owns and operates /Film and Looper.
Who is starring in Win or Lose?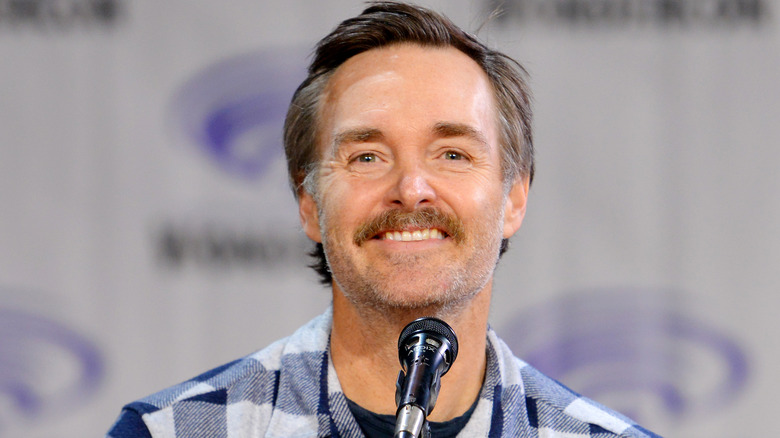 Chelsea Guglielmino/Getty Images
At the moment, we don't have a ton of details about the cast of "Win or Lose." However, we do know that Pixar can attract some seriously big names and major talents, a la Tom Hanks, Jamie Foxx, and Holly Hunter. And for "Win or Lose," we know they've scored one of the funniest comedians on the planet with Will Forte. The "Saturday Night Live" alum will be starring as Coach Dan, the leader of the Pickles, and we're sure he'll bring his trademark hilarity to the role. In addition to "SNL," Forte is best known for his comedic turns in projects like "MacGruber" and "The Last Man on Earth."
Fans learned about a few other cast members in June 2023, courtesy of the Annecy International Animation Film Festival. Milan Ray will play Rochelle, a high-powered teenager with a plan for everything. Her mother Vanessa will be brought to life by Rosa Salazar. TV watchers might know Ray as Keisa Clemmons on "The Wonder Years," while cinephiles will recognize Salazar as the titular cyborg of "Alita: Battle Angel."
Who is writing and directing Win or Lose?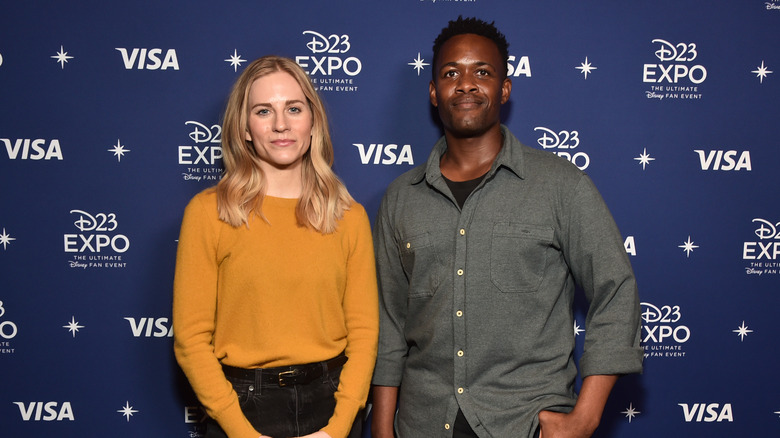 Alberto E. Rodriguez/Getty Images
"Win or Lose" comes from the dynamic duo of Carrie Hobson and Michael Yates, who stumbled across this softball concept in a pretty interesting way. These two worked together on "Toy Story 4," and at a certain point, they realized they had a pretty different way of viewing things. Specifically, Hobson and Yates always came away from their creative meetings with diametrically opposed opinions of how things went down. Upon realizing this, they decided they could make a whole show about how various characters have different interpretations of the same event — namely, the week leading up to a softball championship.
Hobson and Yates will direct, write, and executive produce the series, and they have quite a bit of Pixar experience between them. Hobson served as a story artist on the aforementioned "Toy Story 4" and was part of the senior creative team for "Lightyear," while Yates worked as a storyboard artist on the fourth "Toy Story" and "Cars 3," as well as serving as an animator on "Soul."
Who is producing Win or Lose?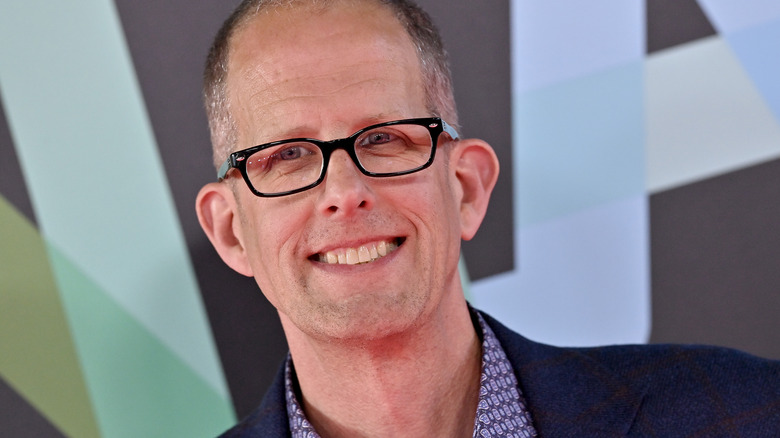 Axelle/bauer-griffin/Getty Images
While Carrie Hobson and Michael Yates are serving as executive producers, "Win or Lose" is produced by David Lally and Pete Docter. That's a powerhouse combo right there. Lally has worked on the visual effects of movies like "Coco," "The Good Dinosaur," and "Inside Out." And Pete Docter ... well, he's Pete Docter. Not only has the man directed some of the very best Pixar movies — "Up," "Inside Out," "Soul," and "Monsters, Inc." — but he's also the chief creative officer of the company. Doctor is super psyched about the upcoming series, having said about "Win or Lose," "It's not so much about softball as it is a comedy about love, rivalry, and the challenges we all face in our struggles to win at life."
Lally has also offered some critical perspective on the show's production process — specifically, its endpoint. On July 25, 2023, he Tweeted, "That's a wrap for post production! Skywalker Sound turned it UP for us!! WIN OR LOSE is 100% done! Now the long wait for December...
" Indeed, we have a ways to go before "Win or Lose" debuts — but updates like this make the wait a lot more bearable.
What happened to the Win or Lose spin-off?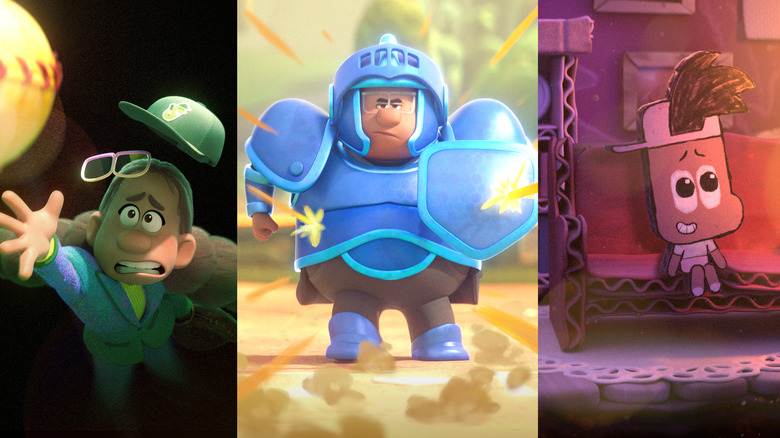 Disney/Pixar
"Win or Lose" isn't just an upcoming series — at one point, it was set to be the starting point for an entire universe of stories. While that still may come to pass, it's hit a major speedbump. In July 2023, TheWrap (via Movieweb) reported that an unannounced "Win or Lose" spin-off had been unceremoniously canceled. Speculation has run rampant as to the cause, with most pundits pointing to the unimpressive critical and commercial reception of recent Pixar flicks "Elemental" and "Lightyear" as likely factors.
This axed spin-off didn't even manage to get a title of its own, let alone an official announcement, before it got the chop. However, its existence remains interesting to viewers eagerly anticipating "Win or Lose." The fact that the series was ever considered meaty enough to deserve its own spin-off is an excellent sign, indicating both impressive storytelling depth and confidence in the finished product. Moreover, we wonder if cancelation might not be the end for this series. If "Win or Lose" does well, this canceled project might be revived, if only as a stand-alone special.