We Finally Know Why Eros Didn't Have A Bigger Role In Eternals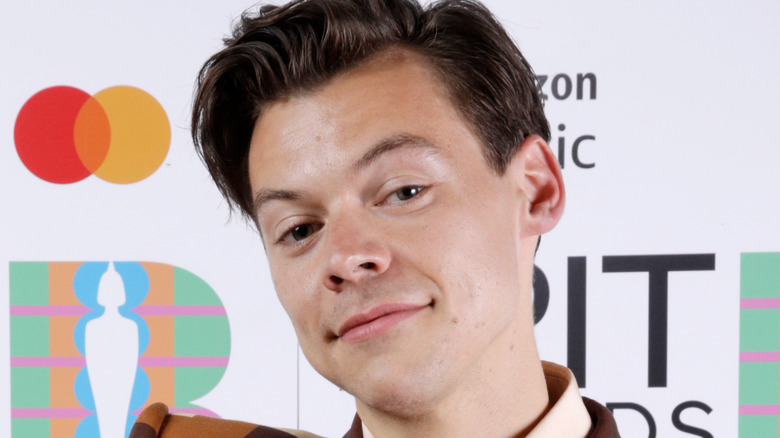 Jmenternational/Getty Images
To keep the momentum built by July's "Black Widow" and September's "Shang-Chi and the Legend of the Ten Rings" going, director Chloé Zhao's "Eternals" arrived at the cinema on November 5, 2021. As one of the most ambitious Marvel Cinematic Universe entries to date, the ensemble epic had a lot of ground to cover, seeing as its story spans centuries. Not to mention, it features a massive cast of franchise newcomers whose place in the sprawling continuity desperately needed exploration — an endeavor that ate up a massive chunk of the runtime.
Though not every Eternal had their personality fleshed out to their fullest extent, audiences still got a sense of who they are individually. Of the bunch, Sersi (Gemma Chan), Ikaris (Richard Madden), and Thena (Angelina Jolie) arguably get the most time to develop, but they, as well as their teammates, could benefit from more MCU appearances down the road. This holds especially true for Harry Styles' Eros, who popped up briefly in the first "Eternals" post-credits scene — alongside Pip the Troll (Patton Oswalt) — to introduce himself as Starfox.
Considering that Marvel Studios went ahead and cast music sensation Harry Styles as the boisterous brother of Thanos (Josh Brolin), it stands to reason that Eros' debut wasn't a one-off. Bearing that in mind, though, why wasn't he more prominently featured in "Eternals" to begin with?
Eros' presence would've complicated Sersi and Ikaris' love story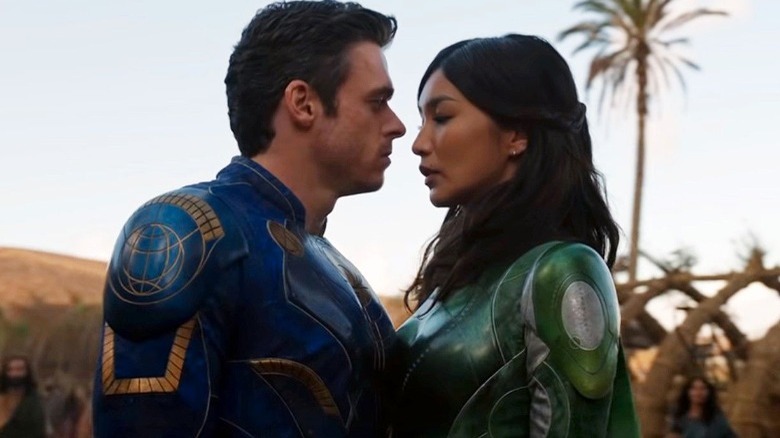 Marvel Studios/Disney
According to the writing duo behind "Eternals," Ryan and Kaz Firpo, even when the film was in its earliest stages, they intended for Eros to play some kind of role. In fact, as Ryan told The Direct, on their board of roughly 40 Eternals to include, "Eros [was] definitely a card that went up on the board to be in the main movie." However, as we now know, they never went in this direction with the character. Why? As they go on to explain, his presence would've complicated Ikaris and Sersi's already strained romance.
"We really wanted to concentrate on Sersi and Ikaris' love story," reveals Ryan Firpo, reasoning that Ikaris' presence made it difficult to work Eros in without them "stepping on each other's toes." Thankfully though, they found a way to squeeze the latter into the film in some capacity — a decision they made with the wider MCU in mind. Ryan refers to Eros as "the perfect coda character to introduce" as a result of his familial connection to Thanos, who still stands as the franchise's biggest villain to date as Phase Four finds its footing.
It would have been nice to see more out of Eros in "Eternals," but it's safe to assume we haven't seen the last of Harry Styles' super-powered alter-ego on the big screen.