Why Ada Wong From Resident Evil: Welcome To Raccoon City Looks So Familiar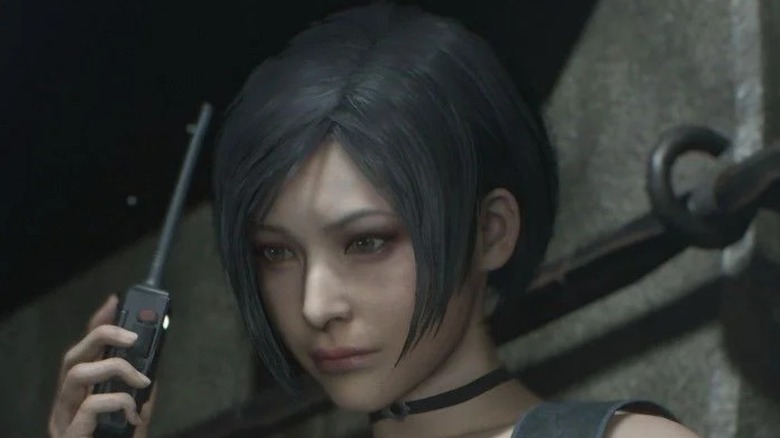 Capcom
When it comes to movie adaptations of video games, the bar is essentially six feet below the ground. One of the most infamous adaptations is that of the "Resident Evil" series. The beloved Japanese horror video game franchise has been celebrated since its inception in 1996, while its six live-action films haven't fared as well.
Despite the negative reviews, the film franchise is undergoing a reboot with "Resident Evil: Welcome to Raccoon City." The upcoming film will follow Claire Redfield (Kaya Scodelario) and a group of survivors investigating the apocalyptic wasteland caused by the Umbrella Corporation. Directed by Johannes Roberts, the reboot stars Hannah John-Kamen, Robbie Amell, Tom Hopper, Avan Jogia, Donal Logue, and Neal McDonough.
Fan-favorite character Ada Wong will also appear in "Resident Evil: Welcome to Raccoon City." The mysterious spy is portrayed by Canadian actress Lily Gao, who has been studying her character's mannerisms, movements, and appearance to prepare for the role, according to a recent interview. "I do a crazy amount of research for every character, and I build a life for everyone. So, for her, there was a lot of information, the fan websites are amazing... it really is the fans that give life to the characters that they have," she told Geek Network.
Here's where you may have seen Lily Gao before.
Lily Gao had a recurring role in Blood and Water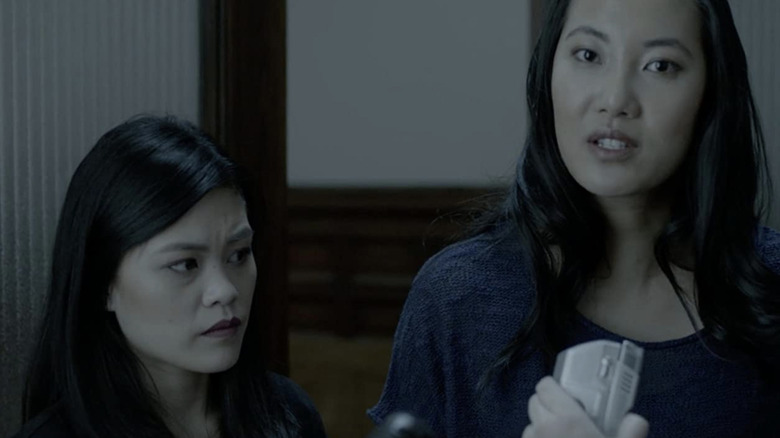 OMNI Television
After her debut role as a recurring character in the 2012 action series "True Justice," actress Lily Gao was cast as Jennifer Liu in "Blood and Water." The Canadian crime drama series follows the murder of Charlie Xie (Osric Chau), a billionaire's troubled son. Gao's character is a victim's rights advocate whose murder unexpectedly coincides with the Xie case.
While "Blood and Water" may sound like a standard police procedural series, many critics were drawn in by its soap opera dramatics. Additionally, it was groundbreaking for having a predominantly Asian cast and blending English, Cantonese, and Mandarin dialogue (via CityNews).
In an interview with Breakfast Television, Gao opened up about how unique the trilingual show is because it caters to multi-cultural, multi-generational Canadians. "I think it's a TV show that a lot of generations in Canada can relate to," she said. "I know for my family and my family-friends... a lot of the things that they have on TV, they see it but they don't really understand it, they can't really relate to it, and especially with this one, with three languages, it's just something exciting for them that they can relate to and watch."
Gao starred in the Canadian sitcom Second Jen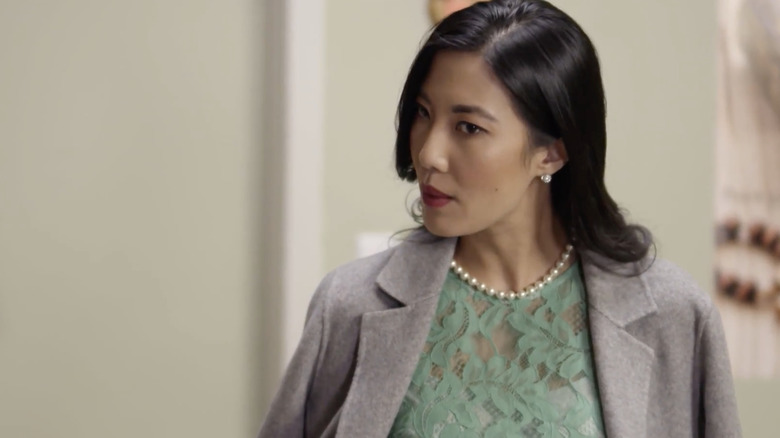 OMNI Television
From 2016 to 2018, Lily Gao starred in the Canadian TV show "Second Jen." The coming-of-age sitcom follows Jennifer "Mo" Monteloyola (Amanda Joy) and Jennifer "Jen" Wu (Samantha Wan), two second-generation best friends who move in together. The Canadian-Asian women are eager to prove themselves to their immigrant parents while navigating their hashtag-struggles as millennials.
Gao has a major recurring role as Karen Chen, Mo and Jen's wealthy frenemy. Unlike the admittedly dorky protagonists, Karen is viewed as a "cool Asian" and, consequently, the women often clash over their different lifestyles. Karen and Mo's tense dynamic is consistently used for laughs across the show. In one scene, she enters their apartment and announces, "It's me, Karen, from, like, your most cherished memories," only for Mo to feign horror at this concept.
"Second Jen" aired for three seasons, ending in March 2021. Following this, Gao had minor roles in the Jerry O'Connell-led crime sitcom "Carter," the sci-fi film "Kin," and the Canadian drama "Through Black Spruce."
She was a high-profile politician in The Expanse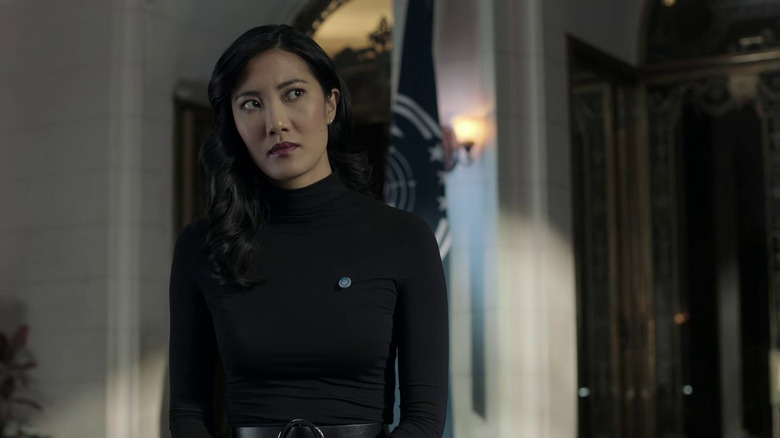 Legendary Television Distribution
Most notably, Lily Gao portrayed Nancy Gao in Seasons 4 and 5 of "The Expanse." The critically-acclaimed Amazon Prime series is an adaptation of James S.A. Corey's science-fiction novels of the same name.
"The Expanse" follows futuristic societies across the solar system as secrets threaten to break their alliances and begin a cold war. Nancy is a highly-ambitious politician who wins her campaign for the United Nations secretary-general position. Gao's role in "The Expanse" comes to an end in Season 5 when her character's spacecraft is suddenly destroyed during a targeted asteroid attack.
Though Nancy's motives were often met with apprehension from fans, many admit that her final scene is one of the show's most impressive to date. "Nancy Gao, I may not have liked you much but your sacrifice... will never be forgotten," one fan wrote. "Took a literal meteor to the metaphorical face, pretty impressive way to go out tbh" (via YouTube).
The sixth and final season of "The Expanse" premieres in December 2021.
Gao has had various recurring roles on popular shows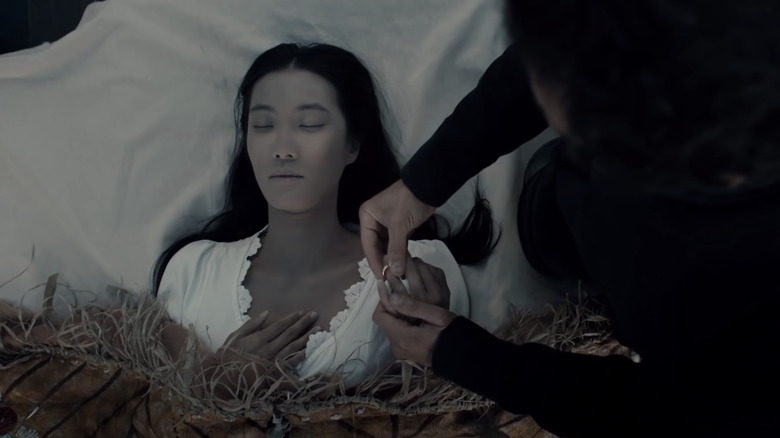 Epix
From one-off appearances in popular shows like the dystopian drama "The Handmaid's Tale" and the investigative "Private Eyes," to recurring roles on the medical drama "Transplant" and the miniseries "Rising Suns," Lily Gao has done a little bit of everything.
In the oddball comedy "Letterkenny," she played Squirrelly Dan's sexually-liberated girlfriend, Ellen. Most recently, the actress portrayed S.A.N.E. in Netflix's "Grand Army," Officer Spears in an episode of "Coroner," and Lily in the Alexandra Daddario drama "Die in a Gunfight."
Gao currently portrays the late Maya Boone in the Stephen King adaptation "Chapelwaite." Her role is minor but serves as the horror drama's inciting incident as her surviving family members must reckon with their dark history. Gao explained to Geek Nation that "Chapelwaite" was her first post-COVID acting job, and it was "really, really magical but also nerve-wracking" to be back on set.
Beyond acting, Gao is a model, artist, and director of the short film "Little."