DC Super Hero Girls TV Show Coming To Cartoon Network In 2018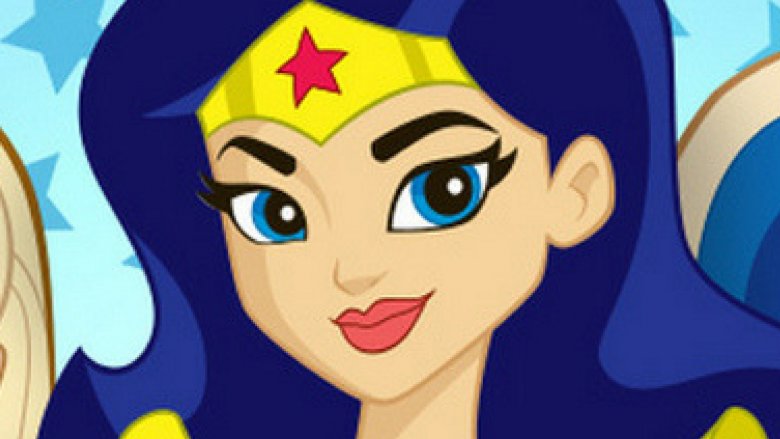 DC's female superheroes are coming to Cartoon Network. TVLine reports that the network has ordered an animated TV adaptation of DC Super Hero Girls, set to premiere in 2018.
Based on the action figures and their connected direct-to-DVD movies and webisodes, the series will center on Wonder Woman, Supergirl, and Batgirl, who, along with balancing their schoolwork, have to protect Metropolis from some of DC's most famous teenaged supervillains. "Being teens is tough enough, what with school, friends, family, and the chaos that comes with managing a social life," the synopsis teases. "But add super powers and a secret identity to the mix, and things can get a lot more complicated."
Luckily, the trio will be backed up by their friends Bumblebee, Zatanna, and Green Lantern Jessica Cruz, and they even have some "bros" in the Justice League who are there to "amp up the fun." However, it isn't all easy for the team, as the synopsis teases tension between fencing partners and study buddies Katana and Diana and between Barbara and her former bestie Harley Quinn. "Along with all their friends, foes, and frenemies, this squad of super teens navigates the unique growing pains that come when you're a teenager trying to fight the battles of the world and the battles of growing up at the same time," the synopsis says.
"The DC Super Hero Girls franchise provides kids with a relatable world filled with aspirational characters, immersive stories, and action-packed missions that inspire viewers to be smart, courageous and empowered to be an everyday Super Hero," Warner Bros. said in a press release. (via Gizmodo) "[The show will be] centered around the most renowned DC Super Heroes and Super-Villains as they learn to develop and harness their super powers, work as a team and strengthen their friendships, while still getting their homework done on time."
Super Best Friends Forever producer Lauren Faust will create new character designs for the series, while Teen Titans Go's Sam Register will executive produce. The show comes from Warner Bros. Animation. While we wait for DC's superheroes to take over Cartoon Network, see some cartoon characters who were inspired by real people.