My 600-Lb Life: Where Is Chrystal Rollins Now?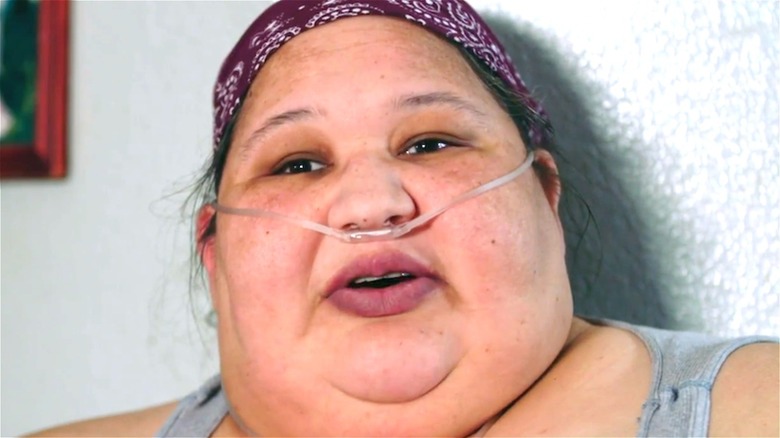 TLC
It's easy to understand why "My 600-Lb Life" is still going strong. Currently on its ninth season, there's inherent drama in watching people who have succumbed to morbid obesity want to make a significant difference in their lives. With every episode, you never know if you're going to get someone who actively wants to improve their life or will put up a struggle every step of the way. Fortunately, Season 9's Chrystal Rollins fell into the latter category and proved she had the dedication to lose weight prior to going through surgery.
The mother of two managed to lose roughly 113 pounds over the course of eight months, which was more than enough to earn praise from Dr. Now. By the end of her episode, she still needed to work on her health before being approved for surgery, but the important thing is that she's on the right track and now 100 pounds lighter to be there for her children. So how's she been doing since her time filming "My 600-Lb Life" ended?
Chrystal Rollins has stayed quiet on social media
Many members of the "My 600-Lb Life" family continue to record their progress on social media so that fans of the show can see how they're doing since their time in the spotlight. This includes Season 1's Melissa Morris, who offered motivational updates on her Instagram post-show. Unfortunately for Season 9 viewers, Rollins is a bit of a blank slate when it comes to an online presence. 
While she has a Facebook and TikTok account, she doesn't post often. In fact, the last TikTok video she uploaded was in July 2021. This all goes to say that we don't know how her weight loss journey has gone since the cameras stopped rolling. The last time she updated her Facebook profile picture was on November 11, 2021, and she looks relatively the same as she did at the end of her "My 600-Lb Life" episode. 
What's important is that she doesn't appear to be on supplemental oxygen for her last few profile pictures, which was a significant source of contention on her episode. Dr. Now was adamant she become healthy enough to get off oxygen or else she wouldn't be able to handle the anesthesia as part of the surgery. The only thing that matters is Rollins's health, and by all accounts, it seems like she's on the right track.