What Is The Song In Taco Bell's New Double Steak Burrito Commercial?
When you only have a few bucks in your pocket and a case of the munchies, there's only one fast-food establishment that comes to mind. Taco Bell has fed the masses for decades with its unique take on Mexican cuisine. From burritos to gorditas, there's been no shortage of options when you feel like digging into something cheesy and delicious. 
The latest menu item to take burrito connoisseurs by storm is the new double steak grilled cheese burrito. As the name suggests, it comes with double the steak you'd normally find in a burrito as well as seasoned rice, chipotle sauce, red strips, a three-cheese blend, and sour cream. To top it all off, it's grilled with even more cheese on the surface for a one-of-a-kind indulgence. 
The fast-food giant has released a commercial to commemorate the latest menu fixture that's bound to be popular with people who don't mind an excessive amount of cheese in their diets. The ad's accompanied by a song that sounds ideally suited for a Taco Bell ad. The track is "Get Into It (Yuh)" by Doja Cat.
Doja Cat's song fits the playful vibe of the Taco Bell ad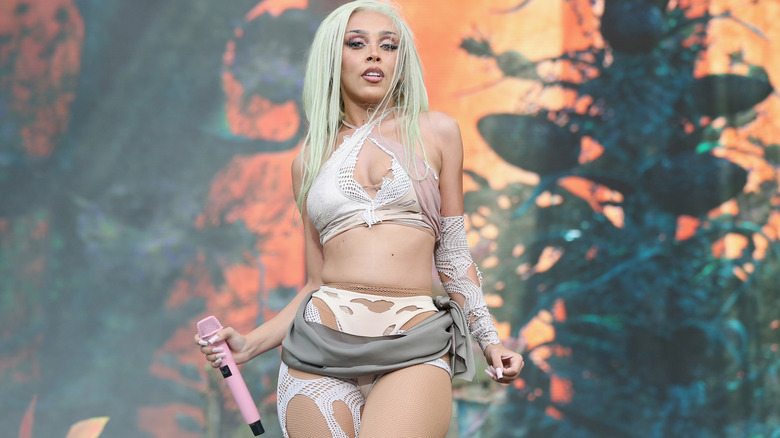 Gary Miller/Getty Images
Doja Cat is enjoying some serious time in the sun at the moment. She's been going hard for the last several years, releasing her debut EP all the way back in 2014. However, the debut of her third studio album, "Planet Her," saw her gain some of the biggest acclaim of her career so far. The album was an instant smash for critics and audiences alike, with several songs blowing up on TikTok, one of which was "Get Into It (Yuh)."
Upon the single making its way onto various Billboard charts, critics have sung its praises. Consequence describes the track as "swaggering," while DIY has this to say in its "Planet Her" review: "Effortlessly doing whatever the f*** she wants within the 14-tracks, highlights from the record come in the form of vibe heavy 'Get Into It (Yuh)' which sees Doja embracing a similar fiery rapping style to Nicki Minaj, giving her a shout-out at the end of the track."
Even Doja Cat's contemporaries have to give respect where respect's due. Charli XCX told i-D that the track was "song of the year and absolutely no one will top that track in 2021." The song's placement in a Taco Bell ad only cements its status as an absolute bop.