The Sad Truth About Adult Jason's Only Spoken Words In The Friday The 13th Series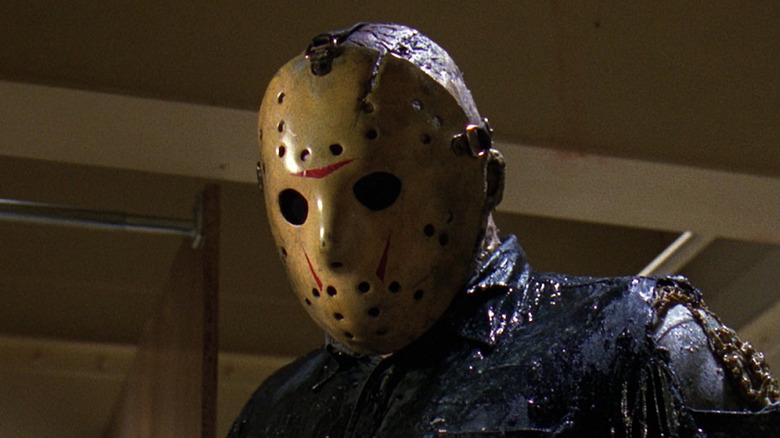 Paramount Pictures
The original "Friday the 13th" from 1980 sees a group of camp counselors trying to get Camp Crystal Lake up and running after a prior series of murders and mishaps. As the gang of sexy, young people — then-relative-unknown Kevin Bacon appeared in "Friday the 13th" —  is picked off one by one, Pamela Voorhees is revealed to be behind the slayings. In a heartbreaking reveal, we learn that — while attending the camp — Pamela's son Jason drowned whilst the careless teen counselors were getting busy and not looking after him or the other children. After this, she vowed to keep the camp from opening while also punishing sexually active teens. The film proved to be highly successful, as it not only filled the theaters with screams, but went onto gross $59.7 million on a scant $550,000 budget (via The Numbers). 
"Friday the 13th Part 2", released in 1981, is the first in the series to feature the hulking brute named Jason Voorhees as the main villain and, thus, a horror icon was truly born. Unlike Freddy Krueger, whose razor wit is as sharp as his deadly razor glove, the massive, hockey mask-wearing killer doesn't have much to say. However, die-hard slasher fans can tell you that the unstoppable killer's only spoken lines are actually heartbreaking.
Jason speaks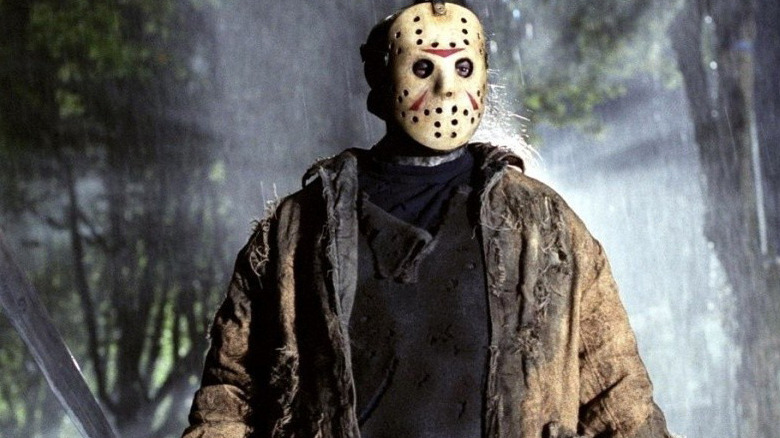 Paramount Pictures
Nine years and seven sequels after the original, the "Friday the 13th" films reached what many fans consider an all-time low for the franchise in the form of "Friday the 13th VIII: Jason Takes Manhattan," released in 1989. Though often regarded as, perhaps, the worst of the series, the movie does have one thing going for it that none of the other films can claim: it features the one any only time Jason speaks. 
During the film's climax, taking place in a rotten New York City sewer, a toxic tidal wave is speeding towards our heroes Rennie (Jensen Daggett) and Sean (Scott Reeves). In what appears to be director Rob Hedden's way of calling back to the franchise's roots, Jason says in a child's voice, "Mommy, don't let me drown," referencing the events that set the "Friday the 13th" series in motion. Though the eighth and lowest-grossing film in the franchise may be painful to watch, it does offer a noteworthy, humanizing moment for the immortal character seemingly devoid of humanity.