Whatever Happened To The Cast Of A River Runs Through It?
In 1980, actor Robert Redford made his directorial debut with the drama "Ordinary People." On his first outing behind the camera, he walked away with best director and best picture at the 1981 Academy Awards, which accounted for two of four Oscars the film won. Redford continued his successful directorial career with his third film, 1992's "A River Runs Through It," a critical and commercial hit that received three Oscar nominations and one win.
"A River Runs Through It" was based on the novella of the same name by Norman Maclean, which documents the author's memories of his upbringing in early 20th century Montana. In the novella, Maclean recounts his life as the son of a Presbyterian minister who instills in both him and his brother Paul the value of fly fishing. "A River Runs Through It" focuses on the stories of Norman and Paul, with Norman finding love and Paul becoming a gifted fly fisher, despite problems with gambling and drinking, which eventually lead to his death. To play the Macleans and all their associates, Redford cast a combination of veteran character actors and newcomers, many of whom would use the film as a catalyst to reach even greater success later. Here is what the cast of "A River Runs Through It" has been up to since the 1992 premiere of the film.
Robert Redford as the narrator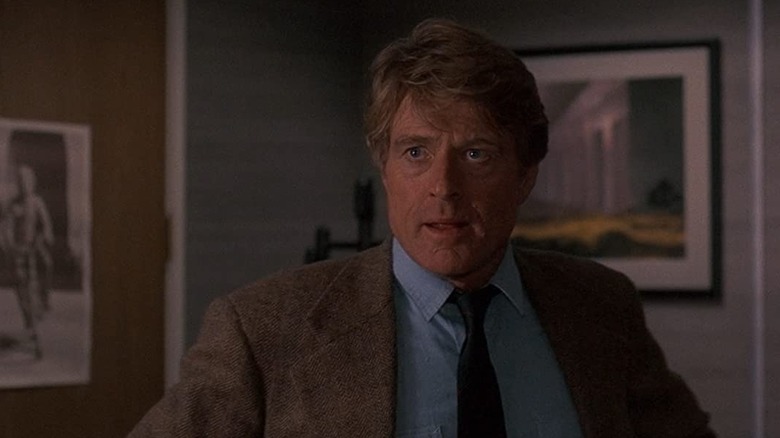 Universal Pictures
When "A River Runs Through It" was released, Robert Redford had been a Hollywood star for 25 years, as his breakthrough film "Barefoot in the Park" was released in 1967. Even after he started directing, Redford continued to make screen appearances. While he acted less frequently in the 1990s, 2000s, and 2010s, he still retained his star power. He followed "A River Runs Through It" with the starring role in "Indecent Proposal" in 1993, which became one of that year's ten highest-grossing films in domestic box office (via Box Office Mojo). Since "Indecent Proposal," he has also starred in films like 2001's "Spy Game," a reunion of him and "A River Runs Through It" actor Brad Pitt, and 2013's "All is Lost," for which he received a Golden Globe nomination. He also continued to make his mark on film off-camera, heading the Sundance Film Festival, which premiered films from breakout directors like Steven Soderbergh and Quentin Tarantino.
After "A River Runs Through It" was released, Redford kept directing, making six more films and receiving best picture and best director nominations for his follow-up directorial effort, the 1994 film "Quiz Show." Those would be the final competitive Oscar nominations of his career, with an honorary award in 2002 being his last Oscar of any kind. He continued to act until the 2010s, when he retired following the production of 2018's "The Old Man and the Gun." His final screen appearance was in an easy-to-miss cameo in "Avengers: Endgame," where he reprised the role of Alexander Pierce from "Captain America: The Winter Soldier."
Brad Pitt as Paul Maclean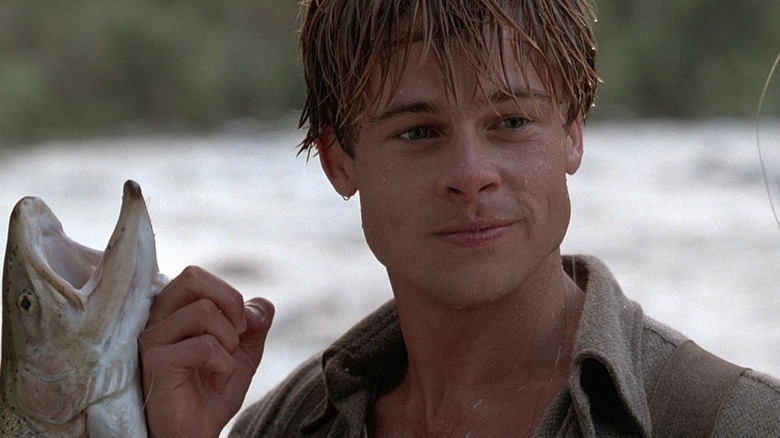 Columbia Pictures
In 1991, Brad Pitt broke out with his supporting role in "Thelma and Louise." "A River Runs Through It" was the next feature film he made and it continued his trajectory towards being one of the biggest stars in Hollywood. The following year, he further impressed critics with his lead role in the serial killer drama "Kalifornia," and his star status was cemented in 1994 when he played the lead of the $223 million (via Box Office Mojo) hit "Interview with the Vampire." He only continued his upward momentum in 1995, when he starred in "Seven" and "12 Monkeys," the latter giving him his first Oscar nomination. 
In the decades since, he's maintained his stardom with classic films like "Fight Club," "The Tree of Life," "Inglourious Basterds," and "Ocean's Eleven." He also received two more acting Oscar nominations, one each for "The Curious Case of Benjamin Button" and "Moneyball," before winning best supporting actor in 2020 for "Once Upon a Time in Hollywood. In addition to his leading roles, Pitt works consistently as a producer, with credits on three best picture winners, "The Departed" in 2006, "12 Years a Slave" in 2013, and "Moonlight" in 2016.
Craig Sheffer as Norman Maclean
Columbia Pictures
While Pitt is the most famous face in "A River Runs Through It," he's not the film's lead. That role went to Craig Sheffer, who played Norman Maclean. Prior to "A River Runs Through It," his most widely-seen film was the John Hughes-written drama "Some Kind of Wonderful," where he played Lea Thompson's boyfriend. He received his first lead role in a studio film in 1990's "Nightbreed," where he starred opposite famed horror director David Cronenberg. The year after "A River Runs Through It," he had major supporting parts in two studio films, the alien-abduction drama "Fire in the Sky" and the college football movie "The Program." In more recent years, he's largely stuck to small independent films and TV movies, his last major theatrical credit being the crime comedy "Stand Up Guys" with Al Pacino, Alan Arkin, and Christopher Walken.
The credit he's most known for besides "A River Runs Through It" is his role on the TV series "One Tree Hill," where he played Keith Scott for the show's first three seasons. Sheffer's brief return to "One Tree Hill" in 2012 was for many years his final TV credit, but this year he returned to screens playing Richard Nixon in the second half of "American Horror Story: Double Feature."
Joseph Gordon-Levitt as Young Norman Maclean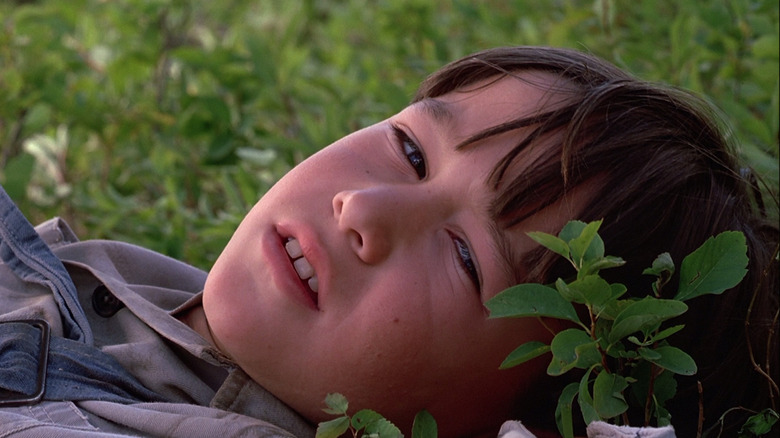 Columbia Pictures
The young actor had done some TV movies and played an unnamed part in the 1991 family film "Beethoven," but "A River Runs Through It" was the first significant film role for 11-year-old Joseph Gordon-Levitt. Gordon-Levitt played lead character Norman Maclean as a child, and that appearance marked the beginning of a long and fruitful career. He landed two lead roles in 1994, first in the Patricia Arquette comedy "Holy Matrimony" and then in the Disney remake "Angels in the Outfield." His next notable breakthrough was playing Tommy on the NBC sitcom "3rd Rock from the Sun," which ran until 2001. The 2000s saw him pivot to serious dramatic roles, first with indie films like "Brick" and "Mysterious Skin," and then with blockbusters like the Christopher Nolan films "Inception" and "The Dark Knight Rises."
After Gordon-Levitt's starred in 2016's "Snowden," he did not make another movie until 2019, when he returned with the airplane thriller "7500." In 2020, he had lead roles in two Netflix films, "Project Power" and the best picture nominee "The Trial of the Chicago 7." He also appeared in the Apple TV+ series "Mr. Corman," which he wrote and directed in addition to starring in. "Mr. Corman" was canceled in October 2021 after one season, per Deadline.
Tom Skerritt as John Maclean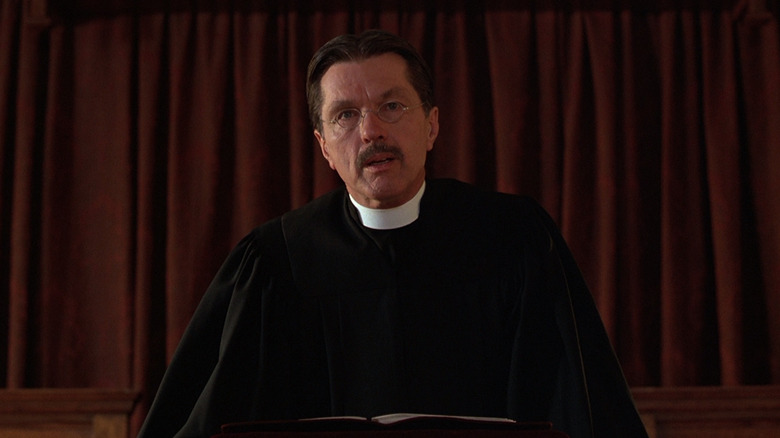 Columbia Pictures
The main cast of "A River Runs Through It" was mostly made up of faces that were new and unfamiliar to audiences at the time of the film's release. Tom Skerritt, however, was the one veteran performer in a leading role as Reverend John Maclean. Skerritt had been a working actor since the 1960s, mostly active in TV until he broke out in 1970 with Robert Altman's film "M*A*S*H*." He followed that with a run of supporting parts in classics like "Alien," "Top Gun," and "Steel Magnolias." Skerritt also continued to work in TV and had a starring role in the CBS drama "Picket Fences," which ran from 1992 to 1996. Skerritt was nominated for three Screen Actors Guild Awards and won a lead actor Emmy for his "Picket Fences" performance. Skerritt didn't make any movies while "Picket Fences" aired, but he eventually returned to film with a role in 1997's "Contact."
Skerritt has mostly stayed off screens in recent years and took a four-year break from TV and movies after making the 2017 drama "Lucky" with his "Alien" costar Harry Dean Stanton. He returned to film in 2021 with two performances, the drama "East of the Mountains" and the western "Catch the Bullet." After working for almost 60 years, "East of the Mountains" is, according to Variety, the first time Skerritt has played the central role in a movie, and his first leading role of any kind since "Picket Fences."
Brenda Blethyn as Clara Maclean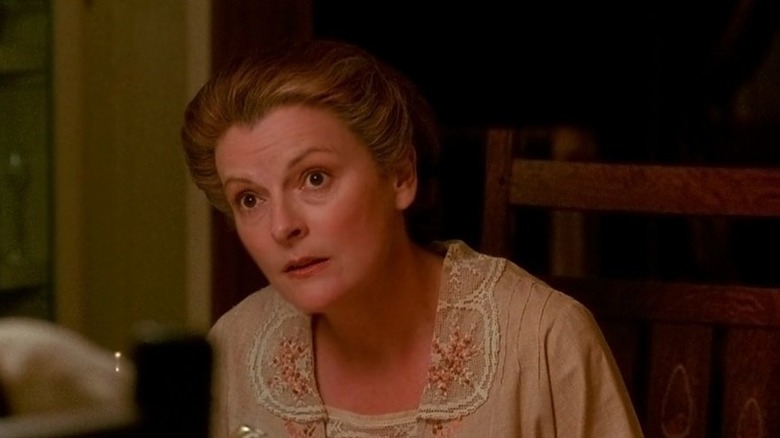 Columbia Pictures
Brenda Blethyn had worked in British theatre and TV for a decade before she started making theatrical films. Her first film was the 1990 adaptation of Roald Dahl's "The Witches" and "A River Runs Through It," in which she played the matriarch of the Maclean family, Clara, was her second film and first American production. She wouldn't appear in another film until 1996 when she starred in Mike Leigh's dramedy "Secrets & Lies." The film was a critical success, receiving five Oscar nominations, including best picture and best actress for Blethyn. It would be the first of two Oscar nominations for Blethyn, the second coming two years later when she was nominated for best supporting actress in the film "Little Voice." Blethyn became a more prolific film actress after these nominations, appearing in films like the 2005 "Pride & Prejudice" adaptation, "The Wild Thornberries Movie," and "Saving Grace," for which she received a Golden Globe nomination.
Blethyn has returned to her TV roots in recent years, appearing in more television projects than films. Her most recent film appearance was "Two Men in Town" in 2014. In addition, she's played the lead of the British crime drama "Vera" since 2011. She also starred in the sitcom "Kate & Koji," which aired its six-episode first season in 2020.
Emily Lloyd as Jessie Burns
"A River Runs Through It" came at the tail end of the brief movie career of Emily Lloyd. Her first film role was the British independent film "Wish You Were Here" in 1987, which she starred in when she was only 16. Roger Ebert called her performance "one of the great debut roles for a young actress." Lloyd soon received starring roles in American films on the strength of her performance in "Wish You Were Here," playing the leads of the mob comedy "Cookie" and the Vietnam War drama "In Country" in 1989. However, her career momentum stalled when she turned down the lead in "Pretty Woman" and was fired from "Mermaids" at Cher's insistence, as she explained during an interview with the Sunday Mirror. Lloyd told the Daily Mail that losing parts became a pattern for her, as she was fired from Woody Allen's "Husbands and Wives" and lost the title role in "Tank Girl" after she'd been cast, per Yahoo! Movies.
During the '90s, Lloyd dealt with anxiety and depression, losing the job on "Husbands and Wives" because she isolated herself in her trailer. Lloyd would later reveal to the Daily Mail that her problems stemmed from the abuse she suffered at the hands of her stepfather when she was five. She largely stopped acting to focus on getting well, with her last starring role being "The Honeytrap" in 2002. Lloyd has since written a memoir, published in 2013 as "Wish I Was Here," about her life experiences.
Edie McClurg as Mrs. Burns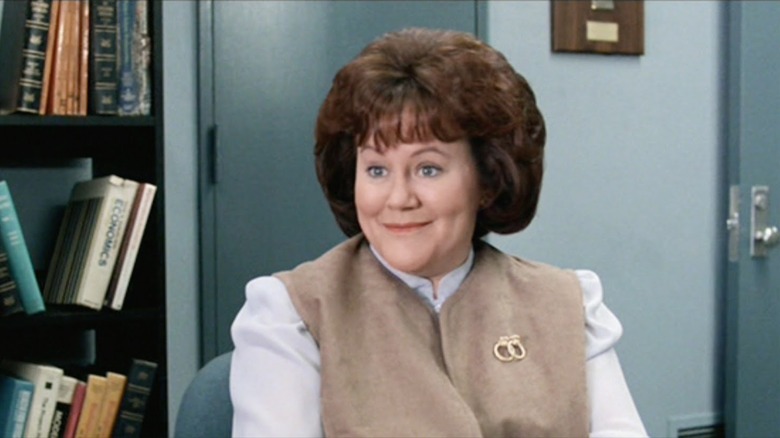 Paramount Pictures
Edie McClurg remains best known for her role in John Hughes' "Ferris Bueller's Day Off," where she played school secretary Grace, who famously calls Ferris Bueller a "righteous dude." Her most recent TV appearance was on a 2020 episode of "Family Guy," where she reprised the role. But "Ferris Bueller's Day Off" is just one part of a career full of appearances in well-known and classic films, including "Natural Born Killers," "Back to School," and "Carrie," the latter being McClurg's screen debut. Before "Ferris Bueller's Day Off," she first collaborated with John Hughes on "Mr. Mom," and she made appearances in three more of Hughes' directorial efforts, including "Planes, Trains and Automobiles."
Over the last two decades, McClurg's on-screen appearances became rarer as she focused more on voice performances. Starting with "The Secret of NIMH" in 1982, McClurg became a regular voice-over actress for animated movies, particularly Disney and Pixar movies. She's since provided voices for "The Little Mermaid," "A Bug's Life," the first two "Cars" films, "Wreck-It Ralph," and "Frozen." While McClurg will be returning to the "Cars" franchise in an upcoming Disney+ series, she's recently made headlines for reasons other than her acting. In 2019, TMZ reported that McClurg's family filed for a conservatorship to take control of her affairs, saying she has dementia that left her "especially vulnerable to undue influence."
Nicole Burdette as Mabel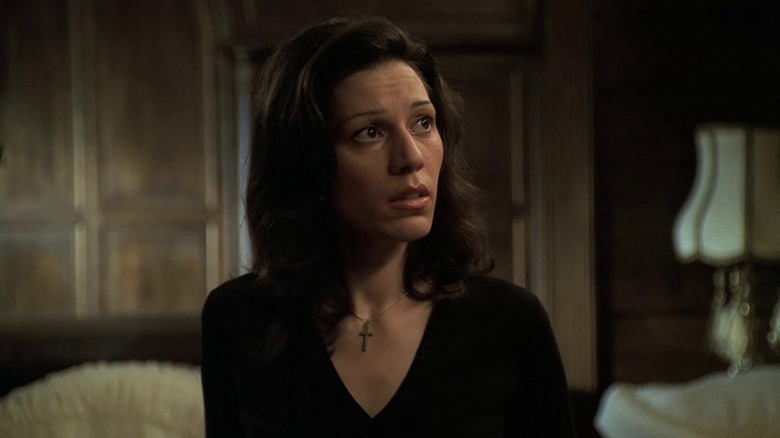 HBO
"A River Runs Through It" is one of only 10 films Nicole Burdette has acted in since her screen debut in "Angel Heart" in 1987. Despite the small size of her filmography, she's worked with several legendary directors, including Redford, Martin Scorsese on "Goodfellas," and David Lynch on "Industrial Symphony No. 1." She also had a five-episode run on "The Sopranos" in 2000, which remains her second most recent screen credit. The most recent credit is a role in the 2008 romantic comedy "The Accidental Husband." Since she stopped acting, Burdette has become a professor at New York's The New School, where she teaches playwriting and dramatic writing.
Playwriting has been Burdette's primary artistic focus throughout her career. As a playwright, she's worked with many luminaries of the stage and screen, including fellow writer Kenneth Lonergan, director Rebecca Miller, and actors Ethan Hawke, Matt Dillon, and Rob Morrow. She also collaborated with Hawke and Morrow on both men's directorial debuts. Burdette cowrote with Morrow the screenplay for his debut "Maze" in 2000, then adapted her play "Chelsea Walls" with Hawke directing the film, which was released in 2002.
Susan Traylor as Rawhide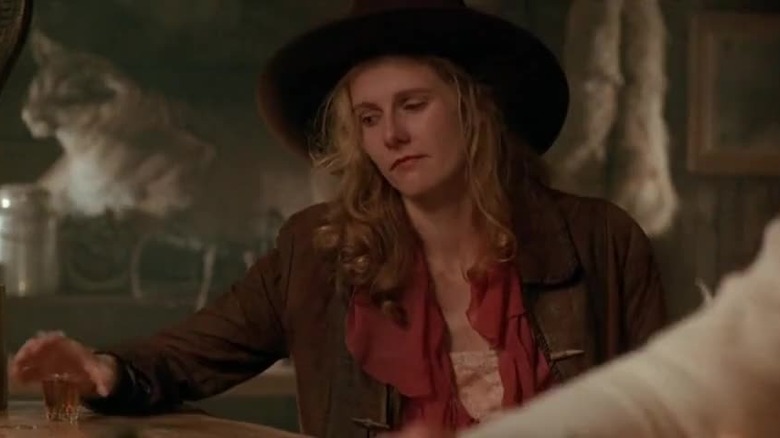 Columbia Pictures
Susan Traylor may be best known for the family she was born to and the one she became a part of. In 1995, she married Jesse Dylan, filmmaker and son of the legendary Bob Dylan. As a member of the Dylan family, Traylor appeared in the 2003 movie "Masked and Anonymous," which Bob Dylan both wrote and starred in. Within her own family, her parents were famous acting teachers who taught the likes of Sean Penn, Nicolas Cage, and Michelle Pfeiffer, as she recalled in Interview Magazine. However, Traylor has also developed a strong filmography outside of her family connections. "A River Runs Through It" was her screen debut, and she followed it with a role in the 1994 indie "Sleep with Me," reuniting her with Craig Sheffer. In 1995, she worked with two significant directors, Gus Van Sant on "To Die For" and Michael Mann on "Heat." She received an Independent Spirit Award nomination for her lead role in "Valerie Flake" in 2000.
Traylor continued working into the 2010s, including a part as Ben Stiller's sister-in-law in Noah Baumbach's "Greenberg." But she has not acted in a feature film since 2018 when she played a small role in the heist movie "The Con is On." Her last significant role was in 2017 when she played Kirsten Dunst's mother in the indie drama "Woodshock."
William Hootkins as Murphy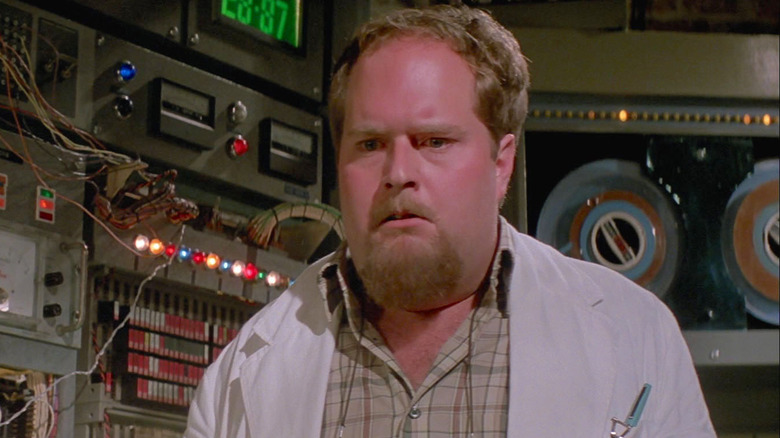 Universal Pictures
William Hootkins had a long and varied film career, but his most famous part was in the original "Star Wars," where he played the role of Jek Tono Porkins. Following "Star Wars," he received supporting parts in "Flash Gordon," two Blake Edwards "Pink Panther" movies, and another George Lucas production, "Raiders of the Lost Ark." He regularly worked throughout the 1980s before ending the decade with a role in another massive blockbuster, Tim Burton's "Batman."
"A River Runs Through It" is one of the biggest films Hootkins made in the 1990s, a period in which he appeared in fewer hit movies. He eventually returned to the stage in 2003, playing Alfred Hitchcock in the London production of the play "Hitchcock Blonde," opposite Rosamund Pike. As noted by The Guardian, he planned to reprise the role for a Broadway run until he was diagnosed with pancreatic cancer in 2005, the same year he died. At the time of his death, he was writing a screenplay on the life of silent-movie legend Fatty Arbuckle, a part he'd previously played in the Ken Russell movie "Valentino."
Michael Cudlitz as Chub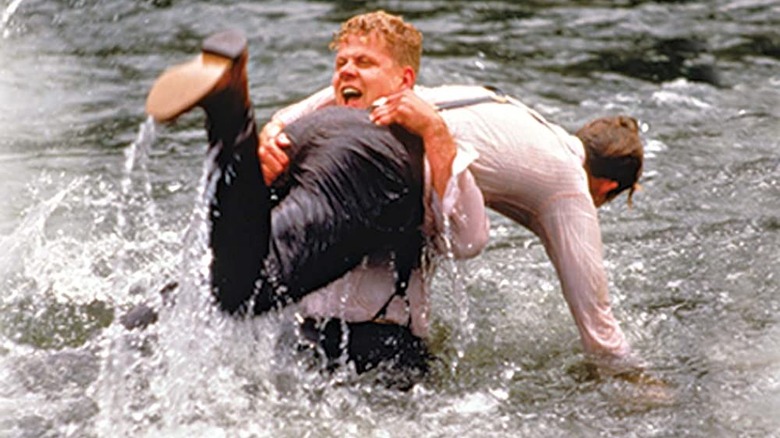 Columbia Pictures
"A River Runs Through It" was the first film credit of Michael Cudlitz, though he had previously acted in episodes of "21 Jump Street" and "Growing Pains." After "A River Runs Through It," Cudlitz remained a prolific TV guest actor, with one-episode appearances on shows including "ER," "Party of Five," "Buffy the Vampire Slayer," and "Touched by an Angel." He also made occasional appearances in films like "Grosse Pointe Blank," "The Negotiators," and the third entry in the "Mighty Ducks" series.
Cudlitz found multiple of his greatest successes in TV. In 2001, he played one of the main characters of the acclaimed World War 2 miniseries "Band of Brothers." In 2009, he landed a starring role on the NBC cop drama "Southland." While the show was initially canceled after one season, via Deadline, it was then picked up by TNT, where it ran for four additional seasons. Cudlitz won a Critics' Choice Award for his performance in the show's final season. He then followed "Southland" by joining the cast of "The Walking Dead" in Season 4. His most recent TV credit was on this year's CBS "Silence of the Lambs" adaptation "Clarice," which was canceled after one season.