C'mon C'mon Review: Family Ties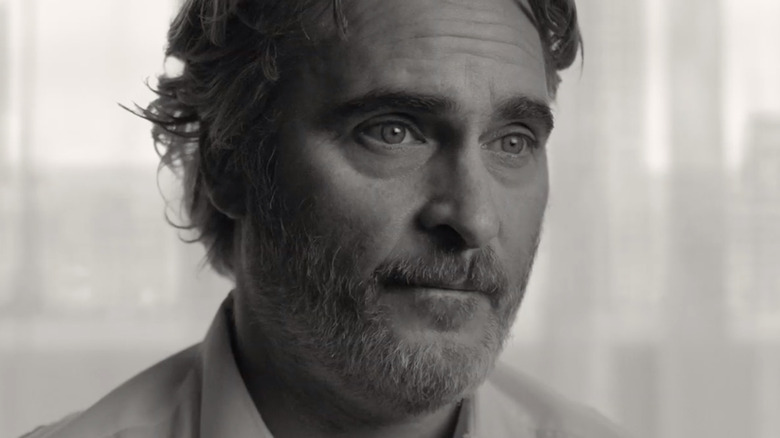 A24
Mike Mills has an extraordinary gift for finding new paths through familiar terrain. In his three previous feature films he tackled coming-of-age stories ("Thumbsucker," "20th Century Women"), and father-son narrative ("Beginners") with empathy, grace, and poise, but also with an uncommon sense of emotional specificity. There's nothing wrong with working through familiar subgenres and rhythms if a filmmaker can find a way to establish their own voice within that framework, but Mills always seems to go a step beyond that. It's not just that he's speaking with his own voice through these films, but that he's also making us feel like we're hearing it all with fresh ears.
The same is true of "C'mon C'mon," Mills' latest film focusing with intensity and fluid fervor on the connections between people, the things that challenge those connections, and the things that make those connections worth it. Bolstered by magnificent lead performances, filmed in beautiful black and white, and elevated by Mills' own unique sensibilities, it's another family drama that will stir familiar emotions in its viewers, then make them see those emotions in thrilling, sometimes challenging new ways.
An odd couple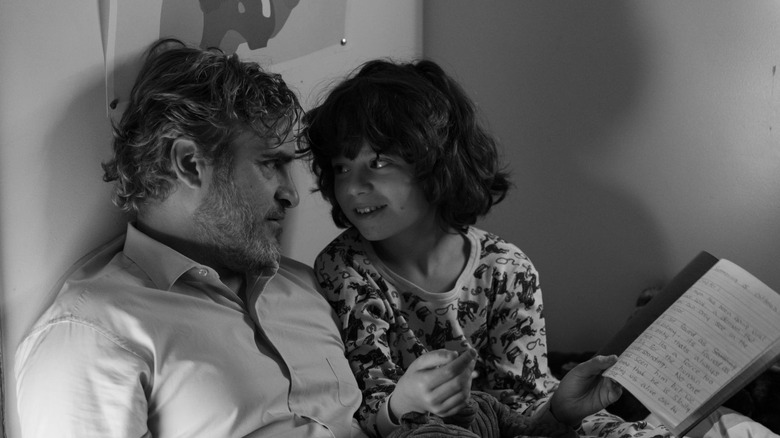 A24
Joaquin Phoenix is Johnny, a public radio producer whose latest gig is traveling around the country and asking children for their thoughts on the future, both in a personal and global sense. It's a job that allows Johnny to contemplate his own future, and those contemplations lead him back to his estranged sister Viv (Gaby Hoffmann) and her son Jesse (Woody Norman). What begins as a visit soon turns into a kind of oversized babysitting gig, as Viv leaves to tend to her ailing husband (Scoot McNairy) and Johnny steps into the role of best friend/big brother/surrogate parent to Jesse. Along the way, the ever-precocious child at turns frustrates and fascinates his uncle, who finally has a living, breathing avatar of the future to walk side by side with him, forcing him to confront everything he's been holding back.
This dynamic — the balance of Jesse's manic, almost confrontational curiosity and Johnny's laid back, subdued demeanor — forms the backbone of the entire film, as uncle and nephew journey through three different American cities and contemplate the meaning of everything from singing toothbrushes to the sounds of skateboarders on city pavement. It's a coupling that would be beautiful in its way through the lens of any competent filmmaker, but this isn't just any filmmaker behind the camera. This is Mike Mills, and the director reveals himself to be at the peak of his powers through this exploration of two strange souls and the ways in which they buoy each other.
As with his previous films, Mills is never interested in confronting this subject matter in a particularly direct way, cramming it through the screen like chicken soup for the soul with the least amount of subtlety imaginable. But neither is he interested in skirting the big questions entirely, as evidenced by the recurring theme of children providing interviews to Johnny and his radio team throughout the film. These segments — brief, engaging, spontaneous snippets of young minds trying to make sense of the world around them — recur throughout the film, providing an almost undetectable rhythm to the piece, driving Johnny's own often invisible contemplations about the life he wants and the life he has, and how Jesse relates to both. To further punctuate this, Mills layers in Viv's narrative as she works to care for someone other than her son, as well as Johnny's memories of what happened when their shared mother was on her death bed years earlier. Without ever saying it outright, Mill's script is all geared toward pointing Johnny in a certain emotional and thematic direction, shaping his perspective and outlook as it makes us consider our own. It's a beautifully understated piece of work, elevated by the filmmaking craft at work, and the actors who populate the landscape.
A subtle showcase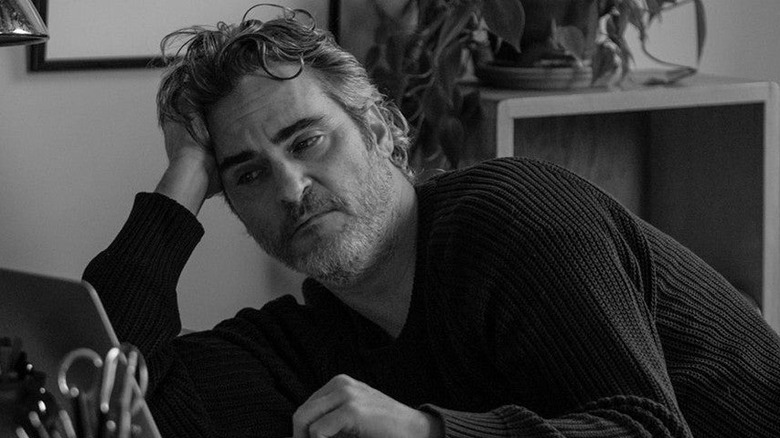 A24
It's telling that, for all the intensity of its subject matter and the gravity of the lives of its characters, the most emotionally wrought scenes in "C'mon C'mon" are flashbacks in which Johnny and Viv deal with the impact of their mother's illness. This is not a film interested in watching its actors weep through scene after scene, screaming about their lives in showy performances perfectly suited to an Oscar nomination clip. Mills, Phoenix, Hoffmann, and Norman aren't trying to do the most acting. They're just trying to do the best acting, and it works in the film's favor.
Phoenix, who won an Oscar for his dancing, writhing transformation into the Joker, is one of those actors who is fascinating to watch when he's allowed to simply navigate the careful emotional rhythms of existence, and in that sense "C'mon C'mon" works as showcase of his abilities as a powerhouse of subtlety and vulnerability, producing what might be his finest performance yet. Norman's presence as a charismatic ball of energy by his side only reinforces this presence in Phoenix, allowing Johnny to hang back and sit in the moment while Jesse is the one acting out and going big and bold with every emotional beat. Together they form an endlessly compelling push-pull duo, moving the film into territory that would make it special even without Mills' deft writing. Hoffmann's presence, even though she's often the only character in frame for her scenes, only adds to the sense of vulnerability and raw, low-key power at work in the film. There's an intensity to each performance that doesn't need to be pushed out through swelling music and bombastic language. It's just there, in every gesture.
Mills himself adds to this sense of quiet intensity by choosing to shoot the film in black and white, a decision that could easily be dismissed as artsy posturing but, upon further contemplation, bears addressing as a valuable choice within the context of the whole piece. "C'mon C'mon" is the story of a man who spends virtually his entire waking life thinking about the future, whether that's through his job or through the form of the little human he's chosen to spend his private time caring for. It's a film about possibilities, about the ways in which those possibilities can change, and what we risk when we abandon or set aside the future. Yet it's also a film about the ways in which our pasts inform our future, and how knowledge of where we can from can help cement where we're going. In that way, the grays and whites and shadows of Mills' composition reinforce a certain sense of timelessness about the narrative of the film. It's not about the past or about the future. It's about all of it, here and now, in the present, wherever that present happens to be when you see it. It's a fitting way to view this particular film, because "C'mon C'mon" seems destined to be one of those movies people will just keep finding forever.
"C'mon C'mon" is in theaters November 19.