The Real Reason Hero Fiennes Tiffin Didn't Read The After Novels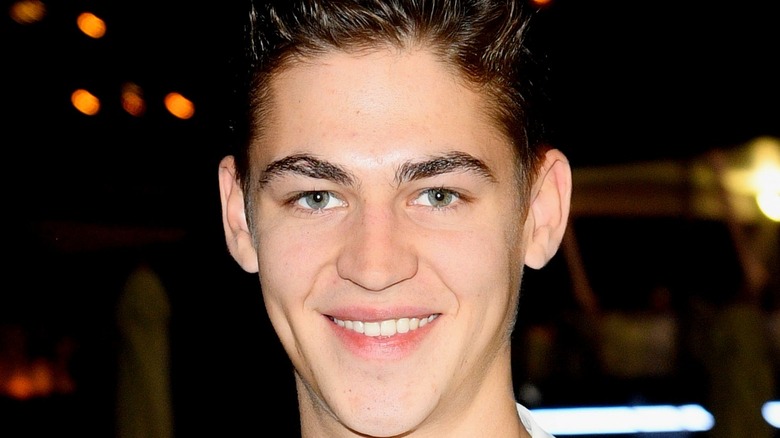 Daniele Venturelli/Getty
One of the biggest trends in Hollywood is adapting popular book series into film franchises. For instance, over the past two decades, we've seen it done with "Harry Potter," "The Lord of the Rings," and "Twilight." When an actor or actress is cast in a film adaption, they may grapple with the choice to refrain from flipping through the source material. This can be a difficult decision as adsorbing the original text will affect the actor's performance, for better or worse.
Anna Todd's "After" series has been adapted into three movies, with a fourth, titled "After Ever Happy," expected to premiere in 2022. The latest installment, "After We Fell," was released in October 2021. The movies tell the tale of two college students named Hardin Scott (Hero Fiennes Tiffin) and Tessa Young (Josephine Langford) and how their lives become intertwined. Throughout the movies, Hardin and Tessa attempt to navigate a passionate, yet tumultuous relationship. During a joint Cosmopolitan UK interview with Josephine Langford, Hero Fiennes Tiffin shared how Todd's presence while filming the movies affected his reasoning to distance himself from her beloved book series.
Hero Fiennes Tiffin discussed the book series
Elisabetta A. Villa/Getty Images
While speaking to Cosmopolitan UK, Hero Fiennes Tiffin shared that he "personally made a conscious decision not to" read the series so that he would "avoid confusion with the script and the adaptation." 
"Unfortunately that's not our job, to adapt the books to the script, so I go solely from the script, personally," said the actor. Tiffin later explained he felt comfortable not being familiar with the source material, as the books' author was readily available. "[Todd] was there with us all the time every day. And I wouldn't have been able to not read the books if that wasn't the case," said the "Harry Potter and the Half-Blood Prince" star. 
The actor later described Todd "as [his] crutch and go-to," whenever he felt uncertain how to navigate playing his brooding character.  "[S]he being the mother of this whole franchise and all the characters, she's the go-to, she's the keymaker when you need the answers," shared Tiffin.
During the Cosmopolitan UK interview, Josephine Langford shared that she had delved into the book series prior to playing Tessa "just so [she] knew what [she] was getting into." The actress noted that she "finished the series early on as [they] were shooting the first movie."
On the other hand, during an October 2021 interview with a fan on Fanmio, Tiffin shared that he does want to familiarize himself with the books once the final film is released.