The Real Reason Tom Hagen Died Before The Godfather: Part III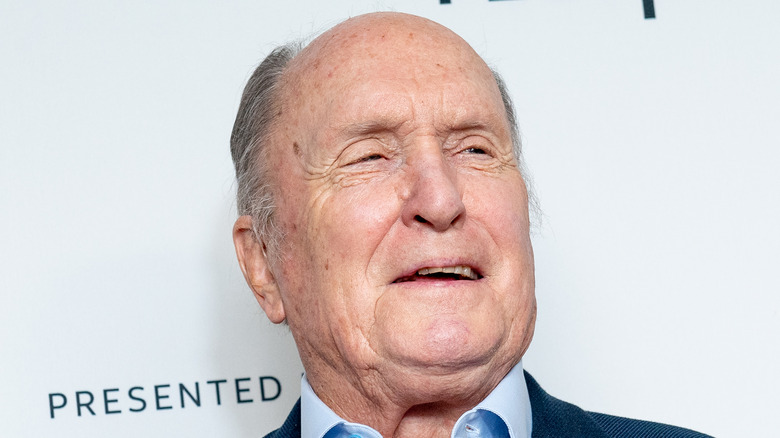 Roy Rochlin/Getty Images
Cast a lens in the direction of just about anywhere in Francis Ford Coppola's classic organized crime saga "The Godfather," and you're guaranteed to see a cast member giving what could easily be the most outstanding performance of their career. The story of the Corleone family business is rife with breathtaking turns from a cast fully aware they're part of something special. From Marlon Brando's effortlessly brilliant portrayal of Don Vito to Al Pacino as the prodigal son Michael returning to take his father's seat, this masterclass in filmmaking is only fortified by the talent that helps bring it all together, arguably none more so than Robert Duvall in his Oscar-nominated turn as the enigmatic outsider, Tom Hagen.
A son to Don Vito in all but name, Duvall's calculated consigliere was a crucial part of the Corleone organization in "The Godfather" and "The Godfather Part II," and as compelling a character as any of his biological sons. Sure, it's Michael's story from the off, but Tom plays a significant role in it as the voice of reason for the up-and-coming mob boss for the first and second chapters of the "Godfather" trilogy. His air of calm amid the carnage is one you can't help but be drawn to, speaking sense into Sonny (James Caan) when the business is compromised and staying close to Michael when necessary. The family security with a suitcase is as essential to the story as any other character in Coppola's initial masterpieces, making it perfectly understandable why Duvall earned an Oscar nomination for his performance in the first film, along with Caan and Pacino (via IMDb).
Tom Hagen deserved more than a death off-screen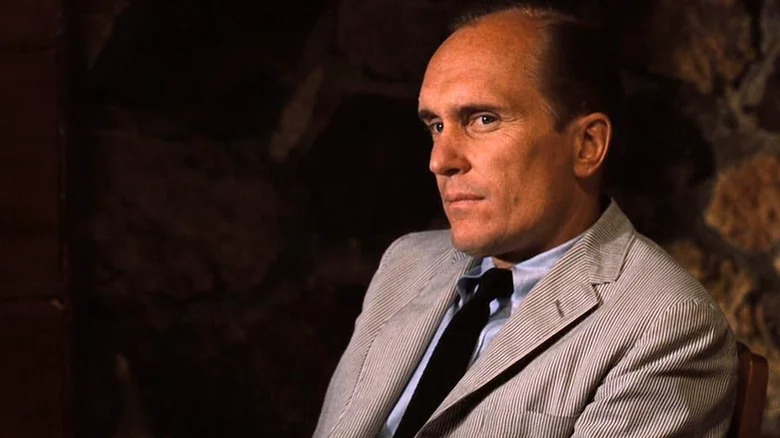 Paramount Pictures
Slightly less present in Coppola's epic tale of two Dons in "The Godfather Part II," Duvall's Irish-German attorney still earns his place at the Corleone table and is a welcome addition whenever he's on-screen. Helping get Michael out of the jam with the Senate hearing in Washington and ensuring Frank Pentangeli's silence, he remained not just a respected and trusted confidant to the new head of the family but a character with his own story. It begs the question, then, as to why Michael's devoted second-in-command was killed off-screen between "Part II" and "Part III." Didn't the man who helped the new godfather keep the Corleone family in power deserve a little more respect? Well, as revealed by the actor himself, he didn't feel like he got any.
In the third and least favored film in the trilogy, Tom's absence is explained away reasonably quickly, with Michael mentioning that the family attorney died at some point in the 20-year gap between "Part II" and "Part III." While the cause of death is never confirmed, Michael nonetheless mourns his old friend and respectfully helps his son, Andrew Hagen, who was ordained as a priest, get a high-ranking post at the Vatican. However, the truth was that Tom was written out of "The Godfather Part III" because Duvall refused to return.
Duvall wasn't happy with Pacino's pay gap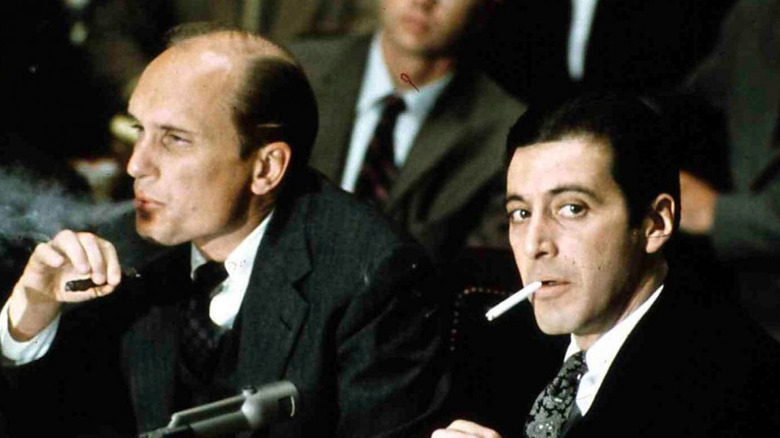 Paramount Pictures
While no stranger to the rules of the movie business, Robert Duvall deemed the pay gap between himself and the film's lead ($1 million to Al Pacino's $5 million) was far too great. Speaking to Charlie Rose in 2004 (via Today), the actor recalled, "if they paid Pacino twice what they paid me, that's fine, but not three or four times, which is what they did."
The push and pull led to Tom Hagen being written out with the aforementioned death off-screen. While the cause of death was never confirmed, Duvall seemed to have dodged a bullet regardless. Scathed for its convoluted storyline and a supposedly poor appearance from Sofia Coppola, which The New York Times described as "a flat, uneasy performance that seriously damages Mary's impact as the linchpin of this story," "Part III" has a critic score of only 68% on Rotten Tomatoes.
It's a shame not to see Duvall back in the role that many deem one of his best, but even the man himself didn't feet at a loss. Speaking to Reuters in 2010, Duvall was asked if he regretted saying no to "The Godfather Part III," to which he replied, "No because it wasn't as good as the other two." He wasn't wrong. In the end, even if there was an offer he could refuse, Duvall's Tom Hagen is still a welcome character in two of the greatest films ever made and a sorely missed addition in one that's not so much.