Kin Season 2 Cast, Trailer, Plot And More Details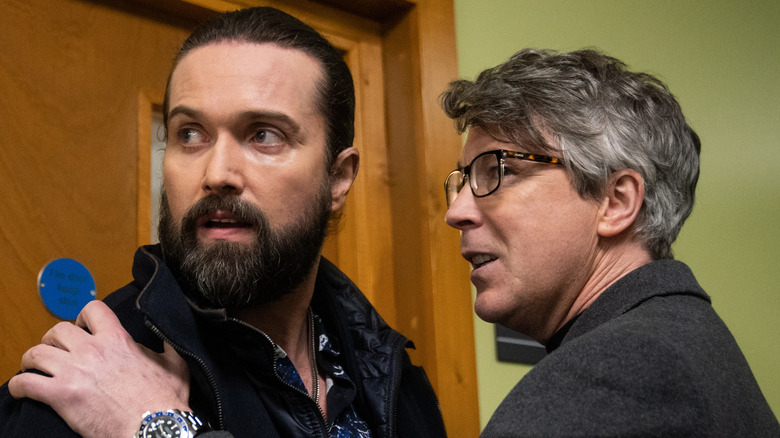 Patrick Redmond/AMC+
We may receive a commission on purchases made from links.
"Kin" is an immensely popular Irish drama with a whole lot of praise to its name: Season 1 currently holds an almost unattainable 100% rating on Rotten Tomatoes.  Created by Ciaran Donnelly and Peter McKenna, "Kin," which is broadcast in the United States by AMC+, features a sprawling cast and a story chock-full of the sort of betrayal, contraband, assassinations, and interpersonal drama that can only come from the organized crime genre. It's based on a historical feud between rival Irish gangs, but this wasn't a conflict that occurred long ago — it all transpired in the last 10 years. In fact, the events that inspired "Kin" started in 2015, when Gary Hutch was murdered.
Season 1 takes its time to fully establish the Kinsella family, but the finale is absolutely electric, and sets a path for future seasons to follow. Season 2 has proved to be just as exciting. This is everything you need to know about that second slate of episodes.
When is the release date of Season 2 of Kin?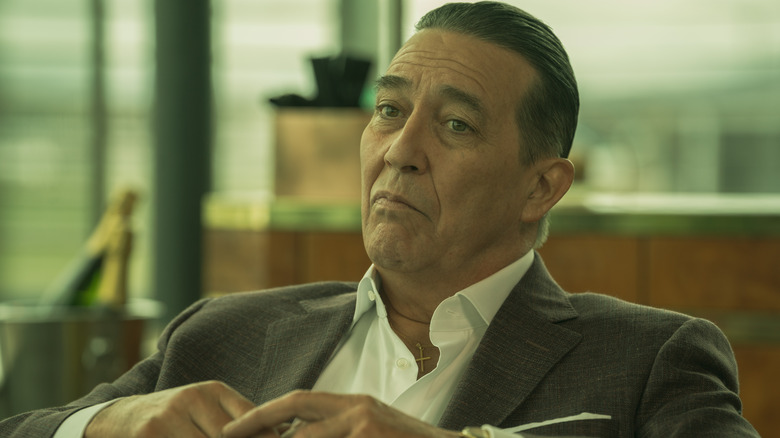 Bernard Walsh/AMC+
Season 2 of "Kin" debuted on RTE on March 19, 2023. Its final episode landed on May 7. We don't yet know when it will come to AMC+, but we're willing to bet it won't take too long. The streamer aired "Kin" Season 1 in September 2021, the same month it hit the Irish airwaves. While Season 2's episodes did not air on AMC+ near their Irish release dates, this precedent still bodes well for eager fans. 
Why is there a gap at all? We can't say, though it's worth noting "Kin" Season 2 hasn't yet aired in any country beyond its native Ireland. This might be about to change, however; in October 2023, news broke that the BBC had acquired the series. What this means for the show's fortunes remains to be seen, but there's a strong possibility this is good news for "Kin" fans worldwide.
Who is in the cast of Season 2 of Kin?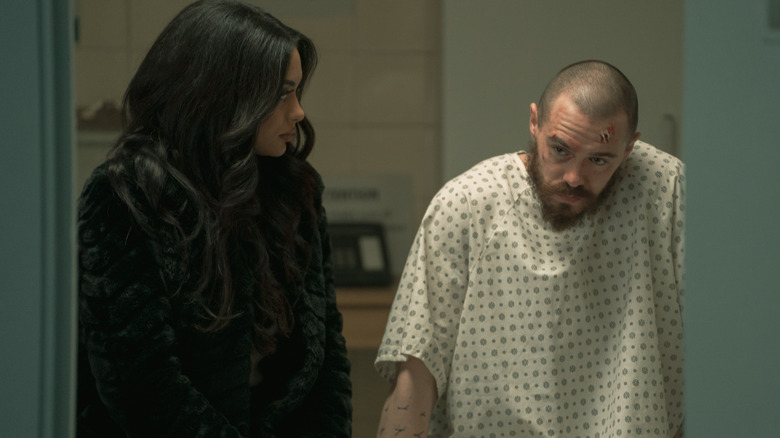 Bernard Walsh/AMC+
"Kin" boasts some seriously impressive talent. Charlie Cox, best known as Matt Murdock on Marvel's "Daredevil," plays Michael Kinsella, who has returned home at the start of the series and is desperate for any kind of work. Aidan Gillen, who brought the scheming Littlefinger to life on "Game of Thrones," portrays Frank Kinsella, the patriarch of the family who runs several illicit activities. Other cast members include Clare Dunne, Emmett J. Scanlan, Maria Doyle Kennedy, Sam Keeley, Yasmin Seky, Francis Magee, and Ciaran Hinds.
All of these actors and characters return for Season 2, and many change in fascinating ways. In Season 1, Amanda and Michael Kinsella are completely transformed. Speaking with /Film, series co-creator Peter McKenna said, "The idea was, if we have multiple seasons, Amanda would journey from light to darkness, while [Michael's] journey is from darkness to light. They would go in opposite trajectories as they go on this multi-season story." Indeed, these figures travel down such paths in Season 2. If their journeys are any indication, "Kin" will continue to chart the dramatic ascents and descents that engulf the Kinsella family for many seasons to come.
What is the plot of Season 2 of Kin?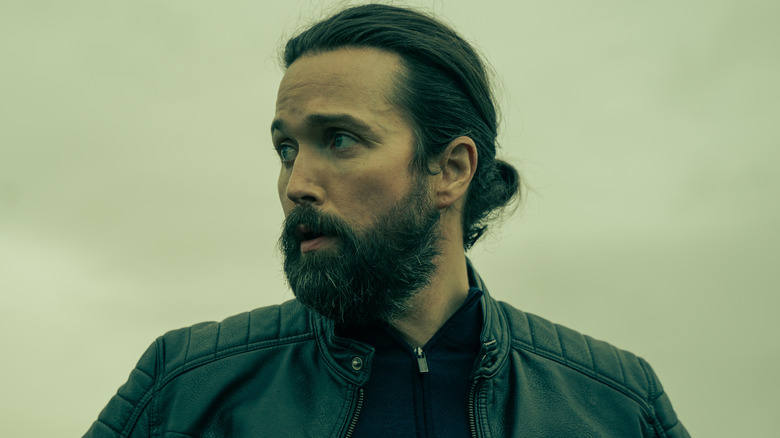 Bernard Walsh/AMC+
As Peter McKenna told /Film, "What I would like to do [in Season 2] is change the dynamic in the family completely. The first season was really about one woman's grief, and what that caused. The next one, I would really like to explore historical trauma. I know it sounds quite heavy, but it'll have all the bells and whistles of Gangland genre." "Kin" Season 2 has indeed turned out to run along these lines. It's dark, deep, and absolutely fascinating as the Kinsella family find themselves up against a Turkish organization that claims they're owed a huge debt.
As mentioned earlier, "Kin" is inspired by the real-life violence of the Kinahan and Hutch gangs. This conflict claimed multiple lives and caused all sorts of serious damage. It's no surprise, then, that Season 2 doubles down on the growing conflict between its rival groups. But all is not well within the Kinsella family either. Brendan Kinsella (Francis Magee), brother to Frank, causes no end of pain in Season 2 by menacing, corrupting, and terrifying his own relatives. He's a vicious monster, and his actions build to an explosive finale. Season 2 is ruthless — which is just how fans like it.
Is there a trailer for Kin Season 2?
In the Season 2 trailer for "Kin," the Kinsella family finds themselves on top after the Season 1 demise of their rival, Eamon Cunningham. Though they're now the top crime family in Dublin, they're not invincible — especially after a Turkish cartel reveals that Eamon owed them quite a lot of money, and that the Kinsellas are now on the hook for it by default. They soon find themselves in a brand new battle with shockingly high stakes.
With a more dangerous enemy to face and a family rift causing even more problems, the Kinsellas face plenty of trouble in Season 2. This trailer serves as a vivid introduction to this turmoil, whetting fans' appetites with its promises of betrayal, heartbreak, unity, and shock. It's a bumpy ride, to be sure — and viewers wouldn't have it any other way.
Where can you watch Kin Season 1?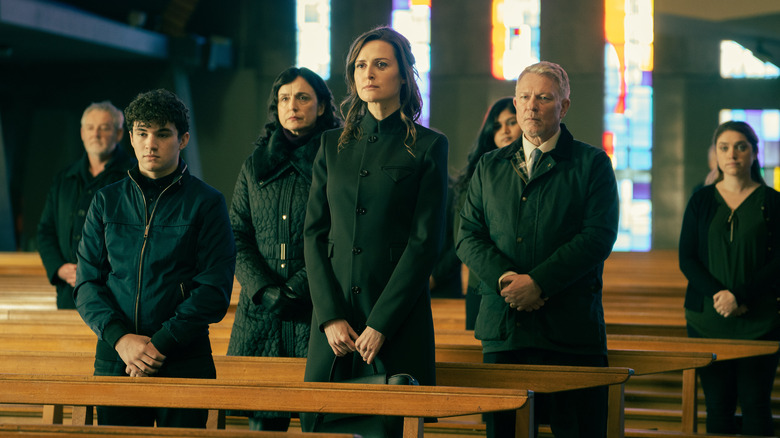 Bernard Walsh/AMC+
If you haven't started "Kin" yet or you just want to revisit Season 1 so you remember what happened before embarking on Season 2, you're in luck: It's available to watch on one of the biggest streaming services around — one you probably have already.
This isn't always the case. In fact, it can be downright tricky to track down certain shows that air across the pond — but not here. The first season of "Kin" is currently available to stream on Amazon Prime. If you've got a subscription to this giant streamer, you can check out "Kin" this very second. Considering how complex the narrative is, you may even want to keep these episodes open in a separate tab as you settle in for Season 2, just to make sure you've got their stories straight.