Edgar Wright Reveals The Hilarious Inspiration Behind The Cornetto Trilogy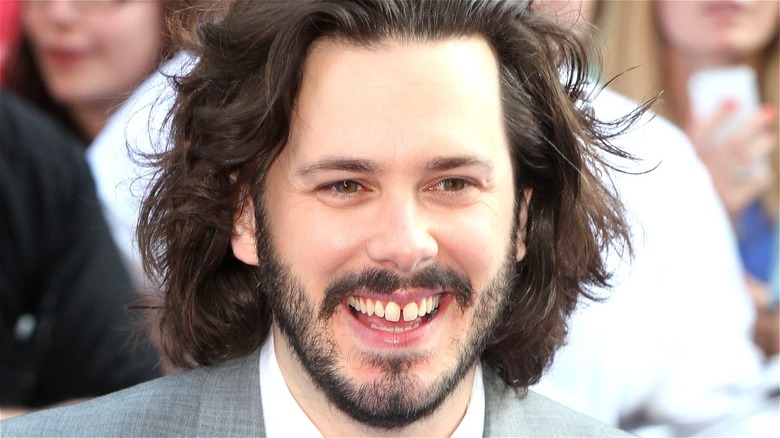 Featureflash Photo Agency/Shutterstock
Edgar Wright's films are endlessly recognizable and unique, whether due to his affinity for jump cuts, his musical choices, or his very specific sense of humor. Even when adapting work from other source material — such as "Scott Pilgrim vs. the World" – Wright has a style all his own. And while it was his film "Baby Driver" which arguably skyrocketed his career to global success, the work that the majority of die-hard Wright fans speak most highly of is his "Cornetto Trilogy," the umbrella term applied to three movies — all led by Simon Pegg — which include "Shaun of the Dead," "Hot Fuzz," and "The World's End." 
Technically, the trilogy is named for the ice cream treat that appears in every film. However, it stands to reason that Wright's camaraderie with his recurring cast would mean that there was an underlying reason why the specific ice cream was a featured player in all three films, and true to form, Edgar Wright has a humorous — if concise — explanation for these frosty cameos.
It just comes down to a sweet tooth
In 2021, Edgar Wright took to Reddit to promote his new film "Last Night In Soho." One fan asked him where the cornetto ice cream theme came from — something that other fans were also dying to know, based on the upvotes — and it turns out that Wright just was a fan of the dessert, in general, and featured it throughout the trilogy in the hope of eating more of it. 
"At the premiere of Shaun, they gave us free Cornettos," Wright explained, "so we figured that if we wrote them into the second film as well we might get more free ice cream. That was it!"
Clearly, writing cornetto ice cream into "Hot Fuzz" and "The World's End" was an easy decision for Wright, given his motivation. For now, there's been no word on if this ploy for free ice cream worked. Regardless, the films themselves created a cultural touchstone, and each film the trilogy itself is united by more than just a delicious dessert, considering the shared cast and multitude of call-back jokes. 
Since then, Simon Pegg has gone on to write "Star Trek: Beyond," and appear in the "Mission: Impossible" series, among many other accomplishments. Edgar Wright continues to create films with a style all his own, with his latest, "Last Night in Soho," being yet another genre-bending experience.