Who Is The Pirate In The SpongeBob Movie: Sponge Out Of Water?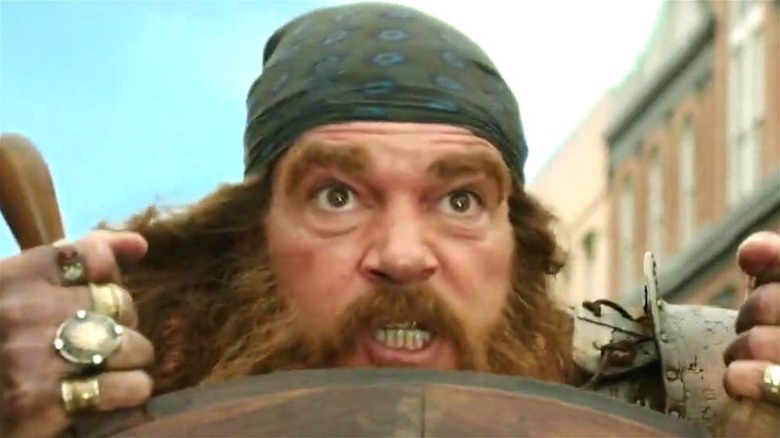 Paramount Pictures
"The SpongeBob Movie: Sponge Out of Water" is the second SpongeBob SquarePants movie and definitely the trippiest. The film blends live-action with animation and straight storytelling with meta-narrative into one hallucinogenic fever dream of a film. "Sponge Out of Water" starts when a pirate named Burger Beard narrates an adventure of SpongeBob's (Tom Kenny) as Plankton (Mr. Lawrence) once again tries to steal the Krabby Patty formula (which, if some "SpongeBob" fan theories are true, he may really not want).
Burger Beard also discovers that the tome from which he is reading has the power to shape reality. Anything written in the book becomes real. The pirate uses this power to steal the Krabby Patty recipe for himself, which forces Plankton to join the Krusty Krab crew to reclaim Mr. Krabs' (Clancy Brown) hardwon intellectual property.
"Sponge Out of Water" was a hit critically and commercially following its release in February 2015. The film grossed over $325 million worldwide, per Box Office Mojo. Elsewhere, it holds an 81% critics rating on Rotten Tomatoes, with the review consensus calling it a "colorful burst of manic fun." At the center of that manic fun is Burger Beard, a pirate played by an actor who hasn't worn an outfit that swashbuckle-y since "The Mask of Zorro."
Burger Beard the pirate is Spanish actor Antonio Banderas
taniavolobueva/Shutterstock
The actor who played Burger Beard already had some experience sword-fighting and swinging from rigging before appearing in 2015's "The SpongeBob Movie: Sponge Out of Water." That actor is Antonio Banderas, perhaps best known for starring in "The Mask of Zorro" and his work in kid-friendly fare as the "Shrek" franchise character Puss in Boots.
Banderas opened up in a 2015 BBC interview about learning to play a pirate for the feature film. He revealed how putting on the Burger Beard costume seemed to almost immediately help him transform into the pirate character. He also recalled how, while in the make-up trailer, as they applied the facial hair, Banderas' voice started lowering into his Burger Beard register.
The actor first came to international attention as the backbone of multiple Pedro Almodóvar movies. He gained Hollywood's attention by starring in "Women on the Verge of a Nervous Breakdown" and "Tie Me Up! Tie Me Down!" for the director. His first major introduction to U.S. audiences (and his second English-language role, per IMDb) was playing Tom Hanks' partner in Jonathan Demme's "Philadelphia." Additionally, "Sponge Out of Water" is hardly Banderas' first family film. He played the father of the titular spy kids in the "Spy Kids" series, marking a reunion with director Robert Rodriguez after their collaboration on "Desperado."